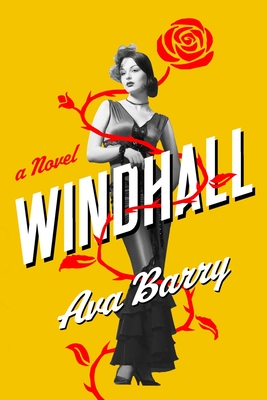 Windhall
A Novel
Hardcover

* Individual store prices may vary.
Description
A stunning literary thriller in which an investigative journalist in modern Los Angeles attempts to solve the Golden Age murder of a Hollywood starlet.

1940s Hollywood was an era of decadence and director Theodore Langley was its king. Paired with Eleanor Hayes as his lead actress, Theo ruled the Golden Age of Hollywood. That ended when Eleanor's mangled body was discovered in Theo's rose garden and he was charged with her murder. The case was thrown out before it went to trial and Theo fled L.A., leaving his crawling estate, Windhall, to fall into ruin. He hasn't been seen since.

Decades later, investigative journalist Max Hailey, raised by his gran on stories of old Hollywood, is sure that if he could meet Theo, he could prove once and for all that the famed director killed his leading lady. When a copycat murder takes place near Windhall, the long reclusive Theo returns to L.A., and it seems Hailey finally has his chance.

When Hailey gets his hands on Theo's long-missing journals, he reads about Eleanor's stalkers and her role in Theo's final film, The Last Train to Avalon, a film so controversial it was never released to the public. In the months leading up to her death, something had left her so terrified she stopped coming to work. The more Hailey learns about Avalon, the more convinced he becomes that the film could tell him who killed Eleanor and why she had to die. But the implications of Avalon reach far beyond Eleanor's murder, and Hailey must race to piece together the murders of the past and present before it's too late.
Praise For Windhall: A Novel…
"At once a cold case mystery and a love letter to Hollywood during the height of its golden age, Windhall is a dark romance of place, from its shimmering Gatsby-esque parties to the shadowy mise en scène of its crime scenes. Barry's prose is precise, vivid, and seductive; the lure of the past is so potent in the mind of the main character, the intrepid journalist-on-the-case, that you feel his obsession deepening page after page. It's a gorgeous, bedeviling, and compulsively readable debut not to be missed fans of historical mysteries and Hollywood lore."
— John Copenhaver, award-winning author of Dodging and Burning
Pegasus Crime, 9781643136264, 368pp.
Publication Date: March 2, 2021
About the Author
Ava Barry was a script reader for Bold Films and Intrigue Entertainment, and an editorial assistant for Zoetrope: All-Story, Francis Ford Coppola's literary magazine. This is her first novel. She lives in Australia.