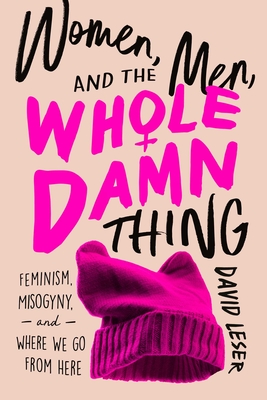 Women, Men, and the Whole Damn Thing
Feminism, Misogyny, and Where We Go From Here
Hardcover

* Individual store prices may vary.
Description
A brilliant, impassioned, unflinching account of the firestorm of #MeToo, how we got there, and where we must now go.

In Women, Men, and the Whole Damn Thing, author David Leser presents an essential and incisive investigation, unearthing the roots of misogyny, its inextricable links to the patriarchy, and how history brought us to the #MeToo movement and the wave of incandescent female rage that is sweeping the world. Crucially, he also interrogates his own psyche, privilege, and culpability as he bears witness to the "collective wound of the world" and asks how we can move towards healing and profound and permanent change.

This book calls on men (yes, all men) to be accountable for their contribution to the continuing oppression of women by the patriarchal structures that have dominated our culture historically and through to the present. He argues that misogyny and female oppression is the greatest moral issue of our times and we are all responsible for dismantling the structures which cause such oppression. This book is his journey into how to grapple with both the personal and collective aftermath of #MeToo and the new future.

Including interviews with Tina Brown, Zainab Salbi, Marlene Schiappa, and Helen Garner, among other globally recognized names, Women, Men, and the Whole Damn Thing is a bold, honest, and self-searching global overview of the cultural moment of misogyny that we exist in and, perhaps, a way to move forward.
Praise For Women, Men, and the Whole Damn Thing: Feminism, Misogyny, and Where We Go From Here…
"Leser's fluid writing style and emotional honesty will keep readers from sinking into despair... This powerful call to heal the 'collective wound' of misogyny resonates."
— Publishers Weekly, Starred Review

"A great book. Women, especially engaged feminists, will love it. It's always a pleasure for women to feel their outrage and disbelief is shared by everyone."
— Forbes

"An important book, heralding and contributing to what, with luck, will become a workable roadmap beyond patriarchy."
— Australian Book Review

"Women gain access to a perspective valuable to understand if we're to achieve broad cultural change, and men are invited to imagine a woman's perspective, in the congenial company of a man who's similarly learning as he goes."
— Sydney Morning Herald

"I started reading this book with my heart in my mouth and finished it with a sense of profound relief. At last, a man has listened and understood. David Leser has taken women, their lives, their pain, their fears and their desires as seriously as he takes his own. It is all we ask."
— Jane Caro, author of "Accidental Feminists"

"A worthwhile addition to the gender studies bibliography."
— Sarah Danforth at Towne Book Center in Collegeville, Pennsylvania
Pegasus Books, 9781643136288, 336pp.
Publication Date: January 5, 2021
About the Author
David Leser is an Australian journalist, author, public interviewer, and writing mentor. A former Middle East and North American correspondent, he has been a journalist for 40 years and become widely known in Australia for his in-depth profiles and stories on social and political issues.