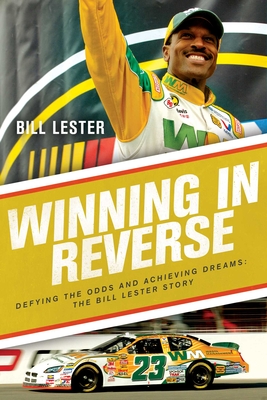 Winning in Reverse
Defying the Odds and Achieving Dreams—The Bill Lester Story
Hardcover

* Individual store prices may vary.
Other Editions of This Title:
MP3 CD (2/2/2021)
Compact Disc (2/2/2021)
Description
The amazing and dramatic story of Bill Lester, one of the most well-known NASCAR drivers in history—and a pioneer whose determination and spirit has paved the way for a new generation of racers.

NASCAR has traditionally been a southern, white man's sports, but it was knocked off its axis when Bill Lester entered the playing field. Bill did not grow up in the sport as so many other drivers had. He enjoyed racing as a side hobby while he worked as an engineer at Hewlett-Packard until, at the age of 40, and while standing on the brink of peril or promise, he quit his job to pursue racing full time.

Blessed with natural talent, Bill still had a trifecta of odds against him: he was black, he was middle aged, and he wasn't a southerner. Bill was not the quintessential "good old boy" that NASCAR was used to seeing and many fans did not hide their contempt for him.

Bill Lester rose above it all, as did his rankings, and he made history time and time again, becoming the first African American to race in NASCAR's Busch Series, the first to participate in the Nextel Cup and the first to win a Pole Positon start in the NASCAR Craftsman Truck Series.

In Winning In Reverse, Bill reveals how he came to love working on muscle cars as a child, racing in the streets as a teenager, getting married, pursuing amateur racing and then finally transitioning to the pros. Readers will be inspired by Bill's inspirational and encouraging voice and the conviction that fills each page.

Whether you are contemplating a career or lifestyle change, challenging social norms, or struggling against prejudice or bigotry, Winning in Reverse is a story for sports fans and readers everywhere about the power of perserverance in the face of adversity.
Praise For Winning in Reverse: Defying the Odds and Achieving Dreams—The Bill Lester Story…
"I remember racing with Bill Lester for the first time in 1998. Being unfamiliar with the name, I assumed he was a long time journeyman road racer who was looking for a new challenge in stock cars. Turns out his journey was anything but typical. Deciding to become a professional stock car driver in your 40s is next to impossible. In the pages of this book you'll learn Bill is a determined enthusiastic individual whose passion to succeed made the impossible a reality."
— Dale Earnhardt Jr.

"Motorsports—an industry where you won't find much color. Being Black in NASCAR, you have to have the talent. You also have to have thick skin. You are already looked at with many more eyes expecting immediate success no matter the equipment or circumstances you're in. As soon as you don't perform, youre opportunity is immediately labeled as a handout, based solely off the color of your skin. When your time comes, you have to be twice as ready to seize and capitalize on the task in front of you. Bill Lester embodies this, and reveals his struggle and triumph in this book."
— Bubba Wallace

"Bill Lester's story is instructive for any person at any age to understand that when we have a deeply embedded passion, it is never too late to make it come to fruition. I strongly believe there are many people in this world who have been waiting for this book at this moment in their lives!"
— Roland S. Martin, host/managing editor, #RolandMartinUnfiltered Daily Digital Show

"Bill Lester is a trailblazer. Like many who brave the front lines, he had to take risks. He lived his childhood dream, but he had to persevere to succeed in a sport that had few people of color and a reputation for being unwelcoming to African Americans. Winning in Reverse is his story of his achievement. In spite of adversity and tremendous odds stacked against him, Lester's hard work and tenacity served him well. Readers facing similar hurdles will gain motivation from the pages of his book too. Winning in Reverse is an invaluable tool for those looking for a guide to the winner's circle."
— Ed Gordon, broadcast journalist and author of CONVERSATIONS IN BLACK

"[An] affecting memoir… Lester's inspirational story of resilience in the face of daunting obstacles wins big."
— Publishers Weekly

"Since his retirement, the iconic racer has used his large platform to represent auto racing, businesses, and the black community in engaging in and helping bring an end to racial injustice... A recommended read for many, this book will make you believe that your dreams are so much more than 'what-if' scenarios."
— Racing Refresh
Pegasus Books, 9781643136400, 304pp.
Publication Date: February 2, 2021
About the Author
Bill Lester was born in Washington, D.C. attended University of California Berkeley. Before becoming a professional race car driver, he worked Hewlett-Packard. Lester competed in NASCAR and IMSA, two of America's most prestigious racing series and earned six podium finishes and one victory during his 10 full seasons. Bill has received various awards including "Trailblazer in Motor Sports" and the "Jackie Robinson Award" award from the Rainbow/PUSH organization and the "Sam Lacy Pioneer Award" from the National Association of Black Journalists in 2013. He was a broadcast analyst for Fox Sports South show "Around the Track" and the NBC Sports show "NASCAR America."

Recognized for his definitive books and articles on motor racing, Atlanta author Jonathan Ingram has written eight books, including CRASH!, part of the library collection at the National Museum of American History, and is the winner of awards from the National Motorsports Press Association and the Georgia Racing Hall of Fame.