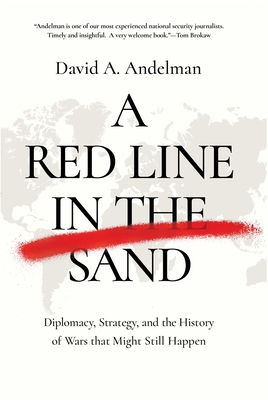 A Red Line in the Sand
Diplomacy, Strategy, and the History of Wars That Might Still Happen
Hardcover

* Individual store prices may vary.
Description
A longtime columnist for CNN and veteran correspondent for The New York Times and CBS News astutely combines history and global politics to help us better understand the exploding number of military, political, and diplomatic crises around the globe.

The riveting and illuminating behind-the-scenes stories of the world's most intense "red lines," from diplomatic and military challenges at particular turning points in history to the ones that set the tone of geopolitics today. More red lines exist in the world today than at any other single moment in history. Whether it was the red line in Munich that led to the start of the Second World War, to the red lines in the South China Sea, the Korean Peninsula, Syria and the Middle East.

As we traverse the globe, Andelman uses original documentary research, previously classified material, interviews with key players, and reportage from more than 80 countries across five decades to help us understand the growth, the successes and frequent failures that have shaped our world today.

Andelman provides not just vivid historical context, but a political anatomy of these red lines. How might their failures be prevented going forward? When and how can such lines in the sand help preserve peace rather than tempt conflict?

A Red Line in the Sand is a vital examination of our present and the future—where does diplomacy end and war begin? It is an object lesson of tantamount importance to every leader, diplomat, citizen, and voter. As America establishes more red lines than it has pledged to defend, every American should understand the volatile atmosphere and the existential stakes of the red web that encompasses the globe.
Praise For A Red Line in the Sand: Diplomacy, Strategy, and the History of Wars That Might Still Happen…
"As we are learning every day, the world is an ever more dangerous place, on a hair trigger from East to West, North to South. David Andelman, one of our most experienced national security journalists, gives us a timely, insightful analysis of the dangers and prospective solutions in this very welcome book."
— Tom Brokaw, senior correspondent, NBC News

"A book with broad ambitions, [and] a thorough primer on conflict or potential conflict zones around the globe, from North Korea to Iran to the eastern provinces of Congo. Along the way, Andelman weaves into the narrative several episodes from his remarkable journalistic career. [A] commendable work."
— The Washington Post

"If you're taking bets on where the next war will break out, this is essential reading."
— Kirkus Reviews

"Andelman moves briskly and confidently through these various hotspots, drawing on decades of experience reporting on international affairs. The result is a worthy introduction to a wide range of simmering regional conflicts that threaten global peace."
— Publishers Weekly

"David Andelman has masterfully accomplished the most difficult possible intellectual exercise: understanding where the balance point lies between war and peace. His work, without a doubt, is an essential landmark for all those who analyze or influence international affairs."
— Patrick Wajsman, editor-in-chief and publisher of Politique Internationale

"In his vital new book, David Andelman deftly marshals a wealth of examples from diplomatic and military history to demonstrate the life-and-death dangers of proclaiming red lines without fully thinking through the consequences. Calling attention to the dizzying web of lines in the sand around the world, Andelman urgently alerts us to the seeds of future conflicts as well as the opportunities for making peace."
— Richard Galant, managing editor, CNN Opinion

"David Andelman draws on decades of experience as a foreign correspondent to provide a smart, fresh take on the proliferating phenomenon of coercive "lines in the sand" that world leaders like to draw, often with disastrous consequences."
— Jacques Leslie, columnist and former foreign correspondent, The Los Angeles Times

"Do good fences make good neighbors? Does intervention cost more lives than it saves? From the Ramayana to Syria, Andelman takes us on a sweeping tour of every important place where arbitrary borders and diplomatic bluffs intersect. Before deciding on how to tackle North Korea, Russia, Iran, and other hotspots, the next president needs to read this book."


— Dr. Parag Khanna, managing director of Singapore-based FutureMap and author of Connectography and The Future is Asian

"David Andelman's book is valuable for specialists, academics and citizens who want to understand not just various conflicts around the globe, but also the origins of these conflicts and how our global political structures make future conflicts almost inevitable. A Red Line in the Sand is more than another trip around the world. It probes a dynamic that has become almost ubiquitous in global affairs-red lines that must not be (but often are) crossed-to offer a compelling framework for understanding war and peace in the 21st century."
— Lincoln A. Mitchell, Arnold A. Saltzman Institute of War and Peace Studies, Columbia University

"The term 'red line in the sand,' has been used for ages, but with varied, often disastrous results. Examining the history of states using the threat of retaliation to control their neighbors is essential to building a more inclusive and peaceful world. David Andelman offers a powerful testament of how today's world is filled with more 'red lines' than ever before and the dangers they present."
— Laetitia Garriott de Cayeux, CEO of Global Space Ventures and Fellow at the Truman National Security Project

"A fantastic work, and an eye opener, vital to understanding past and present red lines that have shaped the world as we know it today. It draws lessons that can help the world become safer and more peaceful. This is especially important in light of the spread of the COVID-19 pandemic, which has not recognized any boundaries or red lines. The recent agreement between the United Arab Emirates and Israel to establish formal diplomatic relations is another example of how eliminating red lines could help the greater good of nations." —
— Dr. Sulaiman Al Hattlan, CEO Hattlan Media, former editor-in-chief Forbes Arabia, and Nieman Fellow

"In this important and thoughtful book, David Andelman explores the fascinating story of how red lines have played a decisive, if not always fully understood, role throughout the recorded history of global diplomacy. Andelman traces how leaders have used and abused red line strategies through the centuries with consequences that are often unforeseen, sometimes calamitous, and every once and a while successful. Andelman's detailed study uncovers an aspect of statecraft that, remarkably, has never really been examined before, providing fresh and original insights into the geopolitics of our past and our present."
— Stephen Schlesinger, Fellow, Century Foundation; former director, World Policy Institute; author, Act of Creation; coauthor, Bitter Fruit; co-editor, The Letters of Arthur Schlesinger Jr.

"Andelman's book is both immediate and forward-looking—a sharp analysis of the situation in the many of the hottest areas of our planet. As an historian of the present, his work combines the in-depth research of an historian and the responsiveness of a journalist who has followed the most immediate and compelling global events. He brings to this work contacts at the highest levels he has accumulated over decades and used them in pursuit of his quest. A Michelin Guide to a world of crises, a roadmap of the perils that threaten us all. Read it with open eyes to learn more about the world today, how to react to it, if you can, and where to set foot."
— Patrice de Beer, former Washington and London Bureau Chief and editorialist for Le Monde
Pegasus Books, 9781643136486, 484pp.
Publication Date: January 5, 2021
About the Author
David A. Andelman is a veteran New York Times and CBS News correspondent and executive director of The Red Lines Project. He is an award-winning columnist for CNN and contributor to NBC News/Think. He has served as the editor and publisher of World Policy Journal, as an Executive Editor of Forbes, and news editor at Bloomberg. He is the author of The Peacemakers, The Fourth World War: Diplomacy and Espionage in the Age of Terrorism with the Count de Marenches, and A Shattered Peace: Versailles, 1919 and the Price We Pay Today. He is a graduate of Harvard University and the Columbia University Graduate School of Journalism and a member of the Council on Foreign Relations. He lives in Canadensis, Pennsylvania and Paris, France.
or
Not Currently Available for Direct Purchase