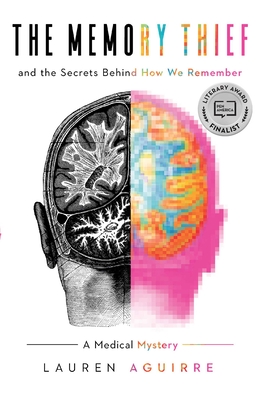 The Memory Thief
And the Secrets Behind How We Remember--A Medical Mystery
Hardcover

* Individual store prices may vary.
Other Editions of This Title:
Paperback (8/9/2022)
Description
FINALIST FOR THE 2022 PEN/E.O. WILSON LITERARY SCIENCE WRITING AWARD

"Aguirre writes clearly, concisely, and often cinematically. The book succeeds in providing an accessible yet substantive look at memory science and offering glimpses of the often-challenging process of biomedical investigation."—Science

Sometimes, it's not the discovery that's hard – it's convincing others that you're right. The Memory Thief chronicles an investigation into a rare and devastating amnesia first identified in a cluster of fentanyl overdose survivors. When a handful of doctors embark on a quest to find out exactly what happened to these marginalized victims, they encounter indifference and skepticism from the medical establishment.

But after many blind alleys and occasional strokes of good luck, they go on to prove that opioids can damage the hippocampus, a tiny brain region responsible for forming new memories. This discovery may have implications for millions of people around the world.

Through the prism of this fascinating story, Aguirre recounts the obstacles researchers so often confront when new ideas bump up against conventional wisdom. She explains the elegant tricks scientists use to tease out the fundamental mechanisms of memory. And finally, she reveals why researchers now believe that a treatment for Alzheimer's is within reach.
Praise For The Memory Thief: And the Secrets Behind How We Remember--A Medical Mystery…
"Aguirre has a knack for explaining science in accessible detail. The blend of science and deeply felt humanity will leave readers thinking about this one long after they finish."
— Publishers Weekly

"The Memory Thief moves with the roller-coaster speed of a first-rate suspense novel while simultaneously offering a deeply compassionate and insightful look at our understanding of what makes and what breaks human memory. Kudos to Lauren Aguirre for a remarkable book."
— Deborah Blum, best-selling author of The Poison Squad: One Chemist's Single-Minded Crusade for Food Safety at the Turn of the Twentieth Century

"Lauren Aguirre has crafted an intimate tale of sweeping importance, one that travels the mysterious pathways of the mind. This is a story of human frailty, heroic perseverance and, ultimately, hope. She gained the trust of all involved—the dogged researchers and the patients grasping at their fading memories. The result is a deeply reported, remarkable narrative."
— David Baron, author of AMERICAN ECLIPSE and THE BEAST IN THE GARDEN

"The Memory Thief presents a frightening insight into the lives of the victims of sudden and debilitating memory loss. By intertwining their stories with those of the doctors and scientists trying to help them, Aguirre exposes the difficulties of researching radical ideas in a vastly complex medical world. Emerging from the stories is an engrossing overview of how memory works, and fails, offering invaluable lessons about what we can do to protect our own memories."
— Lynne Kelly, author of THE MEMORY CODE and MEMORY CRAFT

"Truly a masterful synthesis of a large and diverse body of research and clinical lore. Aguirre beautifully brings to life the people behind the research in this excellent and compelling story of medical discovery. I greatly enjoyed reading The Memory Thief."
— Bradford C. Dickerson, director of the Frontotemporal Disorders Unit at Massachusetts General Hospital

"An engaging, suspenseful portrait of medical sleuthing that uncovered secrets about how drugs of abuse can damage memory. It is historically rich and will be of interest to those who study the politics of, and barriers to, scientific advancement. It is a delightful and informative read."
— Marc J. Kaufman, director of McLean Hospital's Translational Neuroimaging Laboratory

"Aguirre imbues descriptions of the book's doctors, researchers, and patients with humanity. Because opioid use and Alzheimer's disease are two subjects affecting large swaths of Americans, this is a fascinating window into the search of one scientist (with a lot of help) to connect the dots and make a difference."
— Library Journal

"The Memory Thief is extensively researched, and Aguirre writes clearly, concisely, and often cinematically. The book succeeds in providing an accessible yet substantive look at memory science and offering glimpses of the often-challenging process of biomedical investigation."
— Science
Pegasus Books, 9781643136523, 336pp.
Publication Date: June 1, 2021
About the Author
Lauren Aguirre is an award-winning science journalist who has produced documentaries, podcasts, short-form video series, interactive games, and blogs for the PBS series NOVA, where she worked after graduating from MIT. Aguirre's reporting on memory has appeared in The Atlantic, Undark Magazine, and the Boston Globe's STAT.

The research and writing of this book was supported in part by a grant from the Alfred P. Sloan Foundation Program in Public Understanding of Science and Technology.