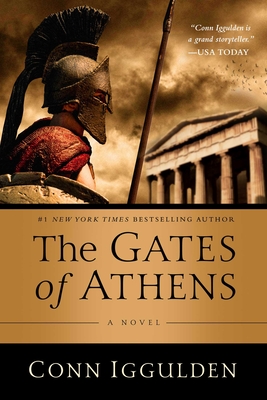 The Gates of Athens
Hardcover

* Individual store prices may vary.
Other Editions of This Title:
Digital Audiobook (1/4/2021)
Paperback (3/8/2022)
Description
Evoking two of the most famous battles of the Ancient World—the Battle of Marathon and the Last Stand at Thermopylae—The Gates of Athens is a bravura piece of storytelling by a well acclaimed master of the historical adventure novel.

In the new epic historical novel by New York Times bestselling author Conn Iggulden, in ancient Greece an army of slaves gathers on the plains of Marathon . . .

Under Darius the Great, King of Kings, the mighty Persian army—swollen by 10,000 warriors known as The Immortals—have come to subjugate the Greeks. In their path, vastly outnumbered, stands an army of freeborn Athenians. Among them is a clever, fearsome, and cunning soldier-statesman, Xanthippus. Against all odds, the Athenians emerge victorious.

Yet people soon forget that freedom is bought with blood.

Ten years later, Xanthippus watches helplessly as Athens succumbs to the bitter politics of factionalism. Traitors and exiles abound. Trust is at a low ebb when the Persians cross the Hellespont in ever greater numbers in their second attempt to raze Athens to the ground.

Facing overwhelming forces by land and sea, the Athenians call on their Spartan allies for assistance—to delay the Persians at the treacherous pass of Thermopylae . . .
Praise For The Gates of Athens…
Praise for Conn Iggulden:

"Conn Iggulden is a grand storyteller."
— USA Today

"A well-researched tale of heroism and hardship, honor and betrayal in which anyone's life can disappear. Exciting fare, a yarn well-spun."
— Kirkus Reviews

"A rousing retelling of a singular event, as seen through the eyes of three leaders on a momentous trek, this latest historical novel by Iggulden will be of interest to both young and old readers of military and ancient history."
— Library Journal

"Having already taken on Julius Caesar, Genghis Khan, and the War of the Roses, Iggulden successfully dramatizes the life of Dunstan, Abbot of Glastonbury. Immerses the reader in tenth-century England."
— Publishers Weekly

"Superbly plotted and paced. An absolutely cracking story. The pace is nail-biting and the set dressing magnificent. Iggulden has created an intriguingly complex saint—flawed, spiteful, and unreliable as the teller of his own tale. Through his eyes we watch the story of the making of England."
— The Times (London)
Pegasus Books, 9781643136660, 464pp.
Publication Date: January 5, 2021
About the Author
Conn Iggulden is one of the most acclaimed authors of historical fiction writing today. Among many other bestselling novels, he is the author of The Abbot's Tale, The Falcon of Sparta, The Gates of Athens, Protector, and The Lion, all available from Pegasus Books. Conn lives in London.