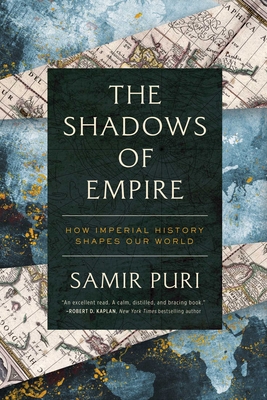 The Shadows of Empire
How Imperial History Shapes Our World
Hardcover

* Individual store prices may vary.
Description
A masterful, thought-provoking, and wide-ranging study of how the vestiges of the imperial era shape society today.

In this groundbreaking narrative, The Shadows of Empire explains (in the vein of The Silk Roads and Prisoners of Geography) how the world's imperial legacies still shape our lives—as well as the thorniest issues we face today.

For the first time in millennia we live without formal empires. But that doesn't mean we don't feel their presence rumbling through history. From Russia's incursions in the Ukraine to Brexit; from Trump's America-First policy to China's forays into Africa; from Modi's India to the hotbed of the Middle East, Samir Puri provides a bold new framework for understanding the world's complex rivalries and politics.

Organized by region, and covering vital topics such as security, foreign policy, national politics and commerce, The Shadows of Empire combines gripping history and astute analysis to explain why the history of empire affects us all in profound ways; it is also a plea for greater awareness, both as individuals and as nations, of how our varied imperial pasts have contributed to why we see the world in such different ways.
Praise For The Shadows of Empire: How Imperial History Shapes Our World…
"The legacy of empires still powerfully shape our time. We enter the postimperial 21st century with an unusual geopolitical dynamic. Comprehensive and judicious. Puri introduces a fascinating subject. A stimulating book."
— Fareed Zakaria

"A provocative work that will appeal to students of world history and geopolitics."
— Kirkus Reviews

"An excellent read. Samir Puri has written a calm, distilled and bracing book."
— Robert D. Kaplan, New York Times bestselling author of The Revenge of Geography

"Masterly. I found new insights on almost every page. It achieves the remarkable feat of deepening our self-knowledge while at the same time broadening our understanding of the world around us."
— Paul Strathern, author of Rise and Fall: A History of the World in Ten Empires

"This is a masterly, engaging, thought-provoking and wide-ranging study of how the vestiges of past empires shape the ways in which the world works today."
— James Daybell, Professor of British History at Plymouth University

"A timely and important re-thinking of imperial dominion."
— Sam Willis, historian and author of The Struggle for Sea Power: A Naval History of the American Revolution
Pegasus Books, 9781643136684, 384pp.
Publication Date: February 2, 2021
About the Author
British, but of both Indian and African heritage, Samir Puri is Adjunct Professor in the Johns Hopkins School of Advanced International Studies. He is also a Research Fellow at RAND and a Lecturer in International Relations at the War Studies Department, King's College, London. A former diplomat, he regularly appears on news shows in the US and UK and has written for a number of publications.
or
Not Currently Available for Direct Purchase