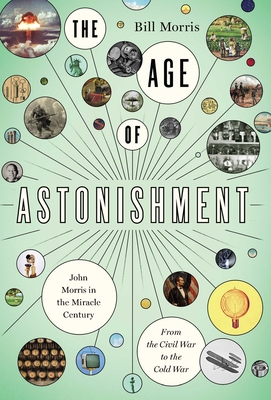 The Age of Astonishment
John Morris in the Miracle Century—From the Civil War to the Cold War
Hardcover

* Individual store prices may vary.
Description
An acclaimed journalist and novelist makes history personal, painting a rich and vivid portrait of the time when America become modern by tracing the life of one man who lived through it.

It all began with a black-and-white family snapshot of a distinguished elderly gentleman with a fine head of spun-sugar hair. He was wearing round, tortoise-shell glasses, a three-piece suit and an expression of delight mixed with terror, for on his right knee he was balancing a swaddled infant with a bewildered look. The baby is Bill morris, the man is his father's father, John Morris.

That photo, taken in November 1952, the month the United States detonated the first hydrogen bomb, a weapon a thousand times more powerful than the atom bombs that incinerated Hiroshima and Nagasaki. Three years later, John Morris died at the age of 92. Bill has no memories of the man, but even as a boy he found himself marveling at the changes John must have witnessed and experienced in his long lifetime.

He was born into a slave-owning Virginia family during the Civil War, and he died at the peak of the Cold War. At the time of his birth, the dominant technologies were the steam engine and the telegraph. He grew up in a world lit by kerosene and candles, he traveled by foot and horseback and wagon and drank water hauled from a well. He would live through Reconstruction, women's suffrage, Prohibition, the Great Depression, two world wars, the Korean War and the advent of nuclear weapons.

Though he was from a slave-owning family, he changed his views as he grew into adulthood, and would unhappily witnessed the horrors of Jim Crow and work against it. Fluent in German, he would witness Hitler's rise to power, just one of the unimaginable occurrences of his time that suddenly became all-too-real.

Deep in the Bible Belt, John was agnostic, perhaps even atheist, and held remarkably progressive beliefs on race relations, child rearing, women's rights and religious freedom. He married an Irish Catholic from upstate New York at a time when Catholics, Jews and Yankees were not warmly welcomed in the South. And in that traditionally bellicose region, he was a life-long pacifist. He was, in a word, a misfit, but one whose story embodies a pivotal generation in American history.

An acclaimed journalist and novelist, Bill Morris makes history personal in The Age of Astonishment, painting a rich and vivid portrait of the time when America become modern by tracing the life of one man who lived through it.
Praise For The Age of Astonishment: John Morris in the Miracle Century—From the Civil War to the Cold War…
"[Morris] does a superb job of recounting a life amid a series of significant decades. His imaginative 'mongrel' approach—a mix of…biography, history, reportage, memoir, autobiography, and, when the record runs thin, speculation that flirts with fiction—is successful. An entertaining combination of domestic and world history."
— Kirkus, Starred Review

"Novelist Bill Morris delivers a poignant biography of his grandfather, John Morris, a University of Georgia philologist. Though Morris touches on the technological and political upheavals of his grandfather's lifetime, he pays the greatest attention to racial issues, noting that John was born on a Virginia plantation in 1863 and died in 1955, the same year Emmett Till was murdered. While some of his peers dove into Lost Cause fanaticism, John saw slavery as evil and once drove his daughter to a farmhouse where a Black man had been lynched because 'he wanted her to know about [it] and think about [it] and never forget.' An immersive and moving portrait of a quietly decent man and his monumental era."
— Publishers Weekly
Pegasus Books, 9781643137049, 304pp.
Publication Date: April 5, 2022
About the Author
Bill Morris is the author of the novels Motor City and Motor City Burning, also available from Pegasus Books. He is currently a staff writer with the online literary magazine the Millions, and his writing has appeared in Granta, the New York Times, the Washington Post Magazine, LA Weekly, Popular Mechanics, and numerous other newspapers and magazines. Bill grew up in Detroit and now lives in New York City.