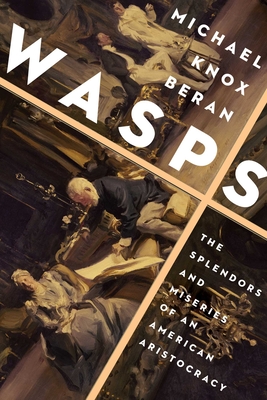 WASPS
The Splendors and Miseries of an American Aristocracy
Hardcover

* Individual store prices may vary.
Other Editions of This Title:
Digital Audiobook (3/14/2022)
Paperback (5/10/2022)
Description
An examination of WASP culture through the lives of some of its most prominent figures. Envied and lampooned, misunderstood and yet distinctly American, WASPs are as much a culture, socioeconomic and ethnic designation, and state of mind.

From politics to fashion, their style still intrigues us. WASPs produced brilliant reformers—Eleanor, Theodore, and Franklin Roosevelt—and inspired Cold Warriors—Dean Acheson, Averell Harriman, and Joe Alsop. In such dazzling figures as Isabella Stewart Gardner, Edie Sedgwick, Babe Paley, and Marietta Tree they embodied a chic and an allure that drove characters like F. Scott Fitzgerald's Jay Gatsby mad with desire.

They were creatures of glamour, power, and privilege, living amid the splendor of great houses, flashing jewels, and glittering soirées. Envied and lampooned, they had something the rest of America craved.

Yet they were unhappy. Descended from families that created the United States, WASPs felt themselves stunted by a civilization that thwarted their higher aspirations at every turn. They were the original lost generation, adrift in the waters of the Gilded Age. Some were sent to lunatic asylums or languished in nervous debility. Others committed suicide.

Yet out of the neurotic ruins emerged a group of patriots devoted to public service and the renewal of society. In a groundbreaking study of the WASP revolution in American life, Michael Knox Beran brings the stories of Henry Adams and Henry Stimson, Learned Hand and Vida Scudder, John Jay Chapman and Gertrude Vanderbilt Whitney to life. These characters were driven by a vision of human completeness, one that distinguishes them from the self-complacency of more recent power establishments narrowly founded on money and technical know-how.

WASPs shaped the America in which we live: so much so that it is not easy to understand our problems without a knowledge of their mistakes. They came to grief in Vietnam and through their own toxic blood pride, yet before they succumbed to the last temptation of arrogance, they struggled to fill a void in American life, one that many of us still feel.

For all their faults, they pointed—in an age of shrunken lives and diminished possibility—to the dream of a new life.
Praise For WASPS: The Splendors and Miseries of an American Aristocracy…
"A colorful survey, Beran stuffs the account with juicy details. This is a rewarding study of a vital yet slippery aspect of American history and culture."
— Publishers Weekly

"Fascinating. WASPS is a delight: meticulously researched, exhaustive, slightly bonkers, a smorgasbord of delicious and outrageous details."
— The Times (London)

"Beran is an exquisitely gifted writer. His fluency and command feel like products of full immersion in his subjects' lives and psyches — the books they read, the heroes they worshiped, their affinities and proclivities, achievements, affairs, shames and disappointments. [He] seeks to connect dots others wouldn't see."
— Washington Post

"Beran's knowledge and research are prodigious. He has mined a rich seam of material and unearthed some gems. With acerbic asides and witty one-liners, he paints a vivid picture that praises or punctures these superior persons. The book's liveliness and spark made it stimulating and illuminating."
— The Spectator

Praise for Murder by Candlelight

"A fascinating new book. Beran asks us to consider our own hearts of darkness, why we're obsessed with murder stories, why this obsession matters, and what it suggests about us as a culture and a species. A witty and engaging narrative, Murder by Candlelight is at once psychological thriller and philosophical meditation, murder mystery and literary analysis, written in elegant and pointed prose. In one skillfully wrought volume, he cleverly feeds our appetite for horror even as he probes this appetite."

— The New York Times Book Review

"Beran darts back to the 18th century and the arrival of Gothic literature, to authors such as Walter Scott and Coleridge, who used poetic language to convey the emotions of violence. Beyond such literary matters, Beran dwells upon real-world murder cases with a special emphasis on three. Beran relishes these stories and tells them with vigor and brio."
— The Wall Street Journal

"Beran sets out to explore four notable murder cases of the 1800s as covered by period scribes, relying heavily on contemporary sources for his text and dialog. For scholars of the late Romantic period and early crime writing."
— Library Journal

Praise for The Last Patrician

"Beran is such a lively writer, and such a risk-taking thinker, that the sparks he promiscuously strikes from his literary flint are, cumulatively, illuminating. Beran's slender meditation on Kennedy's truncated life has an unusually high ration of provocations per page. Some readers will angrily throw it across the room. But they will retrieve it, and continue reading, avidly."
— George F. Will

"A remarkable achievement. It offers new insights into the character of Robert Kennedy, perhaps the most enigmatic public figure of our time."
— William Manchester

"A luminous look at Kennedy and at the country he wanted to lead."
— The Boston Globe
Pegasus Books, 9781643137063, 416pp.
Publication Date: August 3, 2021
About the Author
Michael Knox Beran's previous books include Forge of Empires, 1861-1871, The Last Patrician, a study of Robert Kennedy that was a New York Times Notable Book of the Year, and Murder by Candlelight, also available from Pegasus Books. His writing has also appeared in The New Yorker, The Wall Street Journal, and the National Review. He lives in Westchester County, New York. michaelknoxberan.com