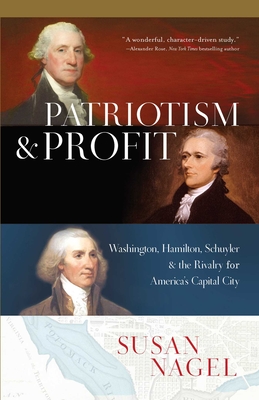 Patriotism and Profit
Washington, Hamilton, Schuyler & the Rivalry for America's Capital City
Hardcover

* Individual store prices may vary.
Other Editions of This Title:
Digital Audiobook (1/3/2022)
MP3 CD (1/4/2022)
Compact Disc (1/4/2022)
Description
The untold story of how America's beloved first president, George Washington, borrowed, leveraged, and coerced his way into masterminding the key land purchase of the American era, which lead to the creation the nation's capital city.

Contrary to the popular historical record, Thomas Jefferson was not even a minor player at The Dinner Table Bargain, now known as The Compromise of 1790. The real protagonists of the Dinner Table Bargain were President George Washington and New York Senator Philip Schuyler, who engaged in the battle that would separate our financial capital from our political seat of power. Washington and Schuyler's dueling ambitions provoked an intense decades-long rivalry and a protracted crusade for the location of the new empire city. Alexander Hamilton, son-in-law to Schuyler and surrogate son to George Washington, was helplessly caught in the middle.

This invigorating narrative vividly depicts New York City when it was the nation's seat of government. Susan Nagel captures the spirit, speech, and sensibility of the era in full and entertaining form—and readers will get to know the city's eighteenth-century movers, shakers, and power brokers, who are as colorful and fascinating as their counterparts today. Delicious political intrigue and scandalous gossip between the three competing alpha personalities—George Washington, Philip Schuyler, and Alexander Hamilton—make this a powerful and resonant history, reminding us that our Founding Fathers were brilliant but often flawed human beings.

They were avaricious, passionate, and visionary. They loved, hated, sacrificed, and aspired. Even their most vicious qualities are part of the reason why, for better or worse, the United States became the premier modern empire, born from figures carving their legacies into history.

Not only the dramatic story of how America's beloved first president George Washington created the nation's capital city, Patriotism & Profit serves as timely exposé on issues facing America today, revealing the origins behind some of our nation's most pressing problems.
Praise For Patriotism and Profit : Washington, Hamilton, Schuyler & the Rivalry for America's Capital City…
"Every new nation needs a capital, a glorious seat of government, and Susan Nagel vividly explores why the Founding Fathers, intriguing and fighting and arguing all the way, plumped not for New York—for many, the natural choice—but for a foetid swamp on the Potomac River. Patriotism and Profit is a wonderful, character-driven study of how politics becomes policy, then just as much as now."
— Alexander Rose, Washington's Spies: The Story of America's First Spy Ring

"Biographer, journalist, and former humanities professor Nagel paints a convincing portrait of George Washington and his friend New York Sen. Philip Schuyler as manipulative real estate moguls who vied to establish the nation's capital on a site that would enrich them personally... A fresh look at the self-serving nature of the Founding Fathers."
— Kirkus

"A new nation needs a capital which is no small choice: it will define America as it moves toward being the empire of the New World. Susan Nagel sets the whole vivid scene for the decision – the deals that made George Washington the first real estate magnate as President, the front men and lobbyists and insider information that shaped politics then as now, and Alexander Hamilton's prophecy that nothing could work that did not 'unite the interest and credit of rich individuals with those of the state.' Washington is chosen to keep the South on side, and also to keep George Washington's investors happy. But Nagel does much more than disentangle the story of power, land and cash at the start of a new nation: she remembers the loves and marriages and society power games as well. She has written the human history of heroic times."


— Michael Pye, author of THE EDGE OF THE WORLD and EUROPE'S BABYLON

Praise for Susan Nagel's Marie-Therese, Child of Terror:

"Masterly and compelling. A triumph."
— Tina Brown, author of The Diana Chronicles

"The woman in these pages emerges as a veritable prototype of saintly Catholic forgiveness."
— The Atlantic Monthly

"In Marie-Thérèse, Child of Terror, Susan Nagel faces the challenge of turning this largely unknown and fairly unsympathetic historical figure into a lively biographical subject. Nagel does capture the peculiar humanity of her subject."
— The New York Times Book Review

"A fascinating, readable, and engrossing book that should interest general readers and scholars alike."
— Library Journal (starred review)

"This highly detailed, exhaustively researched, often riveting account will appeal especially to all those readers who've immersed themselves in the many recent books about Marie Antoinette."
— Booklist (starred review)

"Relates the dramatic highs and lows experienced by the woman known as "Madame Royale." Highly detailed and sympathetic."
— Publishers Weekly

"Taking one of those fascinating lives that have remained too long untold, Susan Nagel's Marie-Therese is a well-researched, entertaining and often poignant biography that recreates royalty, terror, tragedy, revolution, and restoration with verve and vividness."
— Simon Sebag Montefiore, author of Stalin: The Court of the Red Tsar
Pegasus Books, 9781643137087, 352pp.
Publication Date: October 5, 2021
About the Author
Susan Nagel is the author of Marie-Therese, Child of Terror and Mistress of the Elgin Marbles as well as a critically acclaimed book on the novels of Jean Giraudoux. She has written for the stage, screen, and Town and Country. For many years, she was a professor in the humanities department at Marymount Manhattan College. Susan lives in New York City.