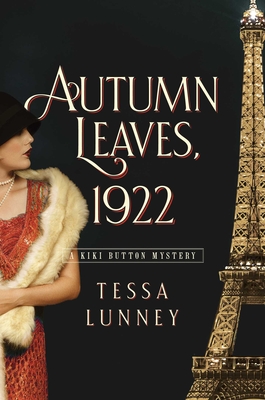 Autumn Leaves, 1922
A Kiki Button Mystery
Hardcover

* Individual store prices may vary.
Description
After a year away from Paris, Kiki Button is delighted to be back in City of Lights. But danger threatens her return as she is pulled into another spy mission—one that brings her ever closer to the rising fascist threat in Europe.

October 1922. Kiki Button has had a rough year at home in Australia after her mother's sudden death. As the leaves turn gold on the Parisian boulevards, Kiki returns to Europe, more desperately in need of Paris and all its liveliness than ever. As soon as she arrives back in Montparnasse, Kiki takes up her life again, drinking with artists at the Café Rotonde, gossiping with her friends, and finding lovers among the enormous expatriate community. Even her summertime lover from the year before, handsome Russian exile Prince Theo Romanov, is waiting for her.

But it's not all champagne and moonlit trysts. Theo is worried that his brother-in-law is being led astray by political fanatics. Kiki's boy from home, Tom, is still hiding under a false name. Her friends are in trouble—Maisie has been blackmailed and looks for revenge, Bertie is still lovesick and lonely, and Harry has important information about her mother. And to top it off, she is found by Dr. Fox, her former spymaster, who insists that she work for him once more.

Amidst the gaiety of 1920s Paris, Kiki stalks the haunted, the hunted, and people still heartsore from the war. She parties with princes and Communist comrades, she wears ballgowns with Chanel and the Marchesa Casati, she talks politics with Hemingway and poetry with Sylvia Beach, and sips tea with Gertrude Stein. She confronts the men who would bring Europe into another war. And as she uses her gossip columnist connections for her mission, she also meets people who knew her mother, and can help to answer her burning question: why did her mother leave England all those years ago?
Praise For Autumn Leaves, 1922: A Kiki Button Mystery…
"This book by an Australian writer prevails, in part because of its beguiling setting: Paris between the world wars...a winning story."
— Seattle Times

"In this eagerly awaited sequel to Lunney's debut, April in Paris, 1921, Kiki is at her promiscuous and impish best as she faces danger, ambiguity, and conflicting clues. A mesmerizing, highly original tale that's part spy thriller, part ode to a postwar Paris, part love story, and part mystery, Lunney's latest features unique and captivating characters, rapid action, and a cliff-hanger ending."
— Booklist (starred)

"Autumn Leaves, 1922 is a sumptuous spy romp with an irresistible heroine.... Swoon through Autumn Leaves, 1922, whose mysteries are enriched with toothsome details of a bygone Paris in the glittering years before Hitler came to power."
— Foreword Reviews (starred)

"Fans of historical spy novels will enjoy getting lost in these richly imagined pages. Lunney is a writer to watch."
— Publishers Weekly

Praise for Tessa Lunney's April in Paris, 1921:

"Button is naughtier than Kerry Greenwood's Phryne Fisher, as strong as Suzanne Arruda's Jade del Cameron, and every bit as clever as Susan Elia MacNeal's Maggie Hope. This thoroughly entertaining, delightfully witty debut is imbued with Paris' unique ambiance and will have readers eagerly awaiting Button's next adventure."
— Booklist (starred)

"Lunney's vibrant picture of Paris, chock-full of flapper fashion and cameos of the Lost Generation, will leave readers eager for more."
— Publishers Weekly

"An atmospheric, verbose historical novel that foreshadows the next war while reveling in the debauched bohemianism of Paris between the wars. Spying is just part of the excitement."
— Library Journal

"One of those rare debuts that absolutely wowed me. Lunney successfully combines mainstream mystery with spy intrigue, making for an intoxicating concoction, and Kiki is a powerful tour guide. If you like unusual heroines that are the perfect mix of moxie and vulnerability, you can't go wrong with this one."
— Criminal Element

"What a deliciously decadent story!"
— Fresh Fiction

"Tessa Lunney brilliantly evokes the Années folles of the Roaring Twenties as her heroine Kiki Button traipses through Paris's sensual bohemian culture hunting for a World War I mole and stolen Pablo Picasso painting."
— Julie McElwain, author of A Murder in Time and A Twist in Time

"An irresistible debut! Adventurous and whip-smart, Kiki Button is Jazz Age Paris's most dazzling ex-pat."
— David Krugler, author of The Dead Don't Bleed

"Kiki Button, Tessa Lunney's main character of her debut April in Paris, 1921, is a gossip columnist-cum-detective who finds herself mixed up in a mystery set against the backdrop of post-WWI Paris. Lunney takes the reader on a breathless, page-turning journey through cafes, streets, and dark alleys of this Bohemian time period, searching for a stolen piece of art. Kiki, who is charming, self-possessed, and sexually free, is readable and fun, a modern woman blazing though the Années folles no holds barred."
— John Copenhaver, award-winning author of Dodging and Burning

"Fascinating characters, beautifully written."
— Kate Williams, New York Times bestselling author of Becoming Queen Victoria
Pegasus Crime, 9781643137124, 352pp.
Publication Date: August 3, 2021
About the Author
Tessa Lunney is a novelist, short fiction writer, reviewer and poet. Her debut novel, April in Paris, 1921, was published by Pegasus Books. Her short fiction has won awards in the USA and Australia, and her work has appeared in Southerly, Griffith Review, Cordite, Best Australian Poems, among others. She holds a Doctorate in Creative Writing on Australian war fiction from Western Sydney University. She lives in Sydney, Australia.