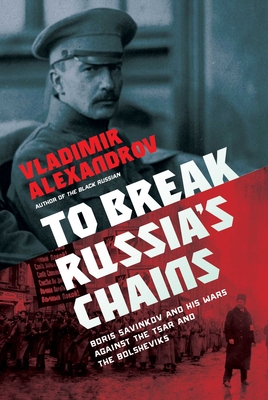 To Break Russia's Chains
Boris Savinkov and His Wars Against the Tsar and the Bolsheviks
Hardcover

* Individual store prices may vary.
Description
A brilliant examination of the enigmatic Russian revolutionary about whom Winston Churchill said "few men tried more, gave more, dared more and suffered more for the Russian people," and who remains a legendary and controversial figure in his homeland today.

Although now largely forgotten outside Russia, Boris Savinkov was famous, and notorious, both at home and abroad during his lifetime, which spans the end of the Russian Empire and the establishment of the Soviet Union. A complex and conflicted individual, he was a paradoxically moral revolutionary terrorist, a scandalous novelist, a friend of epoch-defining artists like Modigliani and Diego Rivera, a government minister, a tireless fighter against Lenin and the Bolsheviks, and an advisor to Churchill. At the end of his life, Savinkov conspired to be captured by the Soviet secret police, and as the country's most prized political prisoner made headlines around the world when he claimed that he accepted the Bolshevik state. But as this book argues, this was Savinkov's final play as a gambler and he had staked his life on a secret plan to strike one last blow against the tyrannical regime.

Neither a "Red" nor a "White," Savinkov lived an epic life that challenges many popular myths about the Russian Revolution, which was arguably the most important catalyst of twentieth-century world history. All of Savinkov's efforts were directed at transforming his homeland into a uniquely democratic, humane and enlightened state. There are aspects of his violent legacy that will, and should, remain frozen in the past as part of the historical record. But the support he received from many of his countrymen suggests that the paths Russia took during the twentieth and twenty-first centuries--the tyranny of communism, the authoritarianism of Putin's regime--were not the only ones written in her historical destiny. Savinkov's goals remain a poignant reminder of how things in Russia could have been, and how, perhaps, they may still become someday.

Written with novelistic verve and filled with the triumphs, disasters, dramatic twists and contradictions that defined Savinkov's life, this book shines a light on an extraordinary man who tried to change Russian and world history.
Praise For To Break Russia's Chains: Boris Savinkov and His Wars Against the Tsar and the Bolsheviks…
"In Vladimir Alexandrov's To Break Russia's Chains we are offered a poignant idea of what 'might have been' in the last century of history if Savinkov's struggle for a democratic Russia had succeeded….Alexandrov presents Savinkov in all his complexity, particularly the blind spots which sank so many of his efforts."
— Washington Independent Review of Books

"To Break Russia's Chains is well-written, often gripping. Spies, double deals, subterfuge, plots, arrests, escapes, and revolutionary acts abound across its 500 pages. Alexandrov offers the best conclusion for understanding Savinkov's remarkable life and ultimate fate: 'as is often the case, what happened was the exact opposite of what he expected.'"
— Origins

"This excellent study expertly chronicles the complexities of the Russian Revolution and the Civil War through the extraordinary life of Boris Savinkov...The breadth of Alexandrov's research is highly impressive as is his large cast of characters, whom he handles very deftly. This very welcome biography now brings Savinkov's adventures to a whole new audience."
— History of War

"This compelling study distils a great deal of research into a fast-paced narrative [that] reads like a political thriller...it is a story Alexandrov tells with aplomb."
— Times Literary Supplement

"A thorough and detailed study. One of the more remarkable lives in an era of remarkable lives. Alexandrov wonders just what might have been had Savinkov's last plot not been thwarted…a question worth asking."
— The Los Angeles Review of Books

"Alexandrov's biography is well worth reading for its depiction of the real feel of the historical situation and for the complexity of a historical character like Savinkov, whose life spanned a whole chapter of Russian history."
— The American Conservative

"A controversial figure in Russian history earns an impassioned, long-overdue treatment. This thoroughgoing biography builds [Savinkov's] story with meticulous, novelistic detail...Throughout this fascinating historical biography, Alexandrov demonstrates his facility with the Soviet archives, delivering a scholarly yet accessible work perfect for library collections. A painstaking work of archival research that unearths little-known details of early Soviet history."
— Kirkus, Starred Review

"Marshalling a large cast of characters and a mountain of research into a fluid narrative, Alexandrov clarifies the complex dynamics of the Russian Revolution. This trenchant biography gives its fascinating subject his due."
— Publishers Weekly

"The importance of Boris Savinkov and his controversial role in the Russian Revolution and Civil War have been overlooked recently, but this excellent and well-written biography by Professor Alexandrov should do much to reawaken interest in his extraordinary life."
— Antony Beevor

"Boris Savinkov was one of the most colourful, notorious and enigmatic figures in revolutionary Russia – a flamboyant hero to some, an untrustworthy villain to others. Extraordinarily influential in his lifetime – and still a legendary figure in Russia – this complex individual has been all-but forgotten in the West. Vladimir Alexandrov's superb biography provides a page-turning account of Savinkov's roller-coaster life, as well as throwing valuable new light on the history of the Russian state."
— Giles Milton, best-selling author of Churchill's Ministry of Ungentlemanly Warfare and D-Day

"The extraordinary life of Boris Savinkov—revolutionary assassin, self-described terrorist, and novelist—is one of those historical enigmas peculiar to the tragedy of modern Russia. But in the hands of this masterful biographer, Savinkov is resurrected. Vladimir Alexandrov expertly mines the archives to write a spy story filled with intrigue, passion and improbable adventures—and along the way we learn a great deal of history. A formidable achievement."


— Kai Bird is a Pulitzer Prize winning historian, the Director of the Leon Levy Center for Biography and the author most recently of The Outlier: The Unfinished Presidency of Jimmy Carter.

Praise for The Black Russian—One of San Francisco Chronicle's Top Ten Nonfiction Books of 2013

"Magnetizing and unforgettable . . . In his assiduously researched, prodigiously descriptive, fluently analytical, and altogether astonishing work of resurrection, Alexandrov provides uniquely focused accounts of racial struggles in America and decadence and bloodshed in Europe and Russia while insightfully and dynamically portraying a singular man."
— Booklist (starred review)
Pegasus Books, 9781643137186, 576pp.
Publication Date: September 7, 2021
About the Author
Vladimir Alexandrov received a Ph.D. in comparative literature from Princeton. He taught Russian literature and culture at Harvard before moving to Yale, where he is B.E. Bensinger Professor of Slavic Languages and Literatures. He is the author of The Black Russian as well as books on Bely, Nabokov, and Tolstoy, and lives in New Haven, Connecticut.