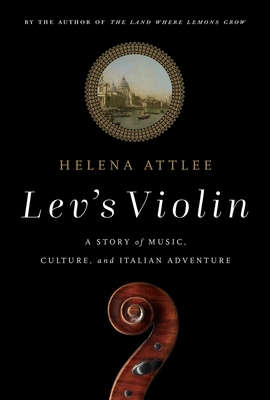 Lev's Violin
A Story of Music, Culture and Italian Adventure
Hardcover

* Individual store prices may vary.
Description
Instantly entranced by the captivating voice of a violin, the author of The Land Where Lemons Grow takes us on a journey through five centuries of Italian history and culture to discover the stories embodied in this sensual instrument.

From the moment she hears this violin for the first time, Helena Attlee is captivated. She is told that it is no ordinary violin. It's known as "Lev's Violin" and it is an Italian instrument, named after its former Russian owner.

Eager to discover all she can about its ancestry and the stories contained within its delicate wooden body, she sets out for Cremona, birthplace of the Italian violin. This is the beginning of a beguiling journey whose end she could never have anticipated.

Making its way from dusty workshops, through Alpine forests, cool Venetian churches, glittering Florentine courts, and far-flung Russian flea markets, Lev's Violin takes us from the heart of Italy to its very furthest reaches. Its story of luthiers and scientists, princes and orphans, musicians, composers, travellers and raconteurs swells to a poignant meditation on the power of objects, stories and music to shape individual lives and to craft entire cultures.
Praise For Lev's Violin: A Story of Music, Culture and Italian Adventure…
"Utterly enthralling. A beautifully-written voyage of discovery that takes us deep into the heart of music-making."
— Deborah Moggach, author of The Best Exotic Marigold Hotel

"Readers will enjoy her engaging social and cultural history of Italy and the violin."
— Booklist

"Lyrical and exquisitely detailed."
— Library Journal

"A readable, well-written, charming and original example of the history-sleuthing genre of non-fiction. The book leads the reader with a light touch through matters and histories that might seem esoteric, but are in fact consistently intriguing because of the very personal character of the telling. Attlee has the natural story-teller's gift."
— Stephen Walsh, Professor Emeritus of Music at Cardiff University, and author of Debussy: A Painter in Sound

"This is a book I pressed on friends more than any other this year. If they were bemused, I hope they remained to be charmed. I read it randomly a few pages at a time until there were no pages I hadn't read twice. It was my respite."
— Tom Stoppard
Pegasus Books, 9781643137209, 224pp.
Publication Date: April 6, 2021
About the Author
Helena Attlee is the author of The Land Where Lemon Grows and other books about Italian gardens. Helena is a Fellow of the Royal Literary Fund and has worked in Italy for nearly thirty years.