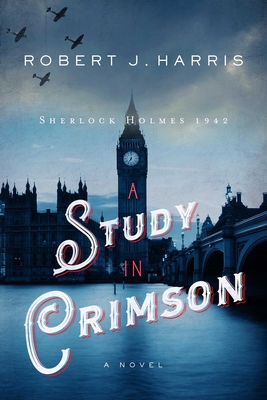 A Study in Crimson
Sherlock Holmes 1942 (Sherlock Holmes in WWII)
Hardcover

* Individual store prices may vary.
Other Editions of This Title:
Paperback (6/14/2022)
Library Binding, Large Print (10/1/2021)
Description
Bringing Sherlock Holmes from the Victorian Era into the dark days of World War II, this imaginative new thriller confronts the world's greatest detective with a killer emulating the murders of Jack the Ripper.

London, 1942.

A killer going by the name of "Crimson Jack" is stalking the wartime streets of London, murdering women on the exact dates of the infamous Jack the Ripper killings of 1888. Has the Ripper somehow returned from the grave? Is the self-styled Crimson Jack a descendant of the original Jack—or merely a madman obsessed with those notorious killings?

In desperation Scotland Yard turn to Sherlock Holmes, the world's greatest detective. Surely he is the one man who can sift fact from legend to track down Crimson Jack before he completes his tally of death. As Holmes and the faithful Watson tread the blacked out streets of London, death waits just around the corner.

Inspired by the classic film series from Universal Pictures starring Basil Rathbone and Nigel Bruce, which took Sherlock Holmes to the 1940s, this is a brand-new adventure from a talented author who brilliantly evokes one of mystery fiction's most popular characters.
Praise For A Study in Crimson: Sherlock Holmes 1942 (Sherlock Holmes in WWII)…
Praise for A Study in Crimson:

"A Study in Crimson is an engaging read. The game, as Harris says in his preface, "is once more afoot"—and in fine fashion."
— Historical Novels Society

"Robert J. Harris's lively Sherlock Holmes pastiche transports readers to a blacked-out London during World War II. In two previous books, the author resurrected John Buchan's World War I-era character Richard Hannay to good effect and with strong period flavor. A Study in Crimson achieves a similar mix of action-adventure, detective savvy and Holmesian surprise."
— Tom Nolan

"Besides providing the duo with a worthy challenge, Harris makes his Watson an intelligent and competent sidekick. Both the strong characterization and plot bode well for a sequel."
— Publishers Weekly (starred)

"Harris successfully captures Holmes' brilliance, talent, and arrogance, as well as Watson's dogged devotion to Holmes and the atmosphere in London during the dark days of war. The case he has imagined for Holmes to solve is both thoroughly challenging and pleasingly multilayered. A satisfying, albeit gruesome, read."
— Booklist

"A Study in Crimson does right by its venerated source material while putting a new spin on Conan Doyle's characters by rejiggering their historical context. Harris's mystery is up to snuff...he does yeoman's work with Watson's narration, capturing the good doctor's starry-eyed bemusement with the fustily fastidious detective."
— Shelf Awareness

"Harris' take on the iconic characters is outstanding."
— BookPage

Praise Robert J. Harris's The Thirty-One Kings:

"Riveting. Daring measures and hairbreadth escapes are the rule in this first-person chronicle. The can-do spirit of Mr. Harris's book evokes a time when it seemed the fate of the world might hinge on the acts of a handful of brave souls. The Thirty-One Kings is old-fashioned in many ways?which is what makes it such a reassuring pleasure to read."
— The Wall Street Journal

"A little bit of James Bond, a smattering of Indiana Jones, and perhaps even a bit of Buckaroo Bonzai? Clever, well-plotted, and big fun."
— BookPage

"The plot whips along, embellished by dogfights, perilous car journeys, personal vendettas, and plenty of derring-do?plus a whiff of enjoyable parody to lend an edge. I was beguiled."
— The Daily Mail (London)

"Harris does a fine job integrating characters from Buchan's works, imagining the way they might have aged and grown. The plotline is as one would imagine the next Hannay story might have been, had Buchan written it. Harris knows his history, and he knows his Buchan. This is a fine, fast, exciting read. Recommended."
— Historical Novels Review

"A loving tribute to Buchan and thoroughly good fun."
— Allan Massie, bestselling author of 'The Royal Stuarts'
Pegasus Crime, 9781643137582, 256pp.
Publication Date: June 1, 2021
About the Author
Robert J. Harris was born in Scotland and studied at the University of St Andrews, where he graduated with honors. He is the author of A Study in Crimson, the first in his World War II mystery series featuring Sherlock Holmes, and The Thirty-One Kings. Both novels have been acclaimed by critics and readers alike. Robert lives in St. Andrews, Scotland.