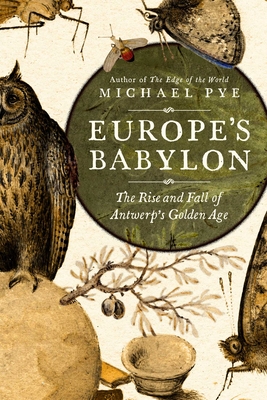 Europe's Babylon
The Rise and Fall of Antwerp's Golden Age
Hardcover

* Individual store prices may vary.
Description
A revelatory history of Antwerp—from its rise to a world city to its fall in the Spanish Fury—by the New York Times Notable author of The Edge of the World.

Before Amsterdam, there was a dazzling North Sea port at the hub of the known world: the city of Antwerp.

In the Age of Exploration, Antwerp was sensational like nineteenth-century Paris or twentieth-century New York. It was somewhere anything could happen or at least be believed: killer bankers, easy kisses, a market in secrets and every kind of heresy. For half the sixteenth century, it was the place for breaking rules—religious, sexual, intellectual.

And it was a place of change—a single man cornered all the money in the city and reinvented ideas of what money meant. Another gave the city a new shape purely out of his own ambition. Jews fleeing the Portuguese Inquisition needed Antwerp for their escape, thanks to the remarkable woman at the head of the grandest banking family in Europe.

Thomas More opened Utopia there, Erasmus puzzled over money and exchanges, William Tyndale sheltered there and smuggled out his Bible in English until he was killed. Pieter Bruegel painted the town as The Tower of Babel.

But when Antwerp rebelled with the Dutch against the Spanish and lost, all that glory was buried and its true history rewritten. The city that unsettled so many now became conformist. Mutinous troops burned the city records, trying to erase its true history.

In Europe's Babylon, Michael Pye sets out to rediscover the city that was lost and bring its wilder days to life using every kind of clue: novels, paintings, songs, schoolbooks, letters and the archives of Venice, London and the Medici. He builds a picture of a city haunted by fire, plague, and violence, but one that was learning how to be a power in its own right as it emerged from feudalism.

An astounding and original narrative that illuminates this glamorous and bloody era of history and reveals how this fascinating city played its role in making the world modern.
Praise For Europe's Babylon: The Rise and Fall of Antwerp's Golden Age…
"Now a museum-like gem, for much of the 16th century, Antwerp thrived as Europe's most vibrant center of commerce, intellectual life, and free thought. Pye offers a colorful depiction of the city's 'exceptional years.' Entertaining. An impressionistic portrait of its institutions and great men (Bruegel, Erasmus, et al.), emphasizing the lives of now-obscure traders, bankers, entrepreneurs, officials, printers, and booksellers, including a surprising number of successful women and Jews. A vivid look at a great Renaissance city."
— Kirkus

"A rich, rumbustious, rogue's paradise… Michael Pye is the perfect chronicler of this extraordinary place, since he revels in complexity and never hesitates to use his abundant imagination. His prose is as opulent as the city itself."
— The Times (London)

"Pye, best known for The Edge of the World (2014), about the North Sea and modernity, declares for his new slice of history an approach that is out of the ordinary, consequent, he says, on the burning of Antwerp town hall with the city records by those mutineers… The author enliven[s] things with extracts from letters and references from paintings."
— The Telegraph

"Exhilarating. Pye captures Antwerp's greatest decades in character studies, stories and vignettes, encompassing not just trade but buildings and books too. It is pieced together with great skill and art, and the effect is dazzling. If you want a sense of the city's anarchic splendor, its potent, unsustainable originality, then this is the book for you. Pye conjures up exactly the glamour that drew people to Antwerp's gates in its pomp: the city as idea; the city as improvisation; the city as possibility."
— Literary Review

"Antwerp is the star of this charming and rather lovely history. Pye draws on a rich tapestry of sources – and individuals – to paint his portrait. Some were little known beyond inventories of the goods they left behind. Pye writes beautifully, has a lovely eye for detail and an obvious affection for this period of Antwerp's history."
— The Guardian

"Pye communicates this sense of paradise lost profoundly. The result is a book of imaginative historical reconstruction that reads as brilliantly as a novel."
— The Mail on Sunday

"Wonderfully lively and fact-rich history. [Pye] makes tangible every aspect of life and death in Antwerp."
— Michael Prodger

Praise for The Edge of the World

"Bristling, wide-ranging and big-themed. At its most meaningful, history involves a good deal of art and storytelling. Pye's book is full of both. A fruitful way of reorienting our thinking about the past. Pye challenges us to consider how we got to be where – and who – we are."
— The New York Times (A Notable Book)

"Pye, like a scholarly magpie, picks up his glittering bits from the most up-to-date academic research."
— Michael Dirda

"Mr. Pye draws on a dizzying array of documentary and archaeological scholarship, which he works together in surprising ways."


— The Economist
Pegasus Books, 9781643137773, 272pp.
Publication Date: September 7, 2021
About the Author
Michael Pye is the author of The Drowning Room, The Pieces from Berlin, and The Edge of the World, all three of which were New York Times Notable Books of the Year. He lives in Amsterdam.