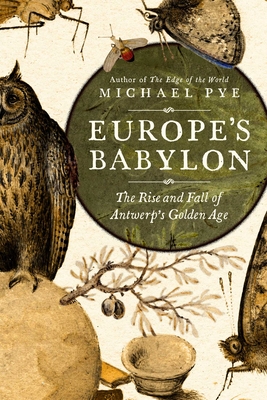 Europe's Babylon
The Rise and Fall of Antwerp's Golden Age
Hardcover

* Individual store prices may vary.
Description
A revelatory history of Antwerp—from its rise to a world city to its fall in the Spanish Fury—by the New York Times Notable author of The Edge of the World.

As Europe emerged from decades of religious warfare, the Age of Exploration began to flower in the middle of the 16th century. It was then that Antwerp grew from a modest port town into a city where the trade of the whole world would converge. As the city entered its "Golden Age," Antwerp became a melting-pot of merchants and spies, pirates and philosophers, artists and intellectuals, all interacting in a heady mix of sweeping social change, urban development, and multi-lingual excitement that made Antwerp the hub of the known world.

The new trade routes brought pepper and diamonds from India, silver from America and gold from Africa that tracked by cart and river to the Ottoman Empire in the East. Antwerp made possible escape routes to Istanbul for Jews facing the Inquisition in Portugal, including for the woman running the largest merchant banking house in Europe. In just a few generations, the city inspired Thomas More's Utopia, taught Erasmus about money, modelled for Pieter Bruegel's Tower of Babel, protected William Tyndale and smuggled out his bible in English.

This glory was buried when the Dutch rebelled against their Spanish masters and mutinous troops burned the city records. Pye uses novels, paintings, schoolbooks and archives from Venice, to London to the Medici to uncover the hidden story of the years when Antwerp was the 'exception' to all Europe.

Drawing on an astounding breadth of original source material, Pye illuminates this magnificent but little understood era of history and reveals how this fascinating city played an integral role in world history.
Pegasus Books, 9781643137773, 408pp.
Publication Date: September 7, 2021
About the Author
Michael Pye is the author of The Drowning Room, The Pieces from Berlin, and The Edge of the World, all three of which were New York Times Notable Books of the Year. He won various prizes in Modern History at Oxford and now divides his time between London and rural Portugal.