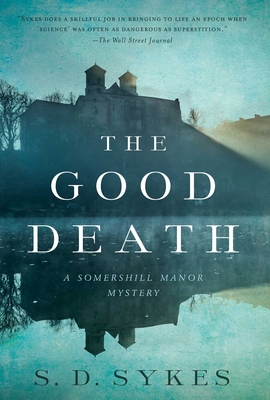 The Good Death
A Somershill Manor Mystery (Somershill Manor Mysteries)
Hardcover

* Individual store prices may vary.
Description
In the new Somershill Manor mystery, Lord Oswald de Lacy makes a devastating confession to his dying mother. But will he gain the forgiveness he seeks, or destroy his family?

England, November 1370. Oswald de Lacy, Lord of Somershill Manor, makes a devastating confession to his dying mother. But will he gain the forgiveness he seeks—or destroy his family?

In 1349, Oswald, the third son of the de Lacy family, was an eighteen-year-old novice monk at Kintham Abbey. Sent to collect herbs from the forest, Oswald comes across a terrified village girl. Frenzied with fear, she runs headlong into a swollen river. Oswald pulls her broken and bruised body from the water and returns her to the local village, only to discover that several other women have disappeared. A heinous killer is at work, but because all of the missing women come from impoverished families without influence, nobody seems to care.

Oswald vows to find this killer himself—but as plague approaches, his beloved tutor Brother Peter insists they must stay inside the monastery. He turns instead to the women of the village for help, and particularly the enigmatic and beautiful Maud Woodstock—a woman who provokes strong emotions in Oswald.

As he closes in on the killer, Oswald makes a discovery that is so utterly shocking that it threatens to destroy him and his family. Even as plague rages across England and death is at every door, Oswald must kill or be killed. And the discovery will be a secret that haunts him for the rest of his life.
Praise For The Good Death: A Somershill Manor Mystery (Somershill Manor Mysteries)…
"The author's inventiveness and gift for description serves to deepen an already nuanced lead. Sykes solidifies her standing as a preeminent historical whodunit writer."
— Publishers Weekly (starred)

"An utterly compelling, darkly atmospheric mystery set against a backdrop of plague, prejudice and passion. I could not put this book down."
— Tracy Borman, author of Thomas Cromwell and The King's Witch

"If you fancy a flashback to a (multiple) murder mystery of the 14th century, you are in safe, velvet-gloved hands with S.D. Sykes and her Oswald de Lacy series."
— Deadly Pleasures Magazine

Praise for the Somershill Manor Mysteries:

"Sykes does a skillful job of making her forward-thinking but all-too-human protagonist both believable and likeable, and in bringing to life an epoch when 'science' was often as dangerous as superstition."
— Wall Street Journal

"Atmospheric and brilliant, with a haunting denouement [that] is sure to leave readers eager for the next in the series."
— Shelf Awareness

"It's no fun reading a medieval mystery if it isn't steeped in filth, squalor and pestilence. S. D. Sykes gets right to the point [and] serves it all up in vivid detail, from the noxious smells to an actual burial pit, heaped with the putrefying bodies of plague victims. A clever plot."
— Marilyn Stasio, The New York Times Book Review

"Sykes can be described as the 'medieval C. J. Sansom.' Off-the-charts imaginative and breathtaking."
— New York Times bestselling author Jeffery Deaver

"Sykes's novel immerses the reader in the filth and ignorance of medieval Kent, presents a puzzling mystery and introduces a hero who grows in stature as his problems increase."
— Kirkus Reviews

"With political intrigue and the social barriers of the Middle Ages in play, Sykes adds an intricate and intriguing debut to the ever-widening pool of medieval-era mysteries. Thrilling plot twists and layered characters abound in this rich tale of murder and mystery in 14th-century Kent."
— Library Journal

"Sykes's gamble in putting Oswald in unfamiliar terrain pays off, as she again blends a detailed immersion in the time period with a clever mystery plot line."
— Publishers Weekly (starred)

"We are plunged into Sykes' rich soup of Venetian intrigue; period detail; and increasingly intricate plotting, all with the deeply realized character of Lord Somershill fighting his own demons while investigating. A brilliant addition to the Somershill Manor novels."
— Booklist (starred)
Pegasus Crime, 9781643137797, 364pp.
Publication Date: September 7, 2021
About the Author
S. D. Sykes is the author of Plague Land, The Butcher Bird, City of Masks, and The Bone Fire, all available from Pegasus Crime. She lives in England.
or
Not Currently Available for Direct Purchase