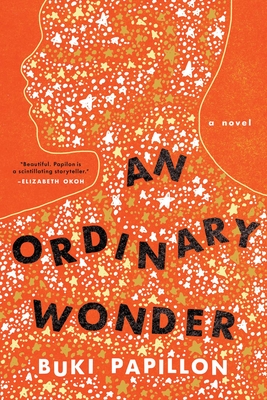 An Ordinary Wonder
A Novel
Hardcover

* Individual store prices may vary.
Description
**WINNER OF THE MAYA ANGELOU AWARD**

A Massachusetts Book Award "Fiction Honor"

An extraordinary literary debut about a Nigerian boy's secret intersex identity and his desire to live as a girl.

Oto leaves for boarding school with one plan: excel and escape his cruel home. Falling in love with his roommate was certainly not on the agenda, but fear and shame force him to hide his love and true self.

Back home, weighed down by the expectations of their wealthy and powerful family, the love of Oto's twin sister wavers and, as their world begins to crumble around them, Oto must make drastic choices that will alter the family's lives for ever.

Richly imagined with art, proverbs and folk tales, this moving and modern novel follows Oto through life at home and at boarding school in Nigeria, through the heartbreak of living as a boy despite their profound belief they are a girl, and through a hunger for freedom that only a new life in the United States can offer.

An Ordinary Wonder is a powerful coming-of-age story that explores complex desires as well as challenges of family, identity, gender, and culture, and what it means to feel whole.
Praise For An Ordinary Wonder: A Novel…
"Papillon's work shines when she delves into the complexity of Oto's experiences. Moments of excitement and brutality are rendered with vivid urgency. Oto is a keenly observed character, and it is one of Papillon's achievements that Oto is larger than the sum of the many traumas she experiences... An Ordinary Wonder ends in a place of optimism: Oto has a chance to show her true self. Her story highlights the limiting dangers of the gender binary, while also reminding us of the power storytelling has to help us envision a more expansive and inclusive world."
— Thomas Grattan

"Tender and moving, this debut brings to life intersex Oto, who is forced to live as a boy despite their heartfelt belief that they are a girl. Following Oto through life at home and at boarding school in Nigeria and their dream of emigrating to the US, Oto's wealthy and powerful family is ashamed of their identity and treats Oto cruelly to ensure silence."
— Cosmopolitan UK

"An Ordinary Wonder is a spellbinding tale that prompts deep reflection around concepts of gender and identity. Buki Papillion's writing has a vivid beauty that kept me enthralled throughout."
— Angela Chadwick

"Beautifully and delicately written, I felt a range of emotions while reading it. Papillon is a scintillating storyteller. We need more stories like this!"
— Elizabeth Okoh

"This brilliant and ultimately uplifting debut antidotes the hard realities of gender-based violence, secrecy and family estrangement with the transformative forces of Yoruba spirituality, intergenerational nurturing and queer forms of kinship. From all that's foreclosed emerges a story of hope and optimism towards possible futures. Utterly stunning."
— Isabel Waidner

"Papillon draws on African mythology and art to create a rich, moving and uplifting story."
— Stylist

"An Ordinary Wonder blew me away with its tender portrait of innocence, vulnerability and strength. Deftly, wisely, Papillon weaves together strands of history and identity which are too often separated. An Ordinary Wonder is nothing short of wonderful and anything but ordinary."
— Okechukwu Nzelu, author of The Private Joys of Nnenna Maloney

"An Ordinary Wonder is a profoundly moving book, all the more so for featuring an unforgettable protagonist in Otolorin, who will captivate readers with her hope, humour and joy of life. Being in Otolorin's company is never less than uplifting. Buki Papillon's writing is wonderfully vivid, and she treats all her characters - even the villains in Otolorin's family - with astonishing empathy."
— Elodie Harper

"Entirely unique. In the face of prejudice and ignorance, An Ordinary Wonder sparkles with hope, insight, and humour."
— Abigail Dean
Pegasus Books, 9781643137810, 336pp.
Publication Date: September 7, 2021
About the Author
Buki Papillon was born in Nigeria, the oldest of six. After studying law at Hull University in the UK, she completed an MFA in Creative Writing at Lesley University in Cambridge, Massachusetts. Her debut novel, An Ordinary Wonder, has received rave reviews and mentions in the New York Times, Ms. Magazine, Essence, Cosmopolitan UK and more, and is brilliantly narrated in audiobook by Bridgerton Actor, Adjoa Andoh. Buki has received several fellowships and awards for her writing and is an alumnus of Key West Literary, Vermont Studio Center and Vona Voices residencies and workshops. Her work was published in Post Road Magazine and The Del Sol Review. She has in the past been a travel adviser, events host and chef. Buki currently lives in Boston, where she is resigned to finding inspiration in the long winters.