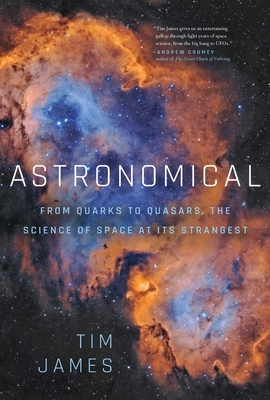 Astronomical
From Quarks to Quasars: The Science of Space at its Strangest
Hardcover

* Individual store prices may vary.
Description
Guiding us through Einstein's theory of relativity, quantum mechanics, and string theory, Astronomical explains the baffling mysteries of the cosmos: from alien life to the zodiac; from white holes to wormholes; from quasars to quark stars—all within a narrative that is as entertaining as it is edifying.

Does the Big Bang prove the existence of God? What's the Universe expanding into? Is Earth the only planet which supports life?

Space is the biggest, oldest, hottest, coldest, strangest thing a human can study. It's no surprise then, that the weirdest facts in science (not to mention the weirdest scientists themselves) are found in astrophysics and cosmology.

If you're looking for instructions on how to set up your grandad's telescope this book probably isn't for you. In Astronomical, Tim James takes us on a tour of the known (and unknown) universe, focusing on the most-mind boggling stuff we've come across, as well as unpacking the latest theories about what's really going on out there.

Guiding us through Einstein's relativity, quantum mechanics and string theory, Astronomical delves into the baffling corners of the cosmos and tackles the biggest mysteries we face: from alien life to the zodiac; from white holes to wormholes; from quasars to quark stars. This is the science of space at its absolute strangest.
Praise For Astronomical: From Quarks to Quasars: The Science of Space at its Strangest…
"James breaks complex concepts down to the basics to make them intelligible... To tame the enormity of space into manageable floes of knowledge for general readerships, Astronomical addresses the strangeness of the universe with awe."
— Foreword

Praise for Tim James:

"In the same light-heartedly informative spirit as his previous Elemental, Tim James gives us an entertaining gallop through light years of space science, from the big bang to UFOs."
— Andrew Crumey, author of The Great Chain of Unbeing

"Perfect for students and newcomers to science writing. From the composition of the stars to the elements most useful to humans, James offers a cheerful selection of short, fascinating chapters suitable for reading in any order. A wide audience can enjoy this accessible peak into the history of chemistry and the periodic table."
— Publishers Weekly

"Who said science was dry? Certainly not Tim James. Whether he's discussing strong acids, combustible humans or what would happen if all the elements were mixed together, this book brings the periodic table to life."
— New York Post

"A science teacher by profession, Mr. James knows how to get his audience's attention. Elemental informs and entertains. With hand-drawn diagrams, wacky humor and assorted facts, Elemental is great fun, taking us to realms beyond anything Mendeleyev ever dreamed of."
— The Wall Street Journal

"A lucid and humorous layman's guide to quantum mechanics. Even first-time physics readers will come away with a working knowledge of one of the universe's most enigmatic subjects."
— Kirkus Reviews
Pegasus Books, 9781643137872, 208pp.
Publication Date: November 9, 2021
About the Author
Tim James, the author of Fundamental and Elemental, is a science teacher, YouTuber, blogger, and Instagrammer. Raised by missionaries in Nigeria, he fell in love with science at the age of fifteen. After graduating with a master's degree in chemistry, specializing in computational quantum mechanics, he decided to get straight into the classroom. He lives in England.