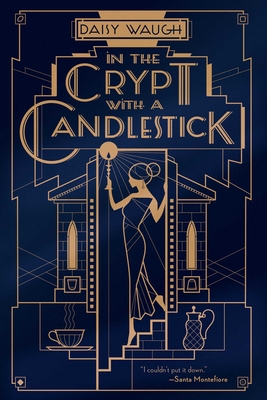 In the Crypt with a Candlestick
A Mystery
Hardcover

* Individual store prices may vary.
Description
A wonderfully comedic mystery full of sharp drama, sly wit—and a smidgeon of murder—in the vein P. G. Wodehouse, Julian Fellowes, and Agatha Christie.

Sir Ecgbert Tode of Tode Hall has survived to a grand old age—much to the despair of his younger wife, Emma. But at age ninety-three he has, at last, shuffled off the mortal coil.

Lady Emma Tode, thoroughly fed up with being a dutiful Lady of the Manor, wants to leave the country to spend her remaining years in Capri. Unfortunately her three tiresome children are either unwilling or unable (too mad, too lefty or too happy in Australia) to take on management of their large and important home, so the mantle passes to a distant relative and his glamorous wife.

Not long after the new owners take over, Lady Tode is found dead in the mausoleum. Accident? Or is there more going on behind the scenes of Tode Hall than an outsider would ever guess?

In the traditions of two great but very different British authors, Agatha Christie and P. G. Wodehouse, Waugh's hilarious and entirely original twist on the country house murder mystery comes complete with stiff upper lips, even stiffer drinks, and any stiffs that might embarrass the family getting smartly brushed under the carpet.
Praise For In the Crypt with a Candlestick: A Mystery…
Praise for In the Crypt with a Candlestick:

"A madcap account of the mishaps and intrigues at Tode Hall, one of England's grandest homes, in the wake of its 93-year-old owner's demise. Ms. Waugh's novel offers plenty of satire, several good laughs and many dark chuckles. When all is explained at the last moment, and a culprit identified, readers are left to conclude that in farce, happy endings come in different shapes."
— Tom Nolan

"Daisy Waugh's writing is loaded with wit and satire (She was once a newspaper humor columnist) and readers will find themselves laughing out loud. This is her first book published in the United States. Let's hope there will be many more."
— Florida Times Union

"This fast-paced, beautifully penned novel is a little naughty, a little noirish, and will have readers laughing out loud at the antics of its truly unique, stiff-upper-lipped English characters. Mystery lovers will have an enjoyable experience reading between the lines and following Waugh's clever clues to find out whodunit. Waugh's refreshingly original In the Crypt With a Candlestick will have English cozy lovers eating out of her hand and waiting (as a little bird mentioned) for a sequel due out next year."
— Mystery Scene Magazine

"I couldn't put it down."
— Santa Montefiore, New York Times bestselling author

"Sublime."
— Simon Brett, author of The Liar of Library and The Killing in the Café

"Deliciously entertaining."
— Andrew Wilson, author of The Lying Tongue, A Talent for Murder, A Different Kind of Evil, and Death in a Desert Land

"Fans of P. G. Wodehouse and Agatha Christie should bag this madcap comedy whodunnit. Outrageous and over-the-top; a perfect antidote to all real-life craziness going on."
— The Daily Mail

"It's sharp, funny and just the right amount of farcical—the best sort of murder mystery."
— Tatler

"What a triumph! It gave me enormous pleasure to read, plus of course a few appropriate shudders. In the Crypt with a Candlestick lightens the darkness in a way that is both dark and light."
— Antonia Fraser, New York Times bestselling author

"An irresistible champagne bubble of pleasure and laughter."
— Rachel Johnson, author of Rake's Progress and Notting Hell

"Fizzles, crackles and sparkles. An irresistible, high-camp crime caper—deliciously entertaining. A perfect antidote to wintry gloom."
— The Literary Review

"Fizzles, crackles and sparkles."
— Elizabeth Buchan, author of Revenge of the Middle Aged Women and Consider the Lily

"Waugh has skewered her targets brilliantly."
— Imogen Edwards-Jones, author of The Witches of St. Petersburg and Hotel Babylon
Pegasus Crime, 9781643138053, 288pp.
Publication Date: October 5, 2021
About the Author
Daisy Waugh is the author of several historical novels plus a few contemporary comic novels, but this is her first book to be published in America. She lives not far from the River Thames in southwest London. To find out more, visit her website at: daisywaugh.com.