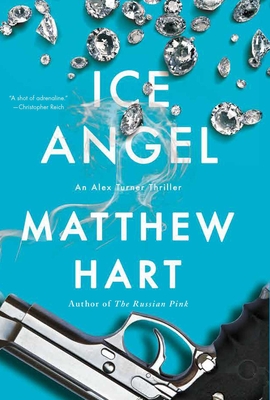 Ice Angel
An Alex Turner Thriller
Hardcover

* Individual store prices may vary.
Description
In this explosive sequel to The Russian Pink, Alex and Lily are thrust into a murderous cat-and-mouse across the Arctic diamond fields, dodging Chinese assassins while at the same time struggling with the personal betrayals that torment their passionate affair.

Alex Turner and his treacherous lover, the Russian diamond thief Slav Lily, are back on the hunt. An American prospector is murdered in the great diamond field of northern Canada—a magical landscape of pristine lakes and granite ridges and scarlet vegetation.

The U.S. government fears that the Chinese billionaire twins who suddenly control the dead prospector's company are seeking a toehold for their government in this vital northern region.

As we race across the globe with Alex and Lily, Hart keeps a heart-bounding pace with lethal plane chases across the diamond-rich Barrens and a battle between the scheming twins and Mitzi Angel, the murdered prospector's daughter. All the while, The Ice Angel delves into the dark realpolitik of America's strategy while untangling the Byzantine motives that drive the diamond trade.

In this explosive sequel to the breakout The Russian Pink, Alex and Lily must struggle with the rivalry, and sometimes the deceit, that wraps their love in its coils.
Praise For Ice Angel: An Alex Turner Thriller…
"In this exciting follow-up, Hart takes readers to the Arctic where U.S. Treasury agent Alex Turner and his lover, ally, and sometimes-competitor, Russian jewel thief Slav Lily, are teamed up again against the bizarre Chinese billionaire twins who have gained control of a murdered prospector's company. Fold in a dash of the prospector's vengeful daughter, a heaping spoonful of assorted government operatives, and a full cup of international politics, and you get an absolutely no-holds-barred adventure, perfect for fans of Cussler and Ludlum."
— Booklist

"The disappearance of renowned American diamond hunter Jimmy Angel, while on an expedition to the Canadian Arctic, drives Hart's page-turning sequel to 2020's The Russian Pink. This is a dark gem of a thriller… with lyrical prose that complements the novel's stark setting and tone."
— Publishers Weekly

"A crackerjack, gem of a thriller. "Ice Angel" is a shot of adrenaline. Fast-paced, expertly-written with an insider's knowledge - not just of diamonds, but much, much more - that elevates the book to another level. Honestly, this one is hard to put down. Damn near flawless."
— Christopher Reich, New York Times bestselling author

Praise for The Russian Pink:

"Studded with facts about black market diamond trading, this fictional thriller has adrenaline rushes, villainous plotters, and glamorous gems galore."
— The Christian Science Monitor

"A rare gem, punning aside. The Russian Pink will enthrall fans for Jack Reacher and Jason Bourne, and leave them hoping for more Alex Turner."
— Booklist, STARRED REVIEW

"A diamond is no one's best friend in this fast-paced novel filled with greed, violence, and politics. Hart writes with skill, wit, and evident knowledge about the diamond industry. Top-quality storytelling."
— Kirkus Review, starred review

"A deft, fast-paced thriller that shines its light on a fascinating and dangerous world few of us know about."


— James Grady, New York Times bestselling author of Six Days of the Condor

"A witty, high-octane international thriller with a plot as multifaceted as a Rubik's cube. If we are lucky, Alex Turner will return. . . ."
— The Star Tribune

"An exhilarating read that has more facets than even the world's biggest diamond."
— Mitch Silver, author of The Apollo Deception and The Bookworm
Pegasus Crime, 9781643138114, 336pp.
Publication Date: September 7, 2021
About the Author
Matthew Hart is the award-winning author of the book Diamond: The History of a Cold-Blooded Love Affair, was translated into six languages and made into a four-hour dramatic miniseries starring Sir Derek Jacobi and Judy Davis and the book Gold: The Race for the World's Most Seductive Metal, which was adapted into a National Geographic TV special. He has travelled from the Arctic to Angola in pursuit of diamond stories, which inspired his first thriller, The Russian Pink, also available from Pegasus Books. He lives in New York City.