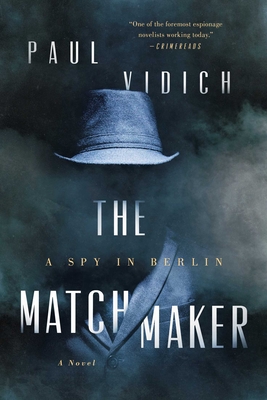 The Matchmaker
A Spy in Berlin
Hardcover

* Individual store prices may vary.
Description
In the vein of Graham Greene and John le Carré, The Matchmaker delivers a chilling Cold War spy story set in West Berlin, where an American woman targeted by the Stasi must confront the truth behind her German husband's mysterious disappearance.

Berlin, 1989. Protests across East Germany threaten the Iron Curtain and Communism is the ill man of Europe.

Anne Simpson, an American who works as a translator at the Joint Operations Refugee Committee, thinks she is in a normal marriage with a charming East German. But then her husband disappears, and the CIA and Western German intelligence arrive at her door.

Nothing about her marriage is as it seems. She had been targeted by the Matchmaker—a high level East German counterintelligence officer—who runs a network of Stasi agents. These agents are his "Romeos" who marry vulnerable women in West Berlin to provide them with cover as they report back to the Matchmaker. Anne has been married to a spy, and now he has disappeared, and is presumably dead.

The CIA are desperate to find the Matchmaker because of his close ties to the KGB. They believe he can establish the truth about a high-ranking Soviet defector. They need Anne because she's the only person who has seen his face - from a photograph that her husband mistakenly left out in his office - and she is the CIA's best chance to identify him before the Matchmaker escapes to Moscow. Time is running out as the Berlin Wall falls and chaos engulfs East Germany.

But what if Anne's husband is not dead? And what if Anne has her own motives for finding the Matchmaker to deliver a different type of justice?
Praise For The Matchmaker: A Spy in Berlin…
"Vidich adds a welcome feminist twist to the familiar espionage theme of human lives trapped in the vice of competing and equally ruthless governments. From An Honorable Man (2016) through The Mercenary (2021), Vidich has established his position in the forefront of contemporary espionage novelists."
— Booklist (starred)

"The strength of the book is the recounting of historical events, many now forgotten or having occurred in another generation. Vidich vividly describes protests in the street and the suspenseful hours as East Berliners learn the order had been given to open the border. But the novel also raises questions such as what happened to the Stasi officials after the Wall came down in 1989. As noted in the book, practically nothing. And why not? History, it appears, is worth studying, for the lessons it delivers."
— Authorlink

"With a great narrative and powerful plot twists, the story comes to life and all is slowly revealed by the final chapter. This surely lives up to the standards of Graham Greene and John le Carré, as denoted in the dust jacket blurb. Kudos, Mr. Vidich, for an entertaining read that left me reminiscing of the days of the Cold War."
— Mystery and Suspense Magazine

"A woman's life takes a stunning turn and a wall comes tumbling down in this tense Cold War spy drama. Intrigue, murder, and vengeance make for a darkly enjoyable read."
— Kirkus Reviews

Praise for Paul Vidich's The Mercenary:

"Edgy. At first, The Mercenary seems an outstanding example of a familiar sort of spy saga. But there's more to Alek Garin than most people know."
— Tom Nolan

"Paul Vidich has staked himself a claim as one of the foremost espionage novelists working today, and he's back this year with The Mercenary, an insightful and thought-provoking story about the attempted exfiltration of a KGB man from 1980s Moscow. In short, this promises to be one of the year's premier spy novels."
— CrimeReads, "The Most Anticipated Crime Books of 2021"

"Evoking without imitating classic le Carré. Vidich supplements the world-weariness we expect from cold warriors in the game too long by giving Garin a satisfyingly contrarian 'contempt for Agency puppetteers.'"
— Booklist

"This tense and humane Cold War spy thriller will keep readers in suspense right up to the climactic border crossing."
— Shelf Awareness

"Justly praised by his peers, Vidich is an espionage novelist who deserves to be more widely known. His noir cold war spy stories are laced with echoes of Graham Green and Eric Ambler. A finely written, taut novel."
— The Financial Times

"A richly detailed work of investigative crime writing perfect for fans of procedurals and spy fiction alike."
— LitHub
Pegasus Crime, 9781643138657, 352pp.
Publication Date: February 1, 2022
About the Author
Paul Vidich is the acclaimed author of The Mercenary, The Coldest Warrior, An Honorable Man, and The Good Assassin, and his fiction and nonfiction have appeared in the Wall Street Journal, LitHub, CrimeReads, Fugue, The Nation, Narrative Magazine, Wordriot, and others. He lives in New York City.