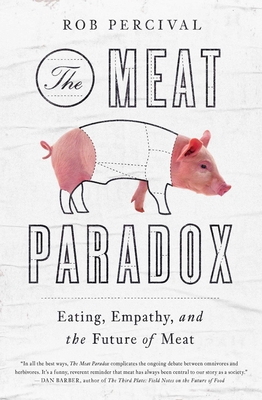 The Meat Paradox
Eating, Empathy, and the Future of Meat
Hardcover

* Individual store prices may vary.
Description
From a vital new voice in food ethics comes a smart, nuanced investigation into the current meat debate.

Our future diet will be shaped by diverse forces. It will be shaped by novel technologies, by geopolitical tensions, and the evolution of cultural preferences, by shocks to the status quo— pandemics and economic strife, the escalation of the climate and ecological crises—and by how we choose to respond. It will also be shaped by our emotions. It will be shaped by the meat paradox.

"Should we eat animals?" was, until recently, a question reserved for moral philosophers and an ethically minded minority, but it is now posed on restaurant menus and supermarket shelves, on social media and morning television. The recent surge in popularity for veganism in the UK, Europe and North America has created a rupture in the rites and rituals of meat, challenging the cultural narratives that sustain our omnivory.

In The Meat Paradox, Rob Percival, an expert in the politics of meat, searches for the evolutionary origins of the meat paradox, asking when our relationship with meat first became emotionally and ethically complicated. Every society must eat, and meat provides an important source of nutrients. But every society is moved by its empathy. We must all find a way of balancing competing and contradictory imperatives. This new book is essential reading for anyone interested in the origins of our empathy, the psychology of our dietary choices, and anyone who has wondered whether they should or shouldn't eat meat.
Praise For The Meat Paradox: Eating, Empathy, and the Future of Meat…
"This powerful — and sometimes humorous — book examines humanity's often conflicted relationship with eating animals. The Meat Paradox does an extremely powerful — and sometimes humorous — job of laying bare the delusions and destruction of modern meat-eating. What makes The Meat Paradox so original — and, at moments, electrifying — is that instead of trying to argue this confusion away, Percival addresses it head-on, locating the hypocrisies of meat-eating within some of the deepest aspects of human psychology."
— The Financial Times

"An even-handed and nuanced exploration of our deeply complex moral relationships with other animals, The Meat Paradox is a compelling journey into the evolutionary past, potential future, and conflicted psyche of the planet's most dangerous and empathetic predator: us."
— Tovar Cerulli, author of The Mindful Carnivore: A Vegetarian's Hunt for Sustenance

"How can humans simultaneously love animals and love to eat them? In The Meat Paradox, Rob Percival takes on this question, combining great story telling with the latest findings in fields ranging from psychology and neuroscience to anthropology and moral philosophy. Whether you are a omnivore, a vegetarian, or a vegan, this book is a page turner that will spin your head around."
— Hal Herzog, author of Some We Love, Some We Hate, Some We Eat: Why It's So Hard to Think Straight About Animals

"The Meat Paradox is utterly brilliant, in the range of its erudition, the power of its argument, its revelatory profundity and its compelling storytelling."
— Jay Griffiths, author of Why Rebel

"A fearless exploration of the question that has shaped human evolution and could determine whether we survive as a species into the future: Should we eat animals? An important contribution to the debate over eating meat that goes further and deeper into the question of whether we humans have evolved to be omnivores and whether we should continue eating meat in the face of the climate catastrophe. Rob Percival takes a detailed look at the history and all the arguments and ultimately answers the question of how to be an 'ethical omnivore'."
— Louise Gray, author of The Ethical Carnivore: My Year Killing to Eat

"In all the best ways, The Meat Paradox complicates the ongoing debate between omnivores and herbivores. It's a funny, reverent reminder that meat has always been central to our story as a society."
— Dan Barber

"Discussions about "Should we eat animals?" and the cognitive dissonance associated with the choices we make have moved from the ivory tower into the homes of people worldwide. This is why I was keenly interested in Rob Percival's new book."
— Marc Bekoff
Pegasus Books, 9781643138732, 352pp.
Publication Date: March 1, 2022
About the Author
Rob Percival is Head of Policy at the Soil Association, Britain's leading food and farming charitable organization. He has been shortlisted for the Guardian's International Development Journalism Prize as well as the Thompson Reuters Food Sustainability Media Award. He lives in Britain.