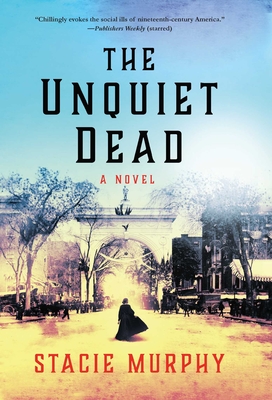 The Unquiet Dead
A Novel
Hardcover

* Individual store prices may vary.
Description
The new Gilded Age mystery featuring the uniquely talented Amelia Matthew—who has the ability to communicate with the dead—as she uses her special talents to solve the murder of a young girl whose death has scandalized New York City.

Three months after her harrowing experience on Blackwell's Island, Amelia is settling back into her work at the nightclub and doing her best to come to terms with her new ability to commune with the spirit world. The last thing she wants to do is hunt another killer through the streets of Gilded Age New York. But when she and her brother Jonas discover the body—and spirit—of a young girl whose recent kidnapping electrified the city, Amelia's resolve wavers. It breaks entirely when a fifteen-year-old boy—the son of one of the club's Black waiters and his Irish immigrant wife—is accused of the crime.

Amelia and Jonas have to find the real murderer, and they have to do it quickly: in five days, the boy will be transferred to the brutal Sing Sing prison to await trial. For such a notorious suspect, it's as good as a death sentence. With the city in an uproar and an ambitious reporter watching their every move, they race to uncover the truth. But as the evidence increasingly points to the boy's guilt, Amelia and Jonas are forced to wonder: are they saving an innocent, or working to free a killer?
Praise For The Unquiet Dead: A Novel…
Praise for A Deadly Fortune:

"Murphy chillingly evokes some social ills of 19th-century America, including the complete control of women by their husbands. Readers will hope Amelia returns soon."
— Publishers Weekly (starred)

"Murphy serves up a dark side of the Gilded Age with intrigue, historical detail, and captivating characters. This is a mystery to savor!"
— Dianne Freeman, award-winning author of the Countess of Harleigh mysteries

"The 1893 world of the infamous lunatic asylum on Blackwell's Island comes alive in frightening and horrific detail as a string of murders for profit is discovered when a young woman with a gift for contacting the dead becomes an accidental patient. She must fight for her life as well as her freedom in this engrossing mystery that reveals that all was not golden in Gilded Age New York."
— Rosemary Simpson, author of Death Brings a Shadow: A Gilded Age Mystery

"Stacie Murphy proves herself to be a masterful storyteller with A Deadly Fortune—an elegantly written, fast-paced mystery that blends the dark side of the Gilded Age, great characters and a paranormal twist. Impossible to put down."
— Julie McElwain, author of the Kendra Donovan Mystery Series

"This engrossing mystery, rich in period detail, probes the dark side of Gilded Age New York and the even darker side of life at the insane asylum on Blackwell's Island. Amelia has a special gift that both helps and complicates her search for the truth, making her a unique heroine. A Deadly Fortune builds to a satisfying conclusion that will whet the reader's appetite for more of Amelia's adventures!"
— Clarissa Harwood, author of Impossible Saints and Bear No Malice

"Stellar. Convincing characterizations, taut plotting, and vivid depiction of the class, gender, and racial tensions roiling Gilded Age New York make this entry a standout. Murphy is a historical writer to watch."
— Publishers Weekly (starred)
Pegasus Crime, 9781643138930, 352pp.
Publication Date: April 5, 2022
About the Author
Stacie Murphy, author of the acclaimed A Deadly Fortune, grew up near Nashville, Tennessee. She began writing historical novels as a way to force herself to stay off Twitter in the evenings. She lives in Northern Virginia with her family.