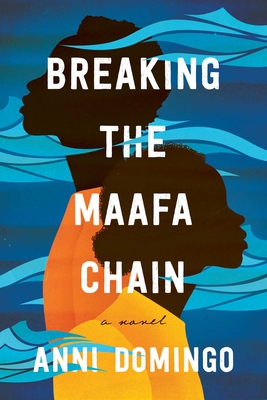 Breaking the Maafa Chain
A Novel
Hardcover

* Individual store prices may vary.
Other Editions of This Title:
Hardcover (9/23/2021)
Description
A richly imagined story of two sisters' struggle for true freedom in the mid-nineteenth century as their paths diverge in the middle passage—one to the court of Queen Victoria, the other to an American plantation.

Salimatu and her sister Fatmata are captured, sold to slavers, renamed and split apart. Forced to change their names to Sarah and Faith, they end up on opposite sides of the Atlantic Ocean. Faith is taken to America, where slavery is still legal and she is stripped of all rights. Sarah ends up in a Victorian England and as the goddaughter of Queen Victoria. Can the two sisters reclaim their freedom and identity in a world that is trying to break them down? Will these once inseparable sisters survive without each other? And if they do find each other again, will they find the other changed beyond recognition?

Based on the true story of Sarah Forbes Bonetta, Breaking the Maafa Chain is by turns epic and intimate and will take the readers on a journey of loss, survival, and hope.
Praise For Breaking the Maafa Chain: A Novel…
"[Breaking the Maafa Chain] is powerful in detailing the cruelties of the transatlantic slave trade, and sensitive and intimate in its portrayal of the girls' struggles to maintain their dignity and hold on to the memories of their African heritage. With descriptions rich in sensory details, a narrative that forms a swift, irreversible current, and conversations imbued with emotion, Anni Domingo's story of the Maafa, the African Holocaust, is unforgettable."
— Foreword Reviews, starred review

"The story of Sarah Forbes Bonetta, extraordinary even in extraor­dinary times, known to some in Sierra Leone, though virtually unknown elsewhere. Now Anni Domingo has brought her vividly to life in this richly imagined and compellingly told tale. Breaking the Maafa Chain is a gift to readers everywhere."
— Aminatta Forna

"Part fact, part fiction, Breaking the Maafa Chain is an important book, beautifully told. Domingo's premise is a bold and uncom­promising one—taking what is known, the story of Salimatu, the 'Black Princess', Sarah Forbes Bonetta, and weaving through it the story of her fictionalized sister, Fatmata, Faith. Domingo makes an eloquent point: that although the sisters suffered different fates, both were unfree: Fatmata enslaved in North America and Salimatu gifted to Queen Victoria, and utterly at her whim. It is a story that has resonance today, where Meghan Markle was expected to shape herself to a white institution, to belong."
— Guinevere Glasfurd

"Anni Domingo brings great sensitivity to her fictionalized account of the remarkable young life of Sarah Forbes Bonetta, the 'African Princess', who became a god-daughter to Queen Victoria. The internal struggles of Salimatu (Sarah) are movingly explored as she struggles to remain true to her identity as an African after being taken from her homeland and brought to England as a gift from 'the King of the Blacks to the Queen of the Whites.' A comparable story is told of Salimatu's sister Fatmata (Faith) who is transported to the United States before emancipation. Carefully constructed with a keen eye for historical accuracy, Domingo reveals a compas­sionate and affectionate Queen Victoria who is devoted to her African god-daughter. This is also an epic story of two sisters who are separated towards the end of the transatlantic slave trade, but never forget each other."
— Stephen Bourne

"Anni Domingo's Breaking the Maafa Chain is so rich in detail and dialogue; it is simply seductive. She captures so well, a little girl, Salimatu, who recalls the security of her family life, who is trans­ported to a bewildering future in England to become Sarah, where she has to stand strong and survive. Not only will this book be read for the sheer enjoyment of a beautifully written novel, but for the learning gained. It is a historical novel that cannot be ignored."
— Kadija Sesay
Pegasus Books, 9781643139265, 480pp.
Publication Date: February 1, 2022
About the Author
Anni Domingo is an actress, director and writer. She is currently a lecturer in Drama and Directing at St. Mary's University in Twickenham and Rose Bruford College of Speech and Drama. Anni's poems and short stories have been published in various anthologies and an extract from Breaking the Maafa Chain won the Myriad Editions First Novel competition and was featured in the New Daughters of Africa anthology edited by Margaret Busby.