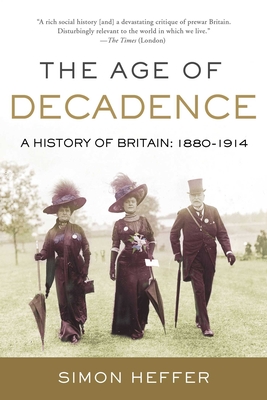 The Age of Decadence
A History of Britain: 1880-1914
Paperback

* Individual store prices may vary.
Other Editions of This Title:
Hardcover (4/6/2021)
Description
A richly detailed history of Britain at its imperial zenith, revealing the simmering tensions and explosive rivalries beneath the opulent surface of the late Victorian and Edwardian eras.

The popular memory of Britain in the years before the Great War is of a powerful, contented, orderly, and thriving country. Britain commanded a vast empire: she bestrode international commerce. Her citizens were living longer, profiting from civil liberties their grandparents only dreamed of and enjoying an expanding range of comforts and pastimes. The mood of pride and self-confidence can be seen in Edward Elgar's Pomp and Circumstance marches, newsreels of George V's coronation, and London's great Edwardian palaces.

Yet beneath the surface things were very different In The Age of Decadence, Simon Heffer exposes the contradictions of late-Victorian and Edwardian Britain. He explains how, despite the nation's massive power, a mismanaged war against the Boers in South Africa created profound doubts about her imperial destiny. He shows how attempts to secure vital social reforms prompted the twentieth century's gravest constitutional crisis—and coincided with the worst industrial unrest in British history. He describes how politicians who conceded the vote to millions more men disregarded women so utterly that female suffragists' public protest bordered on terrorism. He depicts a ruling class that fell prey to degeneracy and scandal. He analyses a national psyche that embraced the motor-car, the sensationalist press, and the science fiction of H. G. Wells, but also the nostalgia of A. E. Housman.
Praise For The Age of Decadence: A History of Britain: 1880-1914…
"There are many pleasures to be had in this fine book, not the least of which is the vivacity of Heffer's prose. He writes elegantly but punchily, combining seriousness with welcome flashes of waspishness that stop things from getting stuffy. The Age of Decadenceis a masterpiece of pacing. We build to a frantic cliff-top scramble as the Edwardians lose their grip on events and themselves. By the final pages, Heffer has skillfully conjured a country in chaos and heading over the edge."
— The New York Times Book Review

"What Heffer recounts is fascinating in itself, but also eerily familiar, almost contemporary. History, after all, provides perspective on the present. Heffer's book offers glorious abundance."
— Michael Dirda

"Simon Heffer writes with admirable sensitivity about both music and literature. He does a brilliant job of exposing the rot beneath the glittering surface of late Victorian and Edwardian Britain. He writes with such exuberance—indeed with such Edwardian swagger—that he leaves the reader looking forward to his next volume."
— The Economist

"Swagger was the predominant style of the period," asserts journalist and popular historian Heffer in his first book to be published in the U.S. He notes that the affluence and complacency of the English upper classes, traditionally viewed as defining features of the late Victorian and Edwardian years, covered up working-class, feminist, and Irish discontents. Fans of sturdy, traditional history will appreciate this comprehensive survey."
— Kirkus Reviews

"The years between Queen Victoria's Diamond Jubilee and the start of WWI found Britain swaggering with both empire and wealth, but undergoing vast political, economic, social, and technological change. Nothing escapes Heffer's notice. Literature and drama capture the social milieu and help lay bare the age's moral hypocrisy. Fortunes are made, yet hundreds of thousands live in deep poverty. Amid this, tensions are growing in Edwardian society that culminate in the sweeping away of many of Britain's imperial pretension in the ghastly trenches of France. Heffer's history is broad and deep and casts a brilliant light on this remarkable era."
— Booklist

"Magisterial."
— The Spectator

"A riveting account of the pre-First World War years . A gloriously rich history. Balanced and judicious. The Age of Decadence is an enormously impressive and enjoyable read."
— The Sunday Times (London)

"Simon Heffer has given us a magnificent account of a less than magnificent epoch. Vital and energetic."
— The Literary Review

"The Age of Decadence is an impressively well-constructed book. Heffer weaves his wonderfully diverse strands of inquiry into a devastating critique of prewar Britain. His criticism of unbridled traditionalism is devastating and convincing. It's also disturbingly relevant to the world in which we live."
— The Times (London)
Pegasus Books, 9781643139524, 912pp.
Publication Date: May 17, 2022
About the Author
Simon Heffer took a PhD in modern history at Cambridge. His previous books include: The Age of Decadence; Moral Desperado: A Life of Thomas Carlyle; Like the Roman: The Life of Enoch Powell; Power and Place: The Political Consequences of King Edward VII; and Nor Shall My Sword: The Reinvention of England. In a thirty-year career on Fleet Street, he has held senior editorial positions on The Daily Telegraph and The Spectator and is now a columnist for The Sunday Telegraph. He lives in London.