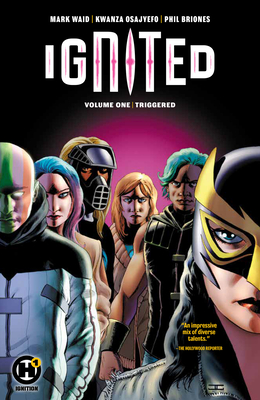 Ignited
Triggered
Paperback

* Individual store prices may vary.
Description
The lives of six teenagers are changed forever when tragic chaos ensues in their high school. Now the power to restore order is literally in their hands. It's the first day back at Phoenix Academy High--but this year, there's no back to school excitement in the air, as returning students and faculty are haunted by memories of last year's horrific attack. So many friends and colleagues were lost, and some of those who survived underwent changes--they IGNITED, gaining supernatural abilities they barely understand. Little do they know this is just the beginning...
H1, 9781643375649, 92pp.
Publication Date: October 15, 2019
About the Author
Mark Waid is a New York Times-bestselling author whose work has appeared in countless languages across the globe. Over the course of his almost four decades in the comic book industry, Mark has developed characters and stories for Batman, Superman, Spider-Man, The Avengers, X-Men, Iron Man, Wonder Woman, Daredevil and almost every other franchise currently enjoying success across all media platforms. Kingdom Come, which he co-created for DC Comics, has become one of the highest-selling graphic novels in history. Many of the storylines and characters he wrote and created in his eight-year run on The Flash comic books can be seen every week on the current hit television show. He has written and edited over 2,000 comic titles and has received every major award in the industry. ​Starting his career as an intern at Marvel Entertainment, Kwanza worked his way up in the comics industry to eventually launch DC Comics' first webcomics imprint, and drafted the blueprints for their digital comics initiative. He recently made a splash in the creative pool launching a crowdfund for what became the critically acclaimed BLACK - a graphic novel that asked the question: what if only black people had superpowers?​ Philippe Briones is a French Artist who first started his career at Disney animation Studios, where he contributed to 9 movies over a decade (Hercules, Tarzan, Kuzco, Emperor's New Groove...). His French career as an author started with successful titles such as La Geste des Chevaliers Dragons and Kookaburra. He has released about fifteen titles in Europe. His first US comics contract was signed with Marvel. He worked on Iconic characters such as Iron-Man, Spiderman, X-Men, or Captain America. He was then approached by DC Comics to work on ongoing series such as Suicide Squad, Aquaman, Batman Detective Comics or Justice League and Justice League Odyssey.