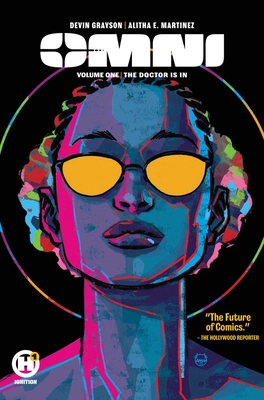 Omni Vol. 1
The Doctor Is In
Paperback

* Individual store prices may vary.
Description
What would you do if you could think faster than the speed of light?



Gifted doctor Cecelia Cobbina was once held in the highest regard by peers and patients alike. But that was before an incident in Africa changed her life forever. Now with the ability to process thoughts at the speed of light, she faces the unimaginable burden of literally having an answer for everything. As the truth of her origin slowly comes into focus, Cecelia must overcome her fears and tackle the one mystery she can't seem to crack: the truth behind her new abilities.

Written by fan-favorite author Devin Grayson (Nightwing, Black Widow) Doctor Cecelia Cobbina bursts on to the scene as the world's newest favorite female hero.
Praise For Omni Vol. 1: The Doctor Is In…
"The Future of Comics."
— HOLLYWOOD REPORTER

"Cecelia is a confident and engaging character that you immediately want to see succeed."
— THE NEW YORK TIMES

"Black Girl Genius."
— PUBLISHERS WEEKLY

"Created by an all-female team, Omni deploys her genius in the spirit of service and compassion."
— LIBRARY JOURNAL

"Immediate and relevant."
— FANBASE PRESS

"If you are bored of the standard capes and cowls narratives from the Big 2 publishers and fancy something different, then Omni and the Ignition Universe is for you."
— MONKEYS FIGHTING ROBOTS

"The art by Alitha E. Martinez is fantastic."
— GRAPHIC POLICY
H1, 9781643376196, 96pp.
Publication Date: September 1, 2020
About the Author
Devin Grayson is an award-winning comics veteran with over two decades of experience writing the world's most beloved superheroes. With the publication of Batman: Gotham Knights in March of 2000, she became the first female to create, launch, and write a new, ongoing Batman title. Recent projects include the orchestration of the Marvel Rising comics event, publication of an original Doctor Strange novel, and the Collected Edition releases of two creator-owned miniseries—USER and Matador—through Image. Devin lives in Northern California with her family and an adorable rotation of foster service dogs.

Alitha Evelyn Martinez began her professional career in 1999 penciling Iron Man for Marvel Entertainment. Since then, she has had a great ride getting to work on titles like X-Men, Black Sun, Marvel Age Fantastic Four, Black Panther and Black Panther: World of Wakanda, X-Men Gold Annual, Moon Girl, Voltron, NBC's Heroes, New 52 Bat Girl, Archie Comic's New Crusaders and Riverdale, and WWE Superstar, WWE Slam City, and Barbie for Paper Cutz. She has done larger projects that required more than just penciling and inking in graphic novels like Vampire: My Boyfriend Bites, Kung Fu Masters, Quest for Dragon Mountain for Lerner Publications, as well as Political cartooning for The New York Post. In her spare time, Alitha works on her creator-owned titles Yume and Ever, and Foreign, which she publishes through her company, Ariotstorm Productions, LLC. She currently teaches at SVA in New York City.