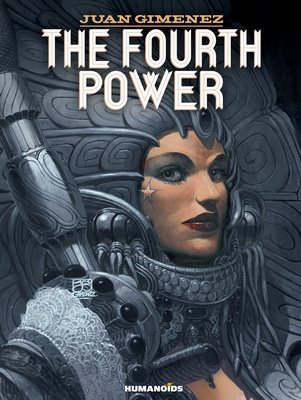 The Fourth Power
Hardcover

* Individual store prices may vary.
Description
The odyssey of Exether Mega, a young military pilot caught up in an interplanetary conflict between humans — under the banner of the Planetary United States — and the Krommiums. After narrowly escaping an attack by an enemy patrol, Mega begins a perilous journey across enemy lines. Through a series of encounters —with both friends and foes — Mega discovers she's at the center of a complex, secret experiment to create the ultimate weapon of war. As further clues to her role, identity, and destiny are revealed to her, the powers that be ramp up their efforts to capture her. A spectacular and riveting space opera by the creator of Leo Roa and the illustrator of The Metabarons saga.
Praise For The Fourth Power…
"[It's] it's not entirely unlike Jodorowsky's own work, both in terms of happy excess and spiritual yearning in a fallen, sleepy society." - Jog - The Blog "Spaceships… aliens… and that slightly-odd way of looking at science fiction the French do so well." - It Doesn't Have To Be Right... ""Juan Gimenez. Argentinian. Best European sci-fi/fantasy artist alive. Prodigiously fertile imagination and output."" - Guillermo Del Toro
Humanoids, Inc., 9781643376387, 264pp.
Publication Date: August 13, 2019
About the Author
Born November 26th, 1943 in Mendoza, Argentina.

Gimenez finished his high school education as an industrial design major and advanced his artistic education by attending the Academy of Fine Arts in Barcelona, Spain, where he studied drawing. For the next few years, he dedicated himself to the drawing of comic books, both back in his native Argentina with such publishers as Colomba and Record, as well as in Spain, contributing to magazines such as Zona 84, and Comix International. By this point, Gimenez had made quite a name for himself for his extremely detailed renditions of machinery, chiefly in the war and science fiction genres. His art further propelled him to international collaborations, and it was in 1979 that he was first published in France with a series of titles including "Leo Roa," which he also wrote. The following year, he participated, as a creative designer, on a segment of the film "Heavy Metal." For the next decade, he continued his work in comic book magazines, notably the French comics anthology Metal Hurlant and the Italian L'Eternauta.

The 1990s saw him strengthening his fan base as he was repetitively voted best artist by European audiences, a recognition that was mirrored in the festival and critical realms, with such awards as the Gaudi award at the Feria Internacional del Comics de Barcelone, in 1990. In 1992, he meets Alejandro Jodorowsky for the first time, and the two began work on "The Metabarons," a sci-fi saga of epic proportions in both art and story. It is to this day regarded as one of the true graphic novel classic of the genre and it continues successful sales around the world.

Gimenez currently maintains a consistent yet varied workload, lending his talents as illustrator to covers for CD albums and novels, as well as serving as a concept artist on video games, and motion pictures. He also remains in high demand as a graphic novel artist, collaborating with some of Europe's most acclaimed authors such as Carlos Trillo, Emilio Balcarce, and Roberto Dal Prà, when he is not writing his own stories as he successfully continues to do, as with "The Fourth Power" collection.

On April 2nd, 2020, he passed away in his home province of Mendoza, Argentina, from COVID-19 complications.

Web sites:+ http://www.juangimenez.com/
or
Not Currently Available for Direct Purchase