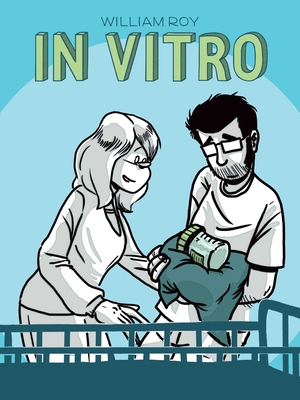 In Vitro (Paperback)
Life Drawn, 9781643379883, 156pp.
Publication Date: March 31, 2020
* Individual store prices may vary.
Description
A newly wedded couple is full of life, love, and inspiration. They have everything they've always wanted...except a child.

From unsuccessful attempts to repeated failures, the two newlyweds face a menacing foe: sterility.

Together, they embark on the confusing journey that is in vitro fertilization. Haunted by the hyperbole of WebMD and the guilt of infertility, Guillaume experiences the daily embarrassment of sperm donations, tests with dreaded results and endless consultations--not to mention the specter of his own estranged father who reappears suddenly in his life...

With realistic, self-effacing charm, William Roy humbly and accurately shares a deeply human experience that is propelled by unshakable hope.
About the Author
William Roy, a passionate, self-taught artist, began his creative career as an editor and a director of documentaries. In 2014, he published his first graphic novel, De Père en FIV (La Boîte à Bulles), an autobiographical account of his experiences with IVF. He then followed up with Hedy Lamarr: An Incredible Life, illustrated by Sylvain Dorange, a project he had been inspired to write for a very long time. William Roy currently resides in Paris.