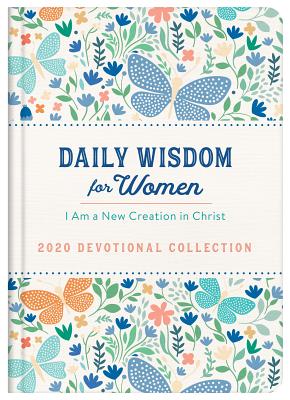 Daily Wisdom for Women 2020 Devotional Collection (Hardcover)
I Am a New Creation in Christ
Barbour Books, 9781643520599, 384pp.
Publication Date: October 1, 2019
* Individual store prices may vary.
Description
You Are a Woman of God. And He Is Making You New Every Day, Blessed One!
Women will find comfort, challenge, and their spirits encouraged as they experience an intimate connection with their Savior all 365 days of the year.

This brand-new 2020 daily devotional focuses on the theme of transformation. Every day for an entire year, you will be encouraged by scriptures, devotional readings, and prayers that celebrate being made new creations in Christ; becoming more like Him in our thoughts, actions, and attitude; that He makes all things new; the transforming power of prayer; how God can transform situations according to His plan; and how to cultivate courage as God continues to change the world according to His will.

In these pages you'll find comfort, inspiration, and spiritual blessing as you grow in your faith all 365 days of the year.

Therefore, if anyone is in Christ, the new creation has come: The old has gone, the new is here!
2 Corinthians 5:17 NIV
About the Author
Barbour Publishing is a leading Christian book publisher offering bestselling books featuring exceptional value, biblical encouragement, and the highest quality. Barbour is the home of New York Times Bestselling author Wanda E. Brunstetter along with well-known fiction authors Gilbert Morris, Olivia Newport, Michelle Griep and many others. If your interest is Christian Living or Bible Reference, you'll find excellent titles by bestselling authors Josh McDowell, Jonathan McKee, Debora Coty, and Stephen M. Miller's The Complete Guide to the Bible.   Barbour also publishes the top classic devotionals God Calling by A.J. Russell, and Come Away My Beloved by Frances J. Roberts. With inspirational Christian books available in all genres--fiction for adults and children, Bible Promise books, devotionals, Bibles, Bible reference, puzzle books, and gift books there's something for everyone to enjoy.