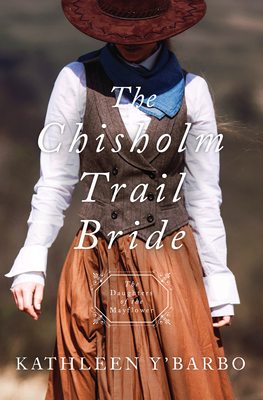 The Chisholm Trail Bride (Daughters of the Mayflower)
Paperback

* Individual store prices may vary.
Other Editions of This Title:
Library Binding, Large Print (9/23/2020)
Description
A Series for Lovers of History, Adventure, Romance, and AncestryBarbour Publishing offers a series for fans of all things related to history, romance, adventure, faith, and family trees.
 Stubborn Hearts Clash on a Cattle DriveEliza Gentry's pursuit of marriage to the son of her family's sworn enemy has cost her greatly. Furious at his daughter's choices, her father sends her off with the cattle drive heading toward Fort Worth and the Barnhart ranch, but under the watchful eye of Wyatt Creed, a Pinkerton man he has hired to see to her safety. With danger at every turn—not the least of which to his heart—can Wyatt Creed keep his focus with Eliza Gentry around? Is the Chisholm Trail a place for falling in love or a place to die at the hands of cattle thieves?

Join the adventure as the Daughters of the Mayflower series continues with The Chisholm Trail Bride by Kathleen Y'Barbo.

More in the Daughters of the Mayflower series:
The Mayflower Bride by Kimberley Woodhouse – set 1620 Atlantic Ocean (February 2018)
The Pirate Bride by Kathleen Y'Barbo – set 1725 New Orleans (April 2018)
The Captured Bride by Michelle Griep – set 1760 during the French and Indian War (June 2018)
The Patriot Bride by Kimberley Woodhouse – set 1774 Philadelphia (August 2018)
The Cumberland Bride by Shannon McNear – set 1794 on the Wilderness Road (October 2018)
The Liberty Bride by MaryLu Tyndall – set 1814 Baltimore (December 2018)
The Alamo Bride by Kathleen Y'Barbo – set 1836 Texas (February 2019)
The Golden Bride by Kimberley Woodhouse – set 1849 San Francisco (April 2019)
The Express Bride by Kimberley Woodhouse – set 1860 Utah (July 2019)
The Rebel Bride by Shannon McNear – set 1863 Tennessee (December 2019)
The Blizzard Bride by Susanne Dietze – set 1888 Nebraska (February 2020)
 
Praise For The Chisholm Trail Bride (Daughters of the Mayflower)…
"The Chisholm Trail Bride is an exciting read that kept me guessing on each page as it led me into unpredictable twists. Kathleen has a talent for writing the unexpected!"
–Hannah Alexander, author of the Sacred Trust series
Barbour Books, 9781643522876, 256pp.
Publication Date: April 1, 2020
About the Author
Kathleen Y'Barbo is a multiple Carol Award and RITA nominee and bestselling author of more than one hundred books with over two million copies of her books in print in the US and abroad. A tenth-generation Texan and certified paralegal, she is a member of the Texas Bar Association Paralegal Division, Texas A&M Association of Former Students and the Texas A&M Women Former Students (Aggie Women), Texas Historical Society, Novelists Inc., and American Christian Fiction Writers. She would also be a member of the Daughters of the American Republic, Daughters of the Republic of Texas and a few others if she would just remember to fill out the paperwork that Great Aunt Mary Beth has sent her more than once.

When she's not spinning modern day tales about her wacky Southern relatives, Kathleen inserts an ancestor or two into her historical and mystery novels as well. Recent book releases include bestselling The Pirate Bride set in 1700s New Orleans and Galveston, its sequel The Alamo Bride set in 1836 Texas, which feature a few well-placed folks from history and a family tale of adventure on the high seas and on the coast of Texas. She also writes (mostly) relative-free cozy mystery novels for Guideposts Books.

Kathleen and her hero in combat boots husband have their own surprise love story that unfolded on social media a few years back. They make their home just north of Houston, Texas and are the parents and in-laws of a blended family of Texans, Okies, and one very adorable Londoner.

To find out more about Kathleen or connect with her through social media, check out her website at www.kathleenybarbo.com.