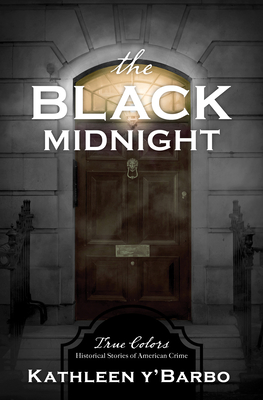 The Black Midnight (True Colors #7)
Paperback

* Individual store prices may vary.
Description
Two Series of Murders Seem Mysteriously Connected
Step into True Colors -- a series of Historical Stories of Romance and American Crime

Three years before Jack the Ripper began his murderous spree on the streets of London, women were dying in their beds as The Midnight Assassin terrorized the citizens of Austin, Texas. Now, with suspicion falling on Her Majesty's family and Scotland Yard at a loss as to who the Ripper might be, Queen Victoria summons her great-granddaughter, Alice Anne von Wettin, a former Pinkerton agent who worked the unsolved Austin case, and orders her to discreetly form a team to look into the London matter.

The prospect of a second chance to work with Annie just might entice Isaiah Joplin out of his comfortable life as an Austin lawyer. If his theories are right, they'll find the The Midnight Assassin and, by default, the Ripper. If they're wrong, he and Annie are in a bigger mess than the one the feisty female left behind when she departed Austin under cover of darkness three years ago.

Can the unlikely pair find the truth of who is behind the murders before they are drawn into the killer's deadly game? From Texas to London, the story navigates the fine line between truth and fiction as Annie and Isaiah ultimately find the hunters have become the hunted. 
Praise For The Black Midnight (True Colors #7)…
"
The Black Midnight
blends history, romance, and just the right dose of suspense to create the perfect story that will keep readers turning pages long into the night. History buffs will be riveted by this intriguing glimpse into the Midnight Assassin murders, and romance fans will cheer for Ike and Annie as they work to solve the case. . .and lose their hearts along the way."
–Amanda Barratt, author of
My Dearest Dietrich: A Novel of Dietrich Bonhoeffer's Lost Love
"The Black Midnight is chock-full of historical tidbits that make the account of Jack the Ripper come eerily, vibrantly to life. Another intriguing tale from talented storyteller, Kathleen Y'Barbo."
–Elizabeth Ludwig, USA Today bestselling author
"Impeccably researched and thoroughly captivating, Kathleen Y'Barbo's The Black Midnight puts a pair of star-crossed Pinkerton detectives on the trail of a Texas killer who may also be the notorious Jack the Ripper. Very highly recommended!"
–Colleen Thompson, RITA-nominated author of Deadly Texas Summer
"With a killer plot and an unpredictable romance, unlikely heroes team up for a fast-paced historical suspense. Warning! Don't read this at night!"
-DiAnn Mills, Christy Award–winning author
"What a clever idea, using two distant and distinct settings and two unsolved, real life murder cases to create a fun possibility. Isn't the challenge of a mystery deciding who did it and why? You'll get your money's worth with
The Black Midnight
."
–Gayle Roper, author of
Hide and Seek, Lost and Found
"The Black Midnight is Y'Barbo at her finest. True crime mixed with romance, and just the perfect blend of modern-day suspense make this book one not to be missed! Highly recommend."
–Robin Caroll, bestselling author of the Darkwater Inn series
 
"In The Black Midnight, Kathleen Y'Barbo weaves between fact and fiction to make 19th century history come alive on the page. Annie and Ike's story is a page-turning combination of whip-smart dialogue, push-and-pull romance, and intriguing murder mystery. Whether fans of true crime stories enjoy Jack the Ripper's tale, rich historical detail, or stunning storytelling, readers will add Kathleen Y'Barbo to their must-read author list after The Black Midnight."
–Laurie Tomlinson, author of With No Reservations
 
"A thrilling, beguiling read rich in historical research and featuring many of my favourite ingredients: an atmospheric gas lit Victorian London, an assured voice and intelligent heroine, gripping suspense, and things that go bump in the night. An imaginative plot laced with romance, royalty, and a Ripper-esque twist. Fans of Jaime Jo Wright and Michelle Griep won't be able to keep their hands off of it. I certainly couldn't!"
–Rachel McMillan, author of The London Restoration  
 
"You're in for a wild ride as Kathleen Y'Barbo takes you on a story through some of America's and Britain's grisliest murders while somehow managing to weave in a delicious romance. From Texas to London, the ties that bind may be more linked than you previously believed. And who better to unravel them than a brash American Pinkerton agent and the granddaughter of a queen? Settle in for a novel of suspense and romance—just be sure to look over your shoulder every now and then!"
–Jaime Jo Wright, 2018 Christy Award–Winning author of The House on Foster Hill and 2020 Inspy Award-Nominated The Curse of Misty Wayfair
 
"In The Black Midnight, Kathleen Y'Barbo has crafted a page-turning novel. I love that it is based on a historical event. I love even more that it's an event I was unaware of. The characters and setting absolutely sing. This book will delight readers of historical fiction who love romance, mystery, and a touch of suspense."
–Cara Putman, bestselling and award-winning author of Flight Risk

 
"In The Black Midnight, Kathleen Y'Barbo weaves threads of history and mystery together in a compelling story that will keep readers engrossed from the first page to the last. Highly recommended!"
–Nancy Mehl, author of the Kaely Quinn Profiler series, Nancymehl.com
Barbour Books, 9781643525952, 256pp.
Publication Date: August 1, 2020
About the Author
Kathleen Y'Barbo is a multiple Carol Award and RITA nominee and bestselling author of more than one hundred books with over two million copies of her books in print in the US and abroad. A tenth-generation Texan and certified paralegal, she is a member of the Texas Bar Association Paralegal Division, Texas A&M Association of Former Students and the Texas A&M Women Former Students (Aggie Women), Texas Historical Society, Novelists Inc., and American Christian Fiction Writers. She would also be a member of the Daughters of the American Republic, Daughters of the Republic of Texas and a few others if she would just remember to fill out the paperwork that Great Aunt Mary Beth has sent her more than once.

When she's not spinning modern day tales about her wacky Southern relatives, Kathleen inserts an ancestor or two into her historical and mystery novels as well. Recent book releases include bestselling The Pirate Bride set in 1700s New Orleans and Galveston, its sequel The Alamo Bride set in 1836 Texas, which feature a few well-placed folks from history and a family tale of adventure on the high seas and on the coast of Texas. She also writes (mostly) relative-free cozy mystery novels for Guideposts Books.

Kathleen and her hero in combat boots husband have their own surprise love story that unfolded on social media a few years back. They make their home just north of Houston, Texas and are the parents and in-laws of a blended family of Texans, Okies, and one very adorable Londoner.

To find out more about Kathleen or connect with her through social media, check out her website at www.kathleenybarbo.com.
 
 
or
Not Currently Available for Direct Purchase