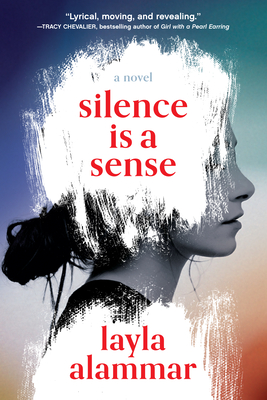 Silence Is a Sense
Hardcover

* Individual store prices may vary.
Other Editions of This Title:
Digital Audiobook (3/15/2021)
Paperback (3/1/2022)
Compact Disc (3/16/2021)
MP3 CD (3/16/2021)
Description
"Lyrical, moving, and revealing."
—Tracy Chevalier, bestselling author of Girl with a Pearl Earring

A transfixing and beautifully rendered novel about a refugee's escape from civil war—and the healing power of community.

A young woman sits in her apartment, watching the small daily dramas of her neighbors across the way. She is an outsider, a mute voyeur, safe behind her windows, and she sees it all—the sex, the fights, the happy and unhappy families. Journeying from her war-torn Syrian homeland to this unnamed British city has traumatized her into silence, and her only connection to the world is the column she writes for a magazine under the pseudonym "the Voiceless," where she tries to explain the refugee experience without sensationalizing it—or revealing anything about herself.

Gradually, though, the boundaries of her world expand. She ventures to the corner store, to a bookstore and a laundromat, and to a gathering at a nearby mosque. And it isn't long before she finds herself involved in her neighbors' lives. When an anti-Muslim hate crime rattles the neighborhood, she has to make a choice: Will she remain a voiceless observer, or become an active participant in a community that, despite her best efforts, is quickly becoming her own?

Layla AlAmmar, a Kuwaiti-American writer and brilliant student of Arab literature, delivers here a complex and fluid book about memory, revolution, loss, and safety. Most of all, Silence is a Sense reminds us just how fundamental human connection is to survival.
Praise For Silence Is a Sense…
A Most-Anticipated Book of 2021: Bustle * Ms. Magazine * The Millions * Electric Lit * SheReads

"Silence Is a Sense is a fierce novel. The prose is ferocious, the pace is ferocious and the beguiling central character, known as The Voiceless, conceals behind her inability—or reluctance — to speak, a striking, visceral intensity. She obsessively watches the people around her to silence her own trauma, but every now and then it can't help but break through. Layla AlAmmar has skillfully woven a narrative of memory and grief with an illuminating social critique of the position of asylum seekers within contemporary British society. It is daring and devastating."
—Fiona Mozley, author of Hot Stew and Booker finalist Elmet

"This is not just good storytelling, but a blueprint for survival."
—New York Times Book Review

"A fascinating approach to the refugee crisis… Compelling and original."
—The Guardian

"Silence Is a Sense works to dispel the terrible abstractions of Syria's Civil War."
—NPR / Weekend Edition

"[An] urgent and essential addition to the literature of exile that will deepen our understanding of others—and ourselves."
—Los Angeles Review of Books

"Kuwaiti writer AlAmmar explores trauma and voicelessness through fragmented narrative form and a mute protagonist who has survived the war in Syria and is now living in isolation in the UK."
—The Millions

"With a powerful prose, AlAmmar pens a story about a young woman traumatized into muteness after a dangerous trip from war-torn Syria to the UK."
— Palm Beach Daily News

"Kuwaiti-American author Layla AlAmmar masterfully depicts that silence is a refuge, too, for people affected by the unspeakable . . . AlAmmar succeeds in challenging the refugee or asylum-seeker stereotype, including the one of a young Arab woman."
—The Markaz Review

"A haunting, lyrical novel about hope, healing and redemption."
— Red Magazine

"A beautiful, harrowing, lyrical view on trauma, the story acting as a microcosm of a deeper, devastating journey that many must make to survive . . . A trembling, powerful account of trauma and eventual healing . . . Layla AlAmmar's writing is stunning."
—The Bad Form Review

"Silence is a Sense is harrowing, shocking, and possibly one of the most vital pieces of literature existing on the refugee experience . . . [AlAmmar] means to remind us that our inability to understand or empathize doesn't automatically revoke the credibility of someone's story, that the least we can do is have the civility to let victims speak their truth. AlAmmar meets the target of her aim flawlessly and with poetic fervor at that."
—Paperback Paris

"A poignant commentary on the war torn world we live in now."
—Debutiful
 
"An intense and innovative novel."
—Largehearted Boy

"With gut-punching clarity, AlAmmar unpacks the complicated identity of a refugee discovering that safety is not what it seems, as she learns to find her voice in a new home."
—Booklist

"Evocative . . . The conflicts over immigration and racism are brilliantly distilled, and they dovetail seamlessly with the narrator's lyrical, increasingly defiant narration. Patient readers will find much to ponder."
—Publishers Weekly

"[A] lovely and intense novel . . . Beautifully wrought."
—Kirkus Reviews

"Silence Is a Sense opens the door on lives we need to hear more about. Lyrical, moving, revealing, it made me understand better the very human need for safety and contact."
—Tracy Chevalier, bestselling author of Girl with a Pearl Earring
Algonquin Books, 9781643750262, 304pp.
Publication Date: March 16, 2021
About the Author
Layla AlAmmar is a writer and academic from Kuwait. She has a master's degree in creative writing from the University of Edinburgh. Her short stories have appeared in the Evening Standard, Quail Bell Magazine, the Red Letters St. Andrews Prose Journal, and Aesthetica Magazine, where her story "The Lagoon" was a finalist for the 2014 Creative Writing Award. She was the 2018 British Council international writer in residence at the Small Wonder Short Story Festival. Her debut novel, The Pact We Made, was published in 2019. She has written for The Guardian and ArabLit Quarterly. She is currently pursuing a PhD on the intersection of Arab women's fiction and literary trauma theory.