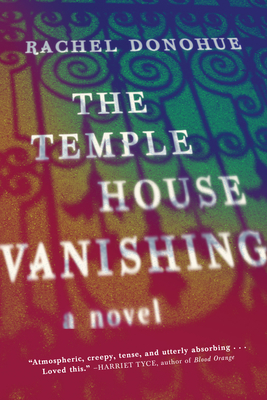 The Temple House Vanishing
Paperback

* Individual store prices may vary.
Other Editions of This Title:
Compact Disc (7/6/2021)
MP3 CD (7/6/2021)
Description
An Irish Bestseller
Finalist for the Irish Book Awards' Newcomer of the Year

Perched high atop a seaside cliff in Ireland, a lonely Victorian mansion is home to Temple House School. And at Temple House, nothing is ever as it seems.

Louisa is the new, brilliant scholarship student. Finding most of the other students at the all-girls Catholic boarding school as icy and unfamiliar as the drafty mansion, she forms a fierce bond with the intense and compelling Victoria, an outlier and student provocateur.

Their close bond is soon unsettled by the young, charismatic art teacher, Mr. Lavelle—igniting tension and obsession in the cloistered world of the school. Then one day, Louisa and Mr. Lavelle disappear.

There is no trace of either one. It's the unsolved mystery that captivates the whole country. Year after year, the media revisit it, and the conspiracy theories persist. Now, on the twenty-fifth anniversary, a journalist—a woman who grew up on the same street as Louisa—delves into the past to write a series of articles and uncover the truth. She finds stories of jealousy and revenge, power and class. But will she find Louisa and Mr. Lavelle, too?

Because remember—at Temple House, nothing is ever as it seems.

Told through alternating points of view, Rachel Donohue's debut novel skillfully, gradually, lets the reader into the hearts and minds of both Louisa and the determined reporter. This page-turner is perfect for fans of Elisabeth Thomas's Catherine House or Kate Elizabeth Russell's My Dark Vanessa.
Praise For The Temple House Vanishing…
"With shades of everything from The Prime of Miss Jean Brodie and Frost in May to Picnic at Hanging Rock and The Secret History, this is subtle, intriguing and very well written."
—The Guardian

"The Temple House Vanishing is Rachel Donohue's first novel, but she nails the angst and spookiness like a pro. Her gloriously moody story is full of the kinds of twisted turns that happen when jealousy and passion run wild. If you liked Donna Tartt's The Secret History, don't let this lush, gothic tale pass you by."
—Apple Best Books of the Month – July 2021

"The creeping pace, melancholic tone, and full-bodied characters create a perfect snapshot of desperate youth amid oppressive tradition. This stands among the best of the current modern gothic trend."
—Publishers Weekly, Starred Review

"Atmospheric and suspenseful, this will be appreciated by fans of Kate Elizabeth Russell's My Dark Vanessa."
—Booklist

"Evocative and mysterious . . . Sublime writing."
—Sunday Independent

"Rachel Donohue's Gothic-tinged mysteryThe Temple House Vanishing will keep you guessing until the last page."
—PopSugar

"In an atmosphere where the cacophony of teenage hormones blares amid a community of nuns who have directed their passion toward the religious life, Donohue adds to the sense of shambolic emotions at play with skillful pacing.
—Minneapolis Star Tribune

"Donohue is a master of clean, sharp prose and has a hugely impressive ability to create layers of atmosphere or ratchet up tension in a couple of beguilingly simple sentences."
—The Irish Times

"Atmospheric, creepy, tense, and utterly absorbing . . . Loved this."
—Harriet Tyce, author of Blood Orange

"Rachel Donohue is an enchanting writer. Her words seem, at first, innocent and straightforward, but then it becomes apparent that they are doing mischievous things. As Mr. Lavalle, a central character in her impressive debut The Temple House Vanishing, points out: 'It's important to remember that here, nothing is ever as it seems.'"  
—The Sunday Business Post (Ireland)
 
"Donohue is a master of clean, sharp prose, and has a hugely impressive ability to create layers of atmosphere or ratchet up tension in a couple of beguilingly simple sentences." 
 —The Irish Times
 
"This brooding tale of obsessive love, teenage jealousy and hidden desire has a dark charm all of its own…While the unsettling atmosphere is enough to keep the pages turning, Donohue also does a fine job of holding parts of her story back. When the shocking solution is finally revealed, it is in the sort of circumstances that all but force the reader to return to the beginning to marvel at how the trail was laid."  
—inews.co.uk
Algonquin Books, 9781643750279, 304pp.
Publication Date: July 6, 2021
About the Author
Rachel Donohue lives in Dublin, Ireland, where she works in communication and media relations. In 2017 she won the Hennessy New Irish Writer of the Year Award for her short fiction. The Temple House Vanishing is her first novel.
1.What are the drivers of Louisa's insecurities when she arrives at Temple House school? Would she perhaps have outgrown these insecurities eventually, or do they run deeper?
2. What motivates Victoria to befriend Louisa?
3. How is power manifested in the characters of Helen, Victoria, and Mr. Lavelle?
4. Mr. Lavelle describes Victoria as "an outlier" and Louisa as "the thinker." Do you think he was accurate in his descriptions?
5. What is the significance of the "cabinet of curiosities"?
6. How do Temple House and its setting shape the story?
7. What does Louisa represent to the journalist?
8. What role do memory and regret play in the novel?
9. Would an omniscient narrator have changed your opinion of Louisa? What books have you read with omniscient narrators? How can point of view (first person, limited or omniscient third person, multiple narrators, etc.) change the way you read a story?
10. Do you think Victoria was able to be happy after leaving Temple House?
11. At the very end, do you think Louisa forgives Victoria, or is she ambivalent toward her?
12. What do you think about the novel's tone? What is its perspective on the world? Do you agree with that perspective?