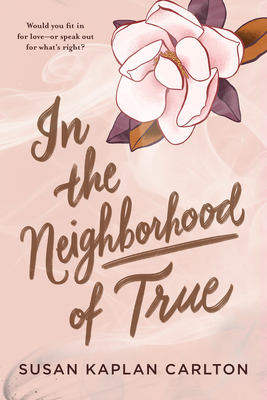 In the Neighborhood of True
Paperback

* Individual store prices may vary.
Other Editions of This Title:
Digital Audiobook (4/8/2019)
Hardcover (4/9/2019)
Description
A powerful story of love, identity, and the price of fitting in or speaking out.

"The story may be set in the past, but it couldn't be a more timely reminder that true courage comes not from fitting in, but from purposefully standing out . . . and that to find out who you really are, you have to first figure out what you're not." —Jodi Picoult, New York Times bestselling author of A Spark of Light and Small Great Things

After her father's death, Ruth Robb and her family transplant themselves in the summer of 1958 from New York City to Atlanta—the land of debutantes, sweet tea, and the Ku Klux Klan. In her new hometown, Ruth quickly figures out she can be Jewish or she can be popular, but she can't be both. Eager to fit in with the blond girls in the "pastel posse," Ruth decides to hide her religion. Before she knows it, she is falling for the handsome and charming Davis and sipping Cokes with him and his friends at the all-white, all-Christian Club.
 
Does it matter that Ruth's mother makes her attend services at the local synagogue every week? Not as long as nobody outside her family knows the truth. At temple Ruth meets Max, who is serious and intense about the fight for social justice, and now she is caught between two worlds, two religions, and two boys. But when a violent hate crime brings the different parts of Ruth's life into sharp conflict, she will have to choose between all she's come to love about her new life and standing up for what she believes.
 
Praise For In the Neighborhood of True…
"Carlton captures the racism, anti-Semitism, and social interactions of the time and place with admirable nuance. The dialogue and setting are meticulously constructed, and readers will feel the humidity and tension rising with each chapter."
—Publishers Weekly, starred review

"Susan Kaplan Carlton offers a rich sense of time and place and a compelling profile in courage of a conflicted 17-year-old finding her voice in this interesting snapshot of a little-known chapter of the early civil rights movement."
—The Buffalo News

"Every character is memorable and complex, and the plot quickly becomes engrossing . . . the characters' moral decisions are so complicated and so surprising that many people will be kept spellbound by even the tiniest detail. Riveting."
—Kirkus Reviews

"Carlton does an excellent job of mixing the personal with the historical . . . Ruth crisply relays her conflicted feelings, the tense situations, and characters who are well-shaded and occasionally surprising."
—Booklist

"In the Neighborhood of True, inspired by real-life events, is a testament to an important time in our country's history with themes that resonate today."
—Shelf Awareness

"Inspired by the 1958 bombing of an Atlanta synagogue, this novel uses its immersive historical setting to convey truths about hatred that remain relevant today . . . Timely YA historical fiction that belongs on all shelves."
—School Library Journal

"A gorgeous story about a teenage girl finding her voice in the face of hate, heartbreak, and injustice."
—Nova Ren Suma, #1 New York Times bestselling author of A Room Away from the Wolves
 
"Susan Kaplan Carlton's snapshot of 1958 Atlanta is both exquisite and harrowing, and I will hold it in my heart for a long time."
—Rachel Lynn Solomon, author of You'll Miss Me When I'm Gone and Our Year of Maybe

"You might not think a book set in 1959 could feel wildly relevant, but wow does this YA set in Atlanta that explores anti-Semitism in the south during the Civil Rights era feel incredibly on point after the shooting at the Tree of Life synagogue in Pittsburgh. In both cases, the synagogue was specifically targeted for being not just a place of worship for Jews but for being active participants in the eternal American fight against racism."
—Barnes & Noble Teen Blog
 
"One of the most honest, multifaceted, and authentic portrayals of teen girlhood I've ever read. This is a must for readers of historical fiction, particularly areas that receive less attention."
—Young Adult Books Central
 
"I loved this book. The characters are complex and relatable . . . Carlton captures the emotions and the struggle perfectly, making it a great place to find representation of what it's like to be Jewish then and now."
—Teenreads
 
"In the Neighborhood of True is a story that really struck a chord with me. It highlights issues that remain as relevant then as they are now. It reminded us that we can't truly hide ourselves, not when it matters the most. Most important of all, it reminds the reader that we must always tell our truths, no matter how hard it might be for others to hear them."
—The Nerd Daily
 
Algonquin Young Readers, 9781643750293, 320pp.
Publication Date: July 7, 2020
About the Author
Susan Kaplan Carlton currently teaches writing at Boston University. She is the author of Love & Haight and Lobsterland; her writing has also appeared in Self, Elle, Mademoiselle, and Seventeen. She lived for a time with her family in Atlanta, where her daughters learned the finer points of etiquette from a little pink book and the power of social justice from their synagogue.
1. The book opens with an epigraph which includes the line: "When the wolves of hate are loosed on one people, then no one is safe." What does this phrase mean in relation to the novel? What other epigraph might work for the story?
2. The phrase "in the neighborhood of true" appears throughout the novel. What is the difference between something close enough to the truth and a lie? When is it okay to not tell the whole truth?
3. Ruth doesn't tell her new friends or Davis that she's Jewish, but no one questions her about it either. Does she have an obligation to announce her identity? Can you actually be close to someone who doesn't know everything about you?
4. Why does becoming a debutante appeals to Ruth? What is she hoping for through this process?
5. Ruth's mother and grandfather both write for the local newspaper. What role does reporting play in the novel? What does Ruth learn from their work?
6. Rabbi Selwick and Max both feel called to advocate for equal civil rights. What might have led them to this? In what ways do they protest or try to change society? Do you believe they are making any progress?
7. Ruth loves fashion, carefully preparing her outfits and taking note of what everyone around her is wearing. What do these details add to the story and to your reading experience?
8. Mr. Hank tells Ruth, "Don't think the South has a monopoly on racism." How does Ruth describe the similarities and differences in racial relations in New York and the South in the 1950's?
9. There are a lot of different rules and guides for societal behavior in the novel – from the pink book to Jim Crow segregation. What purpose do those rules serve in the Atlanta of the novel? In what ways do the characters follow those rules and in what ways do they break them? What rules in the 21st century, written or unwritten, work the same way for us?
10. Davis insists that his brother isn't a bad person. Why does he defend him? Is it possible for Davis to stand by his family and still love Ruth?
11. Ruth's family tells her that she did the right thing by speaking up, but she's unsure if she made a difference in the end. Do you think she did? Is there value in standing up for what you believe in even if it doesn't seem to change anything?
12. Characters in In the Neighborhood of True experience various types of loss such as the loss of Ruth's father, the loss of love, and the loss of a spiritual home. How do those losses change them? How do the characters move forward?
13. The temple bombing was based on a real event and the author's note discusses some of the ways this event echoes into the current day. In your view, how has society progressed or stayed the same since the 1958 Atlanta Temple bombing? What can we learn now from the characters in the novel and their stories?
or
Not Currently Available for Direct Purchase