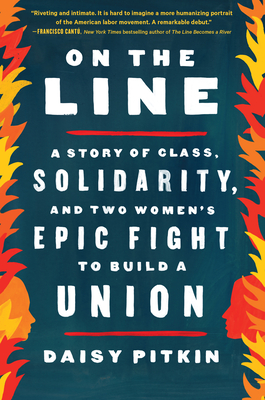 On the Line
A Story of Class, Solidarity, and Two Women's Epic Fight to Build a Union
Hardcover

* Individual store prices may vary.
Other Editions of This Title:
Digital Audiobook (3/28/2022)
Paperback (4/4/2023)
Compact Disc (3/29/2022)
MP3 CD (3/29/2022)
Description
"Riveting and intimate. It is hard to imagine a more humanizing portrait of the American labor movement. A remarkable debut." 
—Francisco Cantú, New York Times bestselling author of The Line Becomes a River 

On the Line takes readers inside a bold five-year campaign to bring a union to the dangerous industrial laundry factories of Phoenix, Arizona. Workers here wash hospital, hotel, and restaurant linens and face harsh conditions: routine exposure to biohazardous waste, injuries from surgical tools left in hospital sheets, and burns from overheated machinery. Broken U.S. labor law makes it nearly impossible for them to fight back.

The drive to unionize is led by two women: author Daisy Pitkin, a young labor organizer, who addresses this exhilarating narrative to Alma Gomez García, a second-shift immigrant worker, who risks her livelihood to join the struggle and convinces her fellow workers to take a stand. 

Forged in the flames of a grueling legal battle and the company's vicious anti-union crusade, including the retaliatory firing of Alma, the relationships that grow between Daisy, Alma, and the rest of the factory workers show how a union, at its best, can reach beyond the workplace and form a solidarity so powerful that it can transcend friendship and transform communities. But when political strife divides the union, and her friendship with Alma along with it, Daisy must reflect on her own position of privilege and the complicated nature of union hierarchies and top-down organizing.

Daisy Pitkin looks back to uncover the forgotten roles immigrant women have played in the U.S. labor movement and points the way forward. As we experience one of the largest labor upheavals in decades, On the Line shows how difficult it is to bring about social change, and why we can't afford to stop trying.
Praise For On the Line: A Story of Class, Solidarity, and Two Women's Epic Fight to Build a Union…
"I started reading and couldn't stop. In an age of unchecked corporate power, On the Line is a timely and lyrical story of resistance, a behind-the-scenes portrait of labor organizing with all its hope and heartache. Candid, clear-eyed and utterly engrossing, Pitkin's writing couldn't come at a better—or more necessary—time."
—Jessica Bruder, New York Times bestselling author of Nomadland: Surviving America in the Twenty-First Century

"Part memoir and part rallying cry, this is a gripping tale of the birth of a union today . . . Poetic, stirring . . . A heartfelt and persuasive argument for organized labor now more than ever."
—San Francisco Chronicle
 
"Captivating . . . Remarkable . . . Beautifully written . . . An intimate look at the volatile work of union organizing."
—Minneapolis Star Tribune

"Pitkin's book captures the drama and transformative power of labor organizing better than any book published in the United States in years. With so many powerful narratives generated by similar union campaigns in American history…we should have many more books like hers."
—The New Republic

"Compelling. In this stirring debut, Daisy Pitkin deftly renders the intimate work of union organizing, demystifying the process as she takes care to ensure the focus remains on the workers themselves. Ultimately, On the Line is a ringing endorsement for the power of a union, and an essential read for anyone who's ever been inspired to fight for a better world."
—Kim Kelly, labor journalist and author of Fight Like Hell: The Untold History of American Labor

"It is hard to imagine a more humanizing portrait of the American labor movement. Rendered with lyric, incandescent prose, On the Line is both deeply personal and profoundly political, with an acute sense for the ebb and flow of history. With this remarkable debut, Pitkin has given us a riveting and intimate meditation on power, class consciousness, and the true meaning of solidarity."
—Francisco Cantú, New York Times bestselling author of The Line Becomes a River: Dispatches from the Border

"An excellent primer on labor organizing in addition to a gripping read. It shows just how difficult unionizing is in the U.S. and how hard people have to work to overcome this broken labor system. It's especially relevant in the context of the current Great Resignation and reckoning with the nature of work in the U.S."
—Sarah Neilson, Shondaland.com
 
"Highly moving and a fine piece of nonfiction . . . Gripping."
—Bill O'Driscoll, Pittsburgh Post-Gazette 

"Pitkin's story will hit you in the heart as it provides an intimate view of the nitty-gritty work of organizing while emphasizing its more human side."
—Kim Kelly, Teen Vogue

"Absorbing and lyrical . . . The organizing comes alive . . . Pitkin reminds us that ultimately our power lies in each other."
—Luis Feliz Leon, Labor Notes

"An intimate and moving account . . . Enriched by Pitkin's sharp character sketches and sincere grappling with issues of class, race and privilege, this is a bracing look at the challenges facing American workers."
—Publishers Weekly
 
"Intimate and touching . . . A much-needed spotlight on the daily struggles of a vulnerable population."
—Kirkus Reviews

"With vulnerability and complexity, Daisy Pitkin delivers a beautifully written cultural critique and memoir about labor organizing and labor history, resistance and surrender, the unbalanced landscape between herself and the laborers she represents, but mainly, it's about love. On The Line is underscored by an obsession with moths, creatures—like herself—that are beckoned by flames that ultimately harm them. Pitkin is a companionable force you want on your side of any fight."
—Kerri Arsenault, author of Mill Town: Reckoning with What Remains 

"A riveting, elegant, and intimate masterpiece. On the Line passed the great book test for me when I set it down for the last time and marveled and grieved in its beauty and sorrow, while understanding that my view of the world had changed."
—Todd Miller, author of Storming the Wall: Climate Change, Migration, and Homeland Security

"A stunning, luminous debut about what drives people to rise up for change. Pitkin tells a captivating personal story, as well as an essential cultural one, unveiling the cruelty and injustice of industrial laundries, the erosion of the right to organize, and the hard-won persistence of women who have fought for nearly a hundred years for safety and justice in the workplace."
—Alison Hawthorne Deming, author of A Woven World 

"Brilliant, evocative. Pitkin's journey through the trenches of the American class war is at once personal and universal, devastating and hopeful, raw and elegant. I am grateful that she chose to share it with us. I am awed that she wrote it so beautifully."
—David Hill, Vice President, National Writers Union, and author of The Vapors
Algonquin Books, 9781643750712, 288pp.
Publication Date: March 29, 2022
About the Author