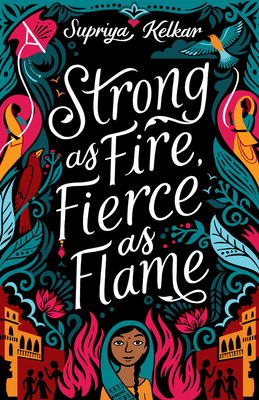 Strong as Fire, Fierce as Flame
Hardcover

* Individual store prices may vary.
Description
Golden Kite Award, Society of Children's Book Writers and Illustrators (SCBWI)
Best Children's Books of the Year, Bank Street College of Education
Jane Addams Children's Book Award Honor Book, American Library Association (ALA)
Junior Library Guild Selection
In 1857 India, 13-year-old Meera escapes a life she has no say in--and certain death on her husband's funeral pyre--only to end up a servant to a British general in the East India Company. When a rebellion against British colonizers spreads, she must choose between relative safety in a British household or standing up for herself and her people.
India, 1857
Meera's future has been planned for her for as long as she can remember. As a child, her parents married her to a boy from a neighboring village whom she barely knows. Later, on the eve of her thirteenth birthday, she prepares to leave her family to live with her husband's--just as her strict religion dictates. But that night, Indian soldiers mutiny against their British commanders and destroy the British ammunition depot, burning down parts of Delhi. Riots follow, and Meera's husband is killed. Upon hearing the news, Meera's father insists that she follow the dictates of their fringe religious sect: She must end her life by throwing herself on her husband's funeral pyre.
Risking everything, Meera runs away, escaping into the chaos of the rebellion. But her newfound freedom is short-lived, as she is forced to become a servant in the house of a high-ranking British East India Company captain. Slowly through her work, she gains confidence, new friends, new skills--and sometimes her life even feels peaceful. But one day, Meera stumbles upon the captain's secret stock of ammunition, destined to be used by the British to continue colonizing India and control its citizens.
Will Meera do her part to take down the British colonists and alert the rebellion of the stockpile? Or will she stay safe and let others make decisions for her? It really comes down to this: how much fire must a girl face to finally write her own destiny?
Tu Books, 9781643790404, 336pp.
Publication Date: February 23, 2021
About the Author
Supriya Kelkar grew up in the Midwest, where she learned Hindi as a child by watching three Hindi movies a week. Winner of the New Visions Award for Ahimsa, Supriya is a screenwriter who has worked on the writing teams for several Hindi films and one Hollywood feature. Supriya's books include Ahimsa; Strong as Fire, Fierce as Flame; American as Paneer Pie; and That Thing About Bollywood, among others. Visit her online at www.supriyakelkar.com.
1. The first lines of the book are "My father taught the village boys right outside our little earthen home, but I wasn't a boy, so I didn't get to learn. That didn't stop me from trying, though." What do these lines tell us about how things are in Meera's life? What do they tell us about Meera's character?
2. To "other" someone is to treat or think of a person or a group of people as alien to oneself or one's group. What are some examples of othering in the book?
3. Meera has a very complicated relationship with Memsahib. In what ways does Meera find comfort in Memsahib? How does Meera's thinking change when she realizes what Memsahib really thinks of the South Asian people whose land she is colonizing?
4. Meera cares deeply about the caged koel, Lal, at the Keenes' bungalow. What do you think Meera feels when Lal flies away from his cage? How do you think he has changed her?
5. What are Meera and Bhavani's strengths and weaknesses? How does Meera's friendship with Bhavani challenge her? How does it change her over the course of the story?
6. What do you think the title, "Strong as Fire, Fierce as Flame" means?
7. How does Meera feel about her sister-in-law, Sheela, when she first sees her? How does Meera feel when she first runs into Sheela at the market in Indranagar? How is that different from Meera's interaction with Sheela the next time they meet at the market?
8. What does Ravi's kite mean to Meera? How do you think she feels when she flies it?
9. What does the word "decolonize" mean to you?
10. Why do you think the author chose to include such a detailed historical note at the end of the book?
11. Look at the cover. What symbolism do you see there?