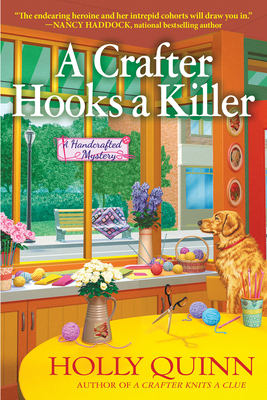 A Crafter Hooks a Killer
A Handcrafted Mystery
Hardcover

* Individual store prices may vary.
Other Editions of This Title:
Compact Disc (8/27/2019)
MP3 CD (8/27/2019)
Description
Sure to delight fans of Betty Hechtman and Maggie Sefton, A Crafter Hooks a Killer is the second installment in Holly Quinn's Handcrafted mysteries.

Community Craft proprietor Sammy Kane suspects that a tantalizing thread links the deaths of her best friend and a bestselling author. But can she weave together the clues?

Samantha "Sammy" Kane is settling into her new life in idyllic Heartsford, Wisconsin, running her late friend Kate Allen's craft shop, Community Craft when one early June day, bestselling crochet author Jane Johnson visits Heartsford. Captivated by Community Craft, Jane devotes a chapter in her new book, Behind the Seams, to the store. Sammy is honored, though satisfaction quickly turns to shock when she finds Jane strangled to death—her cold hands clutching a copy of her most recently published book, with the words "THE END" raggedly scratched into the cover.

Heavens to Etsy! Not only must Sammy contend with the author's inauspicious demise, she has to untie some knotty details from her own past. It turns out Kate's death was not what it seemed, and instead somehow hooked to Jane Johnson's demise. Handsome Detective Liam Nash is on the "skein", more than happy to see the shop owner again, if less than enamored by her sleuthing interventions. But this was Sammy's best friend—she has to know.

Fortunately, Sammy has a "lace" in the hole. As a child, she formed the S.H.E. detective team with her cousin, Heidi, and her sister, Ellie. Having already reconstituted their partnership, the S.H.E. team searches for a pattern behind the latest death. As the case starts to unravel, will Sammy and team be able to sidestep Liam quick enough to stitch together the clues?
Praise For A Crafter Hooks a Killer: A Handcrafted Mystery…
Praise for A Crafter Hooks A Killer:
"[A] nicely rendered sequel...[with a] strong cast, especially Sammy, who displays a depth of feeling that's too often lacking in cozy heroines."
—Publishers Weekly

"[An] appealing cozy, which will attract not only the crafter crowd but also those who enjoy small-town settings."
—Booklist

"A recipe and crochet pattern completes this appealing cozy, which will attract not only the crafter crowd but also those who enjoy small-town settings."
—Booklist

"Holly Quinn has created a delightful cozy series that readers will want to visit over and over again."
— Fresh Fiction

"Another fun book from author Holly Quinn. The characters are well-written and the story is very easy to read."
—Red Carpet Crash

Praise for A Crafter Knits A Clue:
"Cozy fans will look forward to future installments."
—Publishers Weekly

"A fun and enjoyable read. For me it's a Top Pick for the month of October."
—Night Owl Reviews, Reviewer Top Pick

"Readers of craft mysteries will love meeting Sammy Kane and following her around the small Wisconsin town as she cleverly tracks down the killer of a rival shop owner in this charming new mystery."
—Sally Goldenbaum, USA Today bestselling author of the Seaside Knitters Society Mystery Series

"How nice to escape to Heartsford, Wisconsin and join Samantha Kane and her friends as they unravel the clues when a local yarn store owner is killed. The small town setting feels authentic and the characters are all likeable. In this well plotted mystery Samantha manages to weave together the evidence and bring it to a satisfying conclusion. The yarn info and the sock patterns are an extra bonus."
—Betty Hechtman, national bestselling author of On the Hook

"With characters I want as friends, A Crafter Knits a Clue shines, and I'll be in line for the next book, too!"
—Nancy Haddock, national bestselling author of the Silver Six Crafting mysteries

"Quirky characters, crafts, a small town full of secrets ...the perfect cozy! I couldn't put it down!"
—Lea Wait, USA Today bestselling author of the Mainely Needlepoint mysteries

"A new crafting cozy mystery to love! Holly Quinn puts heart and smarts into protagonist Sammy Kane and the small town of Heartsford, Wisonsin."
—Molly MacRae, author of Knot the Usual Suspects
Crooked Lane Books, 9781643850122, 336pp.
Publication Date: June 11, 2019
About the Author
Holly Quinn has published two stand-alone fiction novels in another persona. She graduated from Carroll University in Wisconsin with a Bachelor of Science in business and a minor in marketing. This is her second Handcrafted mystery.
or
Not Currently Available for Direct Purchase