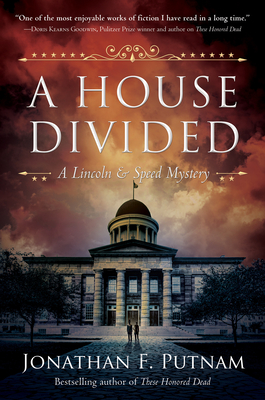 A House Divided
A Lincoln and Speed Mystery
Hardcover

* Individual store prices may vary.
Other Editions of This Title:
Digital Audiobook (10/7/2019)
Description
The new arrival of a woman named Mary Todd wedges a rift between Abraham Lincoln and Joshua Speed, but they must resolve their differences if they stand any chance of cracking one of the most harrowing murder cases they have ever faced.

In the winter of 1839, a sensational disappearance rocks Springfield, Illinois, as headlines announce a local man has accused his two brothers of murder. Not one to pass up an opportunity, Abraham Lincoln takes up the case of the accused with the assistance of his best friend Joshua Speed to search for evidence of innocence.

But just as soon as they begin, Lincoln and Speed find their friendship at grave risk of rupture as they vie for the hand a beautiful new arrival in town: an ambitious, outspoken young woman named Mary Todd. As the trial arrives, can Lincoln and Speed put aside their differences to work together for justice once more? An innocent man's life may be in the balance—and nothing is as it seems.

Re-imagining one of the greatest unsolved murder mysteries from Abraham Lincoln's real-life trial cases, A House Divided is the most captivating Lincoln and Speed mystery yet from expert Lincoln scholar Jonathan F. Putnam.
Praise For A House Divided: A Lincoln and Speed Mystery…
Praise for A House Divided:
"Entertaining...Putnam still excels at painting a convincing portrait of the younger Lincoln."
—Publishers Weekly

"A nice balance between history and mystery. Putnam's satisfyingly plausible portrait of the young Lincoln deepens with every installment."
— Kirkus Reviews

"This fourth entry in the Lincoln and Speed mysteries continues to bring to life the legendary Lincoln...With impressive research, Putnam fashions...a fine historical mystery."
—Booklist

Praise for Final Resting Place:
"These novels are historical fiction at their finest, calling to mind Caleb Carr's The Alienist."
—BookReporter

"Putnam, a lawyer and amateur Lincoln scholar, wraps everything up neatly in this historical mystery, based on solid research, in a briskly moving narrative that's factually accurate down to the quirks in Douglas' courtroom behavior."
—Booklist

"Jonathan F. Putnam continues to display his extensive knowledge of the courtroom and Lincoln's life with deft, atmospheric flair. Everything from the dialogue to the setting to the cast of characters is rich with historical color and accuracy."
—Criminal Element

"Putnam's competence as a Lincoln scholar is well in evidence. For those who like novels involving actual persons, this novel is highly recommended."
—NY Journal of Books

Praise for Perish from the Earth:
"An entertaining and well-researched murder mystery...both a mystery and a legal thriller, with well-paced courtroom scenes as well as intrigue...Putnam's notes provide context for the historical figures who appear as characters and demonstrate his expertise as a Lincoln scholar."
—Booklist

"Enough historical accuracy to satisfy a Civil War re-enactor and enough courtroom proceedings to reveal the author as the Harvard-trained attorney that he is. A mystery for history buffs and legal eagles."
—Kirkus

"Putnam successfully integrates the politics of 1837 America into his solid second mystery...The dramatic denouement, which features Lincoln's vaunted courtroom skills, provides a satisfying resolution."
—Publishers Weekly

"One of the best books I have read in a long time. I can't recommend it highly enough. If you are either a mystery buff or a history buff, this book is for you. If you happen to be both, I'm certain you will be captivated by its raw and honest look at this part of American history and by the beauty of the language used to portray the people, both real and imaginary."
—MyShelf.com
Crooked Lane Books, 9781643850375, 320pp.
Publication Date: July 9, 2019
About the Author
Jonathan F. Putnam is a writer and attorney. A graduate of Harvard College and Harvard Law School, he is a nationally renowned trial lawyer and recognized Lincoln scholar. He currently lives with his family in London, England.