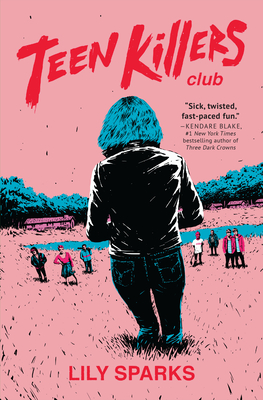 Teen Killers Club
A Novel (Teen Killers Club series)
Hardcover

* Individual store prices may vary.
Other Editions of This Title:
Digital Audiobook (11/9/2020)
Compact Disc (11/10/2020)
MP3 CD (11/10/2020)
Description
Framed for the murder of her best friend, a young girl joins a super-secret society of teenage assassins to avoid a lifetime behind bars--and discovers her own true self--in this mesmerizing debut novel.

Seventeen-year-old Signal Deere has raised eyebrows for years as an unhappy Goth misfit from the trailer park. When she's convicted of her best friend Rose's brutal murder, she's designated a Class A--the most dangerous and manipulative criminal profile.

To avoid prison, Signal signs on for a secret program for 18-and-under Class As and is whisked off to an abandoned sleep-away camp, where she and seven bunkmates will train as assassins. Yet even in the Teen Killers Club, Signal doesn't fit in. She's squeamish around blood. She's kind and empathetic. And her optimistic attitude is threatening to turn a group of ragtag maniacs into a team of close-knit friends.

Maybe that's because Signal's not really a killer. She was framed for Rose's murder and only joined the program to escape, track down Rose's real killer, and clear her name. But Signal never planned on the sinister technologies that keep the campers confined. She never planned on the mysterious man in the woods determined to pick them off one by one. And she certainly never planned on falling in love.

Signal's strategy is coming apart at the seams as the true killer prepares to strike again in Teen Killers Club.
Praise For Teen Killers Club: A Novel (Teen Killers Club series)…
Praise for Teen Killers Club:
"Sparks crafts a page-turner with a disturbingly unusual premise, snappy dialogue, and characters that go deeper than their heinous crimes...Equal parts heartfelt and shocking."
—Kirkus Reviews, starred review

"Sparks creates a contemporary dystopian world and deftly weaves in details about her characters' pasts."
—Library Journal

"A fast-paced, suspenseful novel, perfect for true-crime fans."
—Booklist

"Everything one could possibly want in a YA: psychotic killers, tender moments, and friendships that will last forever."
—Suspense Magazine

"This book rivals Jennifer Lynn Barnes's The Naturals series and Allen Zadoff's The Unknown Assassin series...Fabulous romance, fabulous cast, fabulous mystery."
—Portland Book Review

"Balanced, entertaining while exposing our society's treatment of teenage criminals well."
—BookRiot

"Full of dark and twisted moments...Teen Killers Club is highly addictive and full-on entertaining."
—Fresh Fiction

"A solid thriller with characters you root for and some well placed twists and turns."
—Red Carpet Crash

"Sick, twisted, fast-paced fun. With an entertaining voice and a nicely plotted murder mystery, this summer camp for psychos is frankly the only kind of summer camp I want to read about."
—Kendare Blake, #1 New York Times bestselling author of Three Dark Crowns and Anna Dressed in Blood

"Action packed, highly addictive and uncomfortably heartfelt—readers won't be able to forget Teen Killers Club or its characters who refuse to fit into any mold."
—Joelle Charbonneau, New York Times bestselling author of The Testing

"A coming-of-age mystery that will keep you guessing to the very end."
—Barry Lyga, New York Times bestselling author of I Hunt Killers

"A dark, wild ride. Just when you think this thriller can't get any crazier or more suspenseful, Sparks turns the screws even tighter, leading to a surprising climax that will keep you turning the pages. My advice: Start reading and hang on tight!"
—Jeffry W. Johnston, author of The Truth

"A wild ride from start to finish with fresh and fascinating developments at every turn. It gripped me right away and didn't let me go until I reached the last page."
 —J.R. Johansson, author of The Row

"Sparks' fresh perspective and cast of felonious (but fun) characters makes this a thriller worthy of sinking your teeth into!"
—Hannah Jayne, author of Truly, Madly, Deadly

"A twisty, twisted ride with a wicked sense of humor."
—Margot Harrison, author of The Glare

"A wild mystery that reads like all the best parts of American Horror Story—twisty and twisted, effortlessly hip, and surprisingly romantic."
—Cassandra Rose Clarke, author of Forget This Ever Happened

"Teen Killers Club has everything, featuring an intriguing and likable cast of characters forced into an impossible and unthinkable mission with a twisted ending I didn't see coming!"  
—Sheryl Scarborough, author of To Right the Wrongs

"Wildly inventive and darkly subversive, this sly adventure adroitly balances action, romance, and deep questions about the ways society—and each of us—judges those around us."
—Jon McGoran, author of Spliced
Crooked Lane Books, 9781643852294, 272pp.
Publication Date: November 10, 2020
About the Author
Lily Sparks grew up hiking, writing, and counseling summer camp in Norwalk, Connecticut. She went to UCLA for an art degree and ended up spending all her time writing. She's developed TV projects for MTV, FX, and Amazon and written for the CW's Reign and Paramount's Heathers. She now lives in Southern California with her husband Ryan, baby daughter Lovey Jane, and terrier Wolsey.