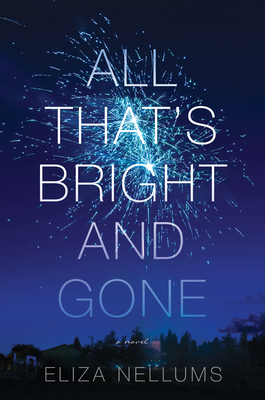 All That's Bright and Gone
A Novel
Hardcover

* Individual store prices may vary.
Other Editions of This Title:
Paperback (12/8/2020)
Compact Disc (3/10/2020)
MP3 CD (3/10/2020)
Compact Disc (3/10/2020)
Description
One of Amazon's Best Books of December 2019!

Fans of Jodi Picoult and Fredrik Backman will fall for this tenderhearted debut mystery following a young girl on a quest to save her family.

I know my brother is dead. But sometimes Mama gets confused.

There's plenty about the grownup world that six-year-old Aoife doesn't understand. Like what happened to her big brother Theo and why her mama is in the hospital instead of home where she belongs. Uncle Donny says she just needs to be patient, but Aoife's sure her mama won't be able to come home until Aoife learns what really happened to her brother. The trouble is no one wants to talk about Theo because he was murdered. But by whom?

With her imaginary friend Teddy by her side and the detecting skills of her nosy next door neighbor, Aoife sets out to uncover the truth about her family. But as her search takes her from the banks of Theo's secret hideout by the river to the rooftops overlooking Detroit, Aoife will learn that some secrets can't stay hidden forever and sometimes the pain we bury is the biggest secret of them all.

Driven by Aoife's childlike sincerity and colored by her vivid imagination, All That's Bright and Gone illuminates the unshakeable bond between families--and the lengths we'll go to bring our loved ones home.
Praise For All That's Bright and Gone: A Novel…
Praise for All That's Bright and Gone:
"Sure to rouse emotions in this classic coming-of-age tale that fans of Jodi Picoult will love."
—mindbodygreen

"[An] impressive debut...Through the honest, winning, and convincing Aoife, Nellums provides ample evidence that the most important mysteries are those that lie closest to home."
—Publishers Weekly starred review

"Both a murder mystery and a coming-of-age story...Perfect for fans of The Curious Incident of the Dog in the Night-Time, All That's Bright and Gone goes to the heart of what we are prepared to do to keep our family safe, from dangers within and without, and to bring them home."
—Vannessa Cronin, Amazon Book Review

"Aoife's poignant and endearing story will linger long after the final pages. This family-forward debut is one to be savored and shared."
—New York Journal of Books

"Eliza Nellums All That's Bright and Gone brought me to unashamed tears...This book is sure to touch the hearts of many people..Highly recommended."
—Suspense Magazine

"This first novel blends elements of literary fiction and domestic thrillers to explore the power of secrets, the resilience of children, and their ability to understand matters far beyond their years, if given a chance."
—Booklist

"Gripping, funny, enormously affecting, it is a book about the deepest mysteries of all, and it will knock your socks off."
—Booktrib  

"The reader is fully engaged in Aoife's point of view as Nellums pulls the reader into the world of this child."
—Midwest Book Review

"A luminous debut. Eliza Nellums' six-year-old Aoife (pronounced "EE-fah", if you please) will knock you cock-a-hoop. A hero's journey, with possible angels, ghosts, and Teddies. It will change forever the way you look at the little girl next door."
—Alan Bradley, New York Times bestselling author of the Flavia de Luce mysteries

"A gripping and affecting debut that will leave you laughing. Prepare to fall in love with this beautiful mystery and six-year old Aoife. Eliza Nellums is one to watch."
—Rhiannon Navin, international bestselling author of Only Child

"All That's Bright and Gone is all that a coming-of-age story should be. Endearing, funny, and poignant, you'll be charmed by six-year-old narrator Aiofe and be rooting for her as she tries to come to terms with the complexities of life by solving the mystery of death."
—Lesley Kagen, New York Times bestselling author of Whistling in the Dark

"Eliza Nellums has crafted a mesmerizing debut novel. Pulled into the world of Aoife, a six-year-old girl searching for the truth about her brother, we experience her grief and hope as our own as the mystery twists and turns to an unexpected ending. A thoroughly engaging read!"
—Wendy Walker, bestselling author of The Night Before 

"A dreamlike, enthralling whodunit for fans of The Curious Incident of the Dog in the Night-Time, filtered through the imaginative mind of a precocious six-year-old girl. An impressive debut."
—A. J. Banner, USA Today and #1 Amazon bestselling author

"Heart-wrenching . . . Nellums takes her readers on a twisty carnival ride."
—Susan Crawford, bestselling author of The Other Widow

"Triumphant . . . A gorgeously intimate work of art. Nellums has a grip like Virgil, and you won't want to let go." —Meg Elison, author of The Book of the Unnamed Midwife

"A thoughtful, compelling, thrilling mystery with heart."
—Laurie Petrou, award-winning author of Love, Heather 

Crooked Lane Books, 9781643852379, 256pp.
Publication Date: December 10, 2019
About the Author
Eliza Nellums is a member of the Metro Wriders and has a Masters degree from the University of Michigan. Raised in the Detroit suburbs, Elizabeth now lives with her cat in Washington, DC where she is the manager of a grants program. Her short story "Changelings" was published in the anthology Magical. All That's Bright and Gone is her debut novel.
or
Not Currently Available for Direct Purchase