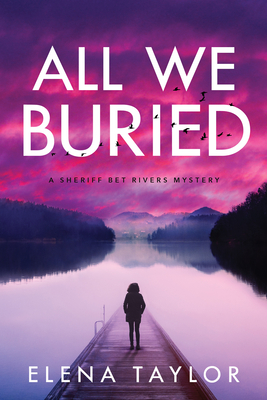 All We Buried (Hardcover)
A Sheriff Bet Rivers Mystery
Crooked Lane Books, 9781643852911
Publication Date: April 7, 2020
* Individual store prices may vary.
Description
For fans of Julia Keller and Sheena Kamal, All We Buried disturbs the long-sleeping secrets of a small Washington state mountain town.

Deep in the woods surrounding the Cascade mountain range, a canvas-wrapped body floats in a lake, right in Elizabeth "Bet" Rivers's jurisdiction. Bet has been sitting as interim sheriff of Collier after her father's--the previous sheriff's--death six months ago. Everyone knows everyone in a town like Collier. She has made it her duty to protect the people she's come to see as family. And she intends to hold her title in the upcoming election, but she's never worked a murder investigation on her own before and her opponent and deputy, Dale Kovac, isn't going down without a fight.

Upon unwrapping the corpse, Bet discovers the woman is from out of town. Without an identification, the case grows that much more puzzling. Determined to prove herself worthy, however, Bet must confront the warped history of Collier. The more she learns, the more she realizes she doesn't know the townspeople of Collier as well as she thought, and nothing can prepare her for what she is about to discover.
About the Author
Elena Taylor worked in theater for twenty years before she turned her storytelling skills to fiction. Elena was a playwright, director, designer, technician, and educator. Elena taught a variety of theater classes at the college/university level, as well as Popular Fiction. She also teaches workshops on writing and works one-on-one with writers as a developmental editor and writing coach. She is also the author of a private eye series, published under the name Elena Hartwell. When she's not writing, she can be found playing with her horses, dog, cats, and hanging out with her husband at their home on the Middle Fork of the Snoqualmie River.