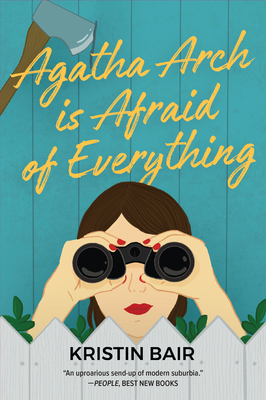 Agatha Arch is Afraid of Everything
A Novel
Paperback

* Individual store prices may vary.
Other Editions of This Title:
Digital Audiobook (11/9/2020)
Compact Disc (11/10/2020)
MP3 CD (11/10/2020)
Description
A quirky, nervous wreck of a New England mom is forced to face her many fears in this touching, irresistible novel from author Kristin Bair.

Agatha Arch's life shatters when she discovers her husband in their backyard shed, in flagrante delicto, giving the local dog walker some heavy petting. Suddenly, Agatha finds herself face to face with everything that frightens her...and that's a loooooong list.

Agatha keeps those she loves close. Everyone else, she keeps as far away as possible. So she's a mystery to nearly everyone in her New England town. To her husband, she's a saucy, no-B.S. writer. To her Facebook Moms group, she's a provocateur. To her neighbor, she's a standoffish pain in the butt. To her sons, she's chocolate pudding with marshmallows. And to her shrink, she's a bundle of nerves on the brink of a cataclysmic implosion.

Defying her abundant assortment of anxieties, Agatha dons her "spy pants"--a pair of khakis whose many pockets she crams with binoculars, fishing line, scissors, flashlight, a Leatherman Super Tool 300 EOD, candy, and other espionage essentials--and sets out to spy on her husband and the dog walker. Along the way, she finds another intriguing target to follow: a mysterious young woman who's panhandling on the busiest street in town.

It's all a bit much for timorous Agatha. But with the help of her Bear Grylls bobblehead, a trio of goats, and a dog named Balderdash, Agatha may just find the courage to build a better life.

"Fans of Where'd You Go, Bernadette and Elinor Oliphant Is Completely Fine will love this clever romp."
--Publishers Weekly, starred review
Praise For Agatha Arch is Afraid of Everything: A Novel…
Praise for Agatha Arch is Afraid of Everything:
"An uproarious send-up of modern suburbia."
—People

"Fans of Where'd You Go, Bernadette and Elinor Oliphant Is Fine will love this clever romp."
—Publishers Weekly, starred review

"Readers of Laurie Gelman and Abbi Waxman who enjoy irreverent moms...will enjoy the ride."
—Booklist

"If you loved the characters Eleanor Oliphant and Bernadette, Agatha Arch will be your next favorite book heroine."
—Frolic

"An absorbing and entertaining read of the first order...Singularly original and satisfyingly compelling."

—Midwest Book Review


"Agatha Arch is Afraid of Everything is quirky and fun, and readers will see aspects of their own personalities reflected in the pages."
—Manhattan Book Review

"A singular and relatable story that's ideal for fans of Where'd You Go, Bernadette. Kristin Bair is a fresh new voice in women's fiction."
—Ann Garvin, USA Today Bestselling author of I Like You Just Fine When You're Not Around

"Hilarious and heartbreaking, fresh and wise, and quirky as can be. The talented Kristin Bair introduces us to the touchingly neurotic Agatha Arch—a woman who loves too much and fears too much, and is on the hunt to discover her own singular power. If you love Bridget and Bernadette, please meet Agatha. I loved her, and you will, too." 
—Hank Phillippi Ryan, USA Today Bestselling author of The First to Lie 

"If you were a fan of Where'd You Go, Bernadette, you're going to love Agatha Arch. From the very first page, her voice is a breath of fresh air, fears and all: Even as she reels from life-altering betrayal, our unlikely heroine had me laughing, cheering her on, and hanging on her every word. A highly satisfying read, sure to be one of my favorites of the year."
 —Jessica Strawser, bestselling author of Not That I Could Tell

"[A] sprightly read as refreshing, necessary, and delicious as summer lemonade."
 —Caroline Leavitt, New York Times bestselling author of Pictures of You and With or Without You

"Oh, how I loved this book! Move over Eleanor Oliphant—Agatha Arch is here. And she's the exact quirky, laugh-out-loud, feel-good heroine everyone in the world needs right now."
—Colleen Oakley, critically acclaimed author of You Were There Too

"A modern moms'-group morality tale with heart to spare, Agatha Arch is Afraid of Everything is charming, witty, wry, and just wicked enough for any reader to love."
—Sophie Littlefield, National Bestselling Author of That's What Frenemies Are For

"What do you do when you find your husband in the shed with the dog walker? Take an axe to the shed, put your spy-pants on, and see where it all will lead. Kristin Bair's Agatha Arch is Afraid of Everything is a fun, funny, and fresh story of resilience to the many betrayals of marriage and middle age." 
—Laura Zigman, author of Separation Anxiety and Animal Husbandry

"When times are tough, let Agatha Arch have any meltdown you're repressing in this cathartic and unexpectedly poignant read."
—Michelle Gable, New York Times bestselling author
Alcove Press, 9781643855004, 352pp.
Publication Date: November 10, 2020
About the Author
Kristin Bair is the author of the novels The Art of Floating and Thirsty, as well as essays about China, bears, adoption, off-the-plot expats, and more. Her work has appeared in numerous magazines and journals, including The Manifest-Station, The Gettysburg Review, Flyway: Journal of Writing and Environment, The Christian Science Monitor, Poets & Writers Magazine, Writer's Digest, and other publications. As a writing instructor, her peripatetic nature has landed her in classrooms and conferences around the world. A native Pittsburgher, Kristin now lives north of Boston with her husband and two kiddos.