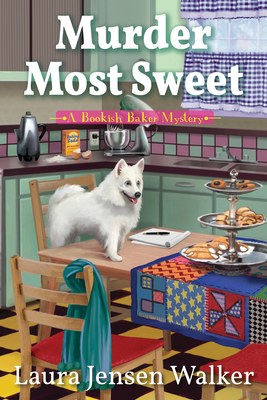 Murder Most Sweet
A Bookish Baker Mystery
Hardcover

* Individual store prices may vary.
Other Editions of This Title:
Compact Disc (9/22/2020)
MP3 CD (9/22/2020)
Description
In this series debut for fans of Jenn McKinlay, baker Teddie St. John spends her time away from the oven writing murder mysteries. But is she herself a murderer?

Everyone in Lake Potawatomi, Wisconsin, knows Teddie St. John. Tall, curly-haired Teddie is a superb baker, a bohemian bon vivant, and a mystery writer. Teddie is walking her American Eskimo dog, Gracie, when her four-legged friend finds Teddie's missing silk scarf. Only problem: the scarf is tied tightly around the neck of a beautiful blond woman, the fiancée of a touring British author.

Before you can say "Wisconsin kringle," Teddie becomes a murder suspect. Everyone in town knows all too well that the distinctive scarf was hers. But there are more layers to this case than there would have been on poor Kristi's wedding cake. Tavish Bentley should be bereaved after his sweetheart's strangling. Instead, the dashing Brit takes a shine to Teddie's witty wisecracks and to-die-for cookies, and soon he's mooning over her instead of mourning his bride. That is, when he's not dodging the attentions of Annabelle, an obsessive fan who's taken to stalking him.

And when a second murder shocks the community, the plot thickens to the consistency of fondant as Teddie stands accused of not one, but two, murders. With the help of her friends Sharon and Char, can Teddie clear her name and deliver a killer's just desserts?
Praise For Murder Most Sweet: A Bookish Baker Mystery…
Praise for Murder Most Sweet:
"Appealing characters and snappy dialogue bode well for the sequel. This series is off to a solid start."
—Publishers Weekly

"A wryly amusing cozy debut lent credence by the author's own experience as a cancer survivor."
—Kirkus Reviews

"Fascinating characters, distinctive development, and Machiavellian plot twisters abound in this most intriguing of cozy mystery series."
—Midwest Book Review

"Teddie is a refreshing protagonist...leading an engaging and suspenseful mystery that weaves in a dose of cancer awareness."
—Portland Book Review

"What a fun beginning to a new cozy series. I liked Teddie right away and look forward to reading more about her."
—MyShelf

"An enjoyable ride with some very funny scenes and a good resolution."
—Fresh Fiction

"Laura Jensen Walker has mastered the recipe for a fun read, serving up a delicious mystery swirled with humor and sprinkled with romance. And no calories!"
—Cynthia Baxter, author of the Lickety Splits Ice Cream Shoppe mysteries

"A delicious cozy mystery debut replete with southeast Wisconsin's famous Danish kringle pastry, romance, a puzzling death, and well-written prose...A highly recommended new series!"
—Christine DeSmet, author of the Fudge Shop mysteries and Mischief in Moonstone mysteries

"Optimistic and cheerful mystery author Teddie St. John is as tenacious at solving a real murder as she is at coping with libelous threats, a hilariously interfering mother, a handsome stranger, life after breast cancer, deadlines, delicious cookies, an adorable dog, and a small town bursting with friends—and enemies."
—Ginger Bolton, author of the Deputy Donut mysteries

"Murder Most Sweet serves up all the hallmarks of a satisfying cozy mystery—books, desserts, dogs, and a bit of romance—along with straight talk about surviving cancer from a nontraditional heroine."
—Lucy Burdette, national bestselling author of Death on the Menu

"Fearlessly funny about the the life of breast-cancer survivor Teddie St. John...Murder Most Sweet had me at page one and left me longing for book two." 
—Catriona McPherson, multi-award-winning and national best-selling author of Scot and Soda

"Murder Most Sweet is a delicious confection of a cozy—full of heart and likeable characters. Jensen Walker nicely captures the feeling of small-town Wisconsin, and Teddie St. John's enticing desserts will send your sweet tooth to the kitchen."
—Erica Ruth Neubauer, author of Murder at the Mena House

"Walker weaves an intriguing mystery that takes enjoyable turns and devious twists that keep you turning the pages, trying to guess what the colorful cast of characters might try next, and wanting the next book as much as you want a scrumptious bakery treat."
—L. A. Chandlar, award-winning author of the Art Deco Mystery series
Crooked Lane Books, 9781643855028, 289pp.
Publication Date: September 8, 2020
About the Author
Laura Jensen Walker has loved mysteries ever since she read Trixie Belden in the fourth grade in her Danish-founded hometown of Racine, Wisconsin--America's kringle capital. A former journalist and the author of several novels and humorous non-fiction books, including Thanks for the Mammogram! Laura, like her main character, chose to go flat after her second mastectomy and is grateful to be a longtime breast cancer survivor. She lives in California with her Renaissance-man husband and their canine-daughter Mellie.
or
Not Currently Available for Direct Purchase