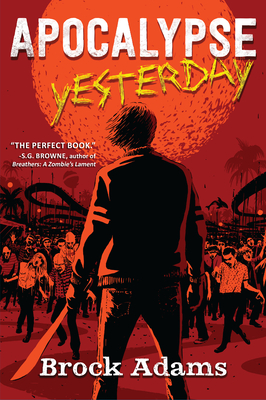 Apocalypse Yesterday
A Novel
Hardcover

* Individual store prices may vary.
Other Editions of This Title:
Digital Audiobook (9/7/2020)
MP3 CD (9/8/2020)
Compact Disc (9/8/2020)
Description
With his best and craziest days behind him, a Florida call center employee struggles through mind-numbing drudgery day after day--but he just might have a way to reclaim the madness and his former life.

The zombie apocalypse is over. The humans have won. Life is back to normal. And Rip is bored as hell. It's not much of a life sitting in a call center in the poor town of Spanish Shanty, Florida, answering emails like a drone and listening to customer complaints.

Rip was ruler of a tiny kingdom in the Lazy River waterpark, killing zombies by day and making passionate love at night. He misses the danger, the camaraderie, and the blistering love he once knew. He longs to feel Santana--his trusty machete--in his hand, and Davia--the fiercest woman alive--in his arms once again. He can still picture it-- life on the razor's edge--and he would do anything to get that feeling back.

But what if Rip could get it back? He's totally desperate. Not normal desperate--more like ready-to-restart-the-apocalypse desperate. Condemning humanity to a repeat merely for an adrenaline rush is probably not a good idea. But life at the call center is nothing more than a slow death, and Rip might not be able to go on without trying to find out.
Praise For Apocalypse Yesterday: A Novel…
Praise For Apocalypse Yesterday:
"Unintentionally prescient, a tale of losing and finding oneself at the end of the world."
—Kirkus

"Poignant commentary on consumerism, climate change, and human nature."
—Manhattan Book Review

"Bring[s] a genuinely fresh twist to the table."
—Horror DNA

"I didn't want to put the book down."
—Fresh Fiction

"Does your life seem monotonous and pointless? Are you tired of having to deal with self-entitled humans who complain about First World problems? Do you find yourself longing for the zombie apocalypse to bring some excitement and purpose into your life? Then Apocalypse Yesterday is the perfect book for you. Read it in the break room, in your cubicle, or at your local McDonald's with your favorite machete."
—S.G. Browne, author of Breathers: A Zombie's Lament and I Saw Zombies Eating Santa Claus

"After you've slashed back the zombie hordes, what feat can compare? In Apocalypse Yesterday Brock Adams lets you know in a prose that comes at you with all the verve of a dead walker raging straight for your brain. Buckle your swash and grab your machete before you pick up this one, you happy, blade-wielding warriors."
—Thomas McConnell
Crooked Lane Books, 9781643855530, 272pp.
Publication Date: September 8, 2020
About the Author
Brock Adams's first novel, Ember, won the South Carolina First Novel Prize in 2016 and was published the following year by Hub City Press. His short fiction has appeared in Best American Mystery Stories, The Sewanee Review, Bacopa Literary Review, and several other journals. He's won prizes including The Andrew Lytle Prize in Fiction, the Hub City Fiction Prize, and second place in Playboy's College Fiction Contest. His short story collection Gulf was published by Pocol Press in 2010; it was published in Italy that same year by Round Robin Press. Adams lives in Spartanburg, SC, with his wife and daughter. He teaches English and creative writing at USC Upstate.
or
Not Currently Available for Direct Purchase