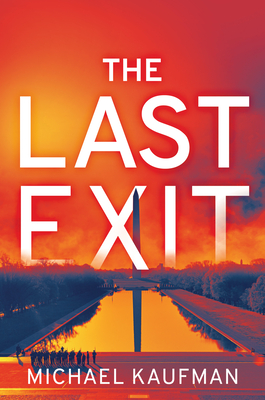 The Last Exit
A Jen Lu Mystery
Hardcover

* Individual store prices may vary.
Other Editions of This Title:
Digital Audiobook (1/11/2021)
Compact Disc (1/12/2021)
MP3 CD (1/12/2021)
Library Binding, Large Print (4/1/2021)
Description
Perfect for fans of Ben Winters and Cory Doctorow. In this thrilling near-future novel, the secret to eternal life is closely guarded by people who will do anything to protect it--even if it means destroying everything in their path.

Set in Washington D.C. in the near future, climate change has hit hard, fires are burning, unemployment is high, and controversial longevity treatments are only available to the very rich. Enter resourceful young police detective, Jen B. Lu, and her 'partner', Chandler, a SIM implant in her brain and her instant link to the Internet and police records, and constant voice inside her head. He's an inquisitive tough guy, with a helluva sense of humor and his own ideas about solving crimes.

As a detective in the Elder Abuse unit, Jen is supposed to be investigating kids pushing their aging parents to "exit" so they are eligible to get the longevity drug. But what really has her attention are the persistent rumors about Eden, an illegal version of the longevity drug, and the bizarre outbreak of people aging almost overnight, then suddenly dying--is this all connected? Is Big Pharma involved?

When Jen's investigations of Eden take her too close to the truth, she is suspended, Chandler is deactivated, and her boyfriend is freaked out by "the thing inside her brain." This leaves Jen to pursue a very dangerous investigation all by herself.
Praise For The Last Exit: A Jen Lu Mystery…
Praise for The Last Exit:
"[An] outstanding series launch...Exceptional worldbuilding is complemented by sympathetic characters and suspenseful plot twists. Kaufman is a writer to watch."
—Publishers Weekly, starred review

"Kaufman keeps the pot boiling...A strong, richly imagined brew."
—Kirkus Reviews

"A solid read, both as a police procedural and near-future science fiction."
—Amazing Stories

"Aptly timed and unsettlingly plausible."
—Fresh Fiction

"This is a compelling science fiction-detective story, just the thing for readers who want something different."
—Mystery and Suspense Magazine

"Engagingly narrated."
—Stop, You're Killing Me

"An engrossing thriller set in a fascinatingly plausible near future, The Last Exit centres on a human-AI partnership that's as believable as it's moving."   
—Emma Donoghue, New York Times bestselling author of Room

"[A] fast-paced and, somehow, even funny mystery."
—Richard Reyes-Gavilan, executive director, DC Public Library

"Detective Lu has troubles aplenty coming at her in this fast-paced thriller: a baffling mystery to solve when too many people start dying too fast, personal moral quandaries to wrestle with, and a cruel and inequitable society on the brink of chaos to navigate."
—Con Lehane, author of the 42nd Street Library mysteries
 
"I love a book that makes me think, shows me a different world, and makes me savor the world I have, and be more grateful for it."
—Anne Perry, international bestselling author of the Charlotte and Thomas Pitt mysteries
 
"Cobalt Blue is a highly accomplished debut that does not miss a beat. Characters, plot and style: it's got it all. Fully recommended for all crime fiction aficionados." 
—Yrsa Sigurðardóttir, bestselling author of Last Rituals
 
"I LOVED it!  Michael Kaufman's compelling thriller The Last Exit is engagingly narrated by his Washington, DC, detective Jen B. Lu and her experimental synthetic implant Chandler, an odd couple partnership for the ages."
—Lucinda Surber, Stop, You're Killing Me! and Left Coast Crime

"Clever, unconventional, compelling—and one hell of a good read."
—Ian Hamilton, author of the Ava Lee series

"The Last Exit hits hard. Fast action—a melding of the mental and physical—keeps this smart futuristic thriller racing, and its contemporary implications keep the reader thinking." 
—Thomas Perry, bestselling author of A Small Town

Praise for previous works:
"A riveting story. I read it straight through in one sitting."
—Jane Fonda
 
"Critically important for our time and required reading for us all. I had a hard time putting it down."
—Rosanna Arquette
 
"An inspiring book loaded with wisdom."
—Ziauddin Yousafzai, father of Malala Yousafzai
Crooked Lane Books, 9781643855677, 304pp.
Publication Date: January 12, 2021
About the Author
Michael Kaufman is the author of two novels and seven works of non-fiction. He has worked with the United Nations, governments, NGOs, educators, and companies in fifty countries to promote women's rights.