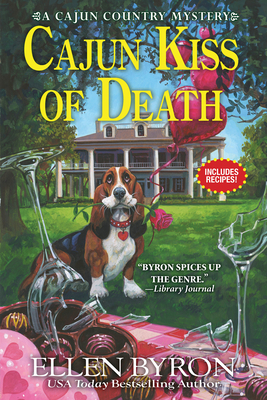 Cajun Kiss of Death
A Cajun Country Mystery
Hardcover

* Individual store prices may vary.
Description
The next shot from Cupid's bow may be fatal in USA Today bestselling, Agatha Award-winning author Ellen Byron's hearty and delightful seventh Cajun Country mystery.

In Pelican, Louisiana, Valentine's Day has a way of warming the heart, despite the February chill. But the air at Crozat Plantation B&B turns decidedly frigid when celebrity chef Phillippe Chanson checks in. And when the arrogant Phillippe--in town to open his newest Cajun-themed restaurant--perishes in a fiery boat crash, Maggie Crozat's dear friend JJ lands in very cold water.

Did JJ, proprietor of Junie's Oyster Bar and Dance Hall, murder Phillippe because he feared the competition? Might Maggie's mother, Ninette, have bumped off the chef for stealing one of her cherished recipes? Or was the culprit a local seafood vendor, miffed because Phillippe was somehow able to sell oysters for a remarkably reasonable price, despite an oyster shortage?

Maggie had planned to devote her February to art lessons in New Orleans, a present from her sweetheart, Bo. But now she has to focus on helping her friend and her mother cross a murder charge off the menu. Meanwhile, Maggie receives a series of anonymous gifts that begin as charming but grow increasingly disturbing. Does Maggie have an admirer--or a stalker? And are these mysterious gifts somehow related to Phillippe's murder?

Blood may be thicker than water, but this case is thicker than gumbo. And solving it will determine whether Maggie gets hearts and roses--or hearse and lilies--this Valentine's Day.
Praise For Cajun Kiss of Death: A Cajun Country Mystery…
Praise for Cajun Kiss of Death:
"Byron's gutsy heroine makes quick work of the case so the good times can roll again."
—Kirkus Reviews

"A comforting series that brings Cajun food, culture, and music together."
—Library Journal

"Cozy fans will delight in this tantalizing tale with original southern style."
—Wonder Women Sixty

"I want to praise Byron's books, and her characters. There's so much love in these books that it's a joy to return to Pelican."
—Lesa Holstine, Lesa's Book Critiques

Praise for the Cajun Country Mysteries:
Lefty Award Winner, Best Humorous Mystery 2021
Lefty Award Winner, Best Humorous Mystery 2018
Agatha Award Winner, Best Contemporary Novel 2018
Lefty Award Nominee, Best First Novel 2015 
Agatha Award Nominee, Best First Novel 2015 

"An engaging mystery with a touch of romance and a twist of Southern charm."
—Nancy Atherton, New York Times bestselling author of the Aunt Dimity series

"A fast, fun read. Ellen Byron is a new cozy voice with a charming Southern accent. You'll love this novel and its colorful Louisiana characters."
—Elaine Viets, author of the Dead-End Job mysteries

"A jambalaya of colorful friends and relatives, plus scrumptious Cajun cooking...Laissez les bons temps rouler!"
—Nancy Martin, author of The Blackbird Sisters Mystery Series

"Goes down easy and leaves you hungry for more."
—Lee Hollis, author of Death of a Kitchen Diva

"A delightful journey through Cajun Country with a charming new heroine."
—Connie Archer, author of A Spoonful of Murder

"[An] entertaining and well-done cozy debut. A twisty plot and engaging colorful characters complete this mystery's many pleasures."
—Library Journal, starred review

"Superb...there's no end to the mischief and mayhem in this exceptional cozy."
—Publishers Weekly starred review

"Readers will love the local color and spooky detail of the setting."
—Midwest Book Review

"A fast-paced, fun, cozy mystery with a great deal of atmosphere."
—Manhattan Book Review

"Byron's plotting is smooth, with well-turned dialogue and exploration. A must-read."
—New York Journal of Books

"Down-home Cajun charm, a climactic surprise, and praline recipes: How sweet it is." 
—Kirkus Reviews 

"A Louisiana murder mystery rife with suspenseful twists, relationship drama, and delectable cooking."
—Foreword Reviews, 5-star review

"Byron has written a lip-smacking light mystery flavored with lovable characters."
—New York Journal of Books

"Ellen Byron draws you in from the first page and doesn't let go until the end"
—Manhattan Book Review

"Lots of fun and delicious recipes, too!"
—Suspense Magazine

"Fun and heartwarming, a real holiday treat that will leave you guessing until the end."
—San Francisco Book Review, five-star review
  
"Byron serves up a veritable feast of different characters."
—Criminal Element

"Enthusiastically recommended...a deftly crafted and terrifically entertaining novel."
—Midwest Book Review
 
"Brilliant...Ellen Byron has written a delectable Cajun cozy mystery that is one of the best books I have read in a long time!"
—Night Owl Reviews, Top Pick
 
"Delightfully charming."
—Dru's Book Musings
Crooked Lane Books, 9781643857381, 320pp.
Publication Date: August 10, 2021
About the Author
Ellen Byron's Cajun Country Mysteries have won the Agatha award for Best Contemporary Novel and multiple Lefty awards for Best Humorous Mystery. She writes the Catering Hall Mystery series, under the name Maria DiRico, and will debut the Vintage Cookbook Mysteries (as Ellen) in June 2022. Ellen is an award-winning playwright, and non-award-winning TV writer of comedies like WINGS, JUST SHOOT ME, and FAIRLY ODD PARENTS. She has written over two hundred articles for national magazines but considers her most impressive credit working as a cater-waiter for Martha Stewart. Sign up for her newsletter at https://www.ellenbyron.com/