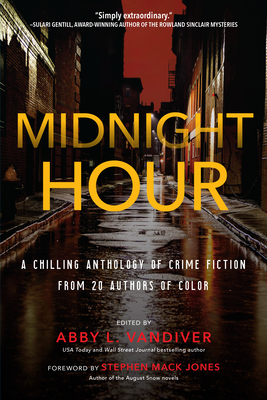 Midnight Hour
A chilling anthology of crime fiction from 20 authors of color
Paperback

* Individual store prices may vary.
Description
A 2022 ANTHONY AWARD NOMINEE for Best Anthology

From a simple robbery gone horribly wrong to a grisly murder in a secret love dungeon, this stellar collection of crime fiction short stories showcases some of today's finest voices of color.

Edited by Wall Street Journal bestselling author Abby L. Vandiver, this thrilling anthology will keep you on the edge of your seat.

Welcome to Midnight Hour...

Jennifer Chow: "Midnight Escapade"
After years of silence, two women decide to meet up in a unique escape room but get trapped in a deadly game from which there may be no escape.

Tracy Clark: "Lucky Thirteen"
A gun. A last meal. And only one survivor. Sometimes the stars align--but only for the lucky one--as predator and prey come face-to-face one fateful New Year's Eve.

H. C. Chan: "Murderers' Feast"
Techpreneur John Manley left a trail of duped investors and damaged women in his wake. What happens when two hundred of his closest enemies gather for a five-day gourmet retreat?

Christopher Chambers: "In the Matter of Mabel and Bobby Jefferson"
It's almost midnight, it's snowing, and a bored call center worker catches a customer inquiry that smells of murder. Is he a knight rescuing the intended victim or someone else's pawn?

Plus, stories by Richie Narvaez, Frankie Bailey, E. A. Aymar, Faye Snowden, Tina Kashian, and many more.
Praise For Midnight Hour: A chilling anthology of crime fiction from 20 authors of color…
Praise for Midnight Hour:
"[A] wonderful all-original anthology . . . Full of varied voices, this volume is a must read for mystery aficionados."
—Publishers Weekly, starred review

"An excellent collection of stories told from many different viewpoints."
—Kirkus Reviews

"A smorgasbord of crime writing . . . [that] shows how unique points of view can freshen up even the hoariest of genres."
—New York Journal of Books

"Midnight Hour is an absorbing anthology that exhibits the range and talent of some of crime fiction's most interesting writers. Full of vim and intrigue, fun and horror, these stories explore the suspenseful possibilities of trouble at midnight."
—Steph Cha, award-winning author of Your House Will Pay

"A magnificent collection of the work of truly fine writers. Each story is  unique and compelling, and lingers with the reader. Midnight Hour is simply extraordinary."
—Sulari Gentill, award-winning author of the Rowland Sinclair mysteries

"A collection of stories that made my jaw drop with each clever ending, Midnight Hour offers a thrilling selection written by and about people of color that will keep you reading until well past the dead of night."
—Elle Marr, bestselling author of The Missing Sister and Lies We Bury

"From Tracy Clark's chilling 'Lucky Thirteen' to Raquel V. Reyes's comical 'Mata Hambra,' each story in this unique anthology offers a clever, macabre twist that will keep readers up way past midnight. A shivery, humorous collection!"
—Valerie Wilson Wesley, author of A Glimmer of Death

Crooked Lane Books, 9781643857527, 336pp.
Publication Date: November 9, 2021
About the Author
Wall Street Journal and USA Today bestselling author, Abby L. Vandiver, who also writes as Abby Collette, has always enjoyed writing, combining that with her gift for telling stories and love of mystery she became an author. A hybrid, she has written as an indie as well as a traditionally published author. Abby has penned more than twenty-five books and short stories. Abby writes cozy mysteries with Penguin Berkley including A Deadly Inside Scoop and A Game of Cones in the Ice Cream Parlor Mystery series. Abby resides in South Euclid, Ohio and enjoys spending time with her grandchildren and facilitating self-publishing and writing craft classes at her local library.