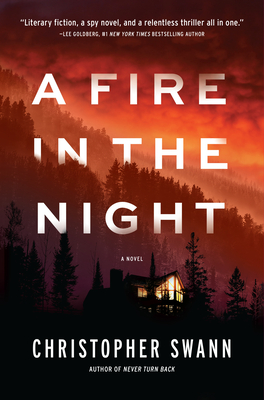 A Fire in the Night
A Novel
Hardcover

* Individual store prices may vary.
Description
Acclaimed Southern mystery master Christopher Swann delivers "a book that's literary fiction, a spy novel, and a relentless thriller all in one" (Lee Goldberg, New York Times bestselling author), perfect for fans of Linwood Barclay and Michael Farris Smith.

Nick Anthony has retreated to the North Carolina mountains to mourn the untimely death of his wife. Once a popular professor, Nick just wants to be left alone with his grief. But when his estranged brother and sister-in-law die in a house fire, a stunned Nick learns he has a niece, Annalise, who is missing.

At the scene of the crime, the men who set the fire have realized Annalise, and the information they are looking for, got away. Feverish and exhausted, she stumbles onto her uncle's porch, throwing Nick into the middle of the mystery of her parents' death and the dangerous criminals hunting her down.

Hired to retrieve the stolen information at any price, private military contractor Cole and his team track Annalise to Nick's cabin. But Nick has a hidden past of his own—and more than a few deadly tricks up his sleeve.
Praise For A Fire in the Night: A Novel…
Praise for A Fire in the Night:
"Highly proficient."
—Kirkus Reviews

"I don't know how Swann did it -- he's written a mesmerizing book that's literary fiction, a spy novel, and a relentless thriller all in one."
—Lee Goldberg, #1 New York Times bestselling author

"A Fire in the Night is a searing story about the ties that bind and how sometimes they begin to strangle us. Christopher Swann has created a nuanced yet thrilling novel of family, grief and ultimately hope. Not to be missed." 
—S.A. Cosby, best selling author of Blacktop Wasteland and Razorblade Tears

"A rural noir that's loaded with surprises, Christopher Swann's A FIRE IN THE NIGHT blends the moral grays of the best espionage stories with a taut, relentless mystery steeped in setting. Character-driven and memorable, A FIRE IN THE NIGHT is Swann's best yet."
—Alex Segura, acclaimed author of Star Wars Poe Dameron: Free Fall, Blackout and Miami Midnight

"Swann really delivers with his latest, a solid murder mystery starring Nick, a grieving former professor with a secret past and an orphaned niece who shows up on his doorstep. Tense and action-packed, with an ending that will make your heart stop, A Fire in the Night is a nail-biter with a Southern twang."
—Kimberly Belle, internationally bestselling author of Dear Wife and Stranger in the Lake

Praise for Never Turn Back:
"An extraordinarily compulsive read…Swann's writing packs a huge emotional wallop and delivers a breathtaking ending."
—Booklist starred review
 
"Fans of literary crime fiction will want to take a look at this thoughtful outing."
—Publishers Weekly
 
"A wild, compelling ride from beginning to end."
—Kirkus Reviews
 
"Thriller readers will enjoy and look forward to more from Swann, especially fans of Harlan Coben and Linwood Barclay."
—Library Journal
 
"Swann has gifted us with a quiet bombshell...Never Turn Back is a perfect wake-up call if you are stuck in the reading doldrums."
—Bookreporter
 
"Swann is a master of the kind of narrative storytelling style that artfully conveys both emotion and nuance."
—Midwest Book Review
 
"Full of emotion and drama...The characters are deep and nuanced."
—Manhattan Book Review
 
"I loved this twisty, sexy, fast-paced thriller."
—Joshilyn Jackson, New York Times bestselling author

"Christopher Swann never disappoints. Swann's unmistakable voice catapults this suspenseful story to the finish line, one dark secret at a time. A must-read."
—J. T. Ellison, New York Times bestselling author

 "An intelligent and layered mystery that had me burning through the pages."
—Brian Panowich, award-winning author of Bull Mountain

"Swann understands the dread that an incidental glance, a casual comment, silence between two characters can conjure. And it's with this delicate but sure touch that he tells the story of a man trying to make sense of his violent past and prevent it from destroying the new life he's built."
—Emily Carpenter, bestselling author of Until the Day I Die
Crooked Lane Books, 9781643857565, 288pp.
Publication Date: September 7, 2021
About the Author
Christopher Swann is a graduate of Woodberry Forest School in Virginia. He earned a B.A. in English from Washington and Lee University, an M.A. in English and creative writing from the University of Missouri-Columbia, and a Ph.D. in creative writing from Georgia State University. He lives with his wife and two sons in Atlanta, where he is the English department chair at Holy Innocents' Episcopal School.