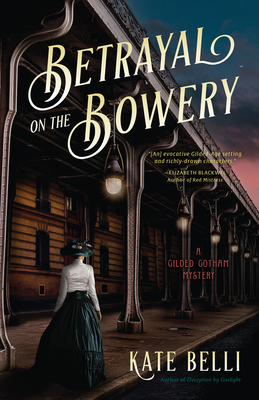 Betrayal on the Bowery
A Gilded Gotham Mystery
Hardcover

* Individual store prices may vary.
Description
In Gilded-Age New York, not all that glitters is gold in a chilling murder mystery that careens from the city's poshest sanctuaries to its meanest streets.

New York City, summer 1889. Society girl-turned-investigative journalist Genevieve Stewart and wealthy Daniel McCaffrey have arrived at the docks to see their friends, Rupert and Esmie Milton, off on their honeymoon. But the romantic idyll comes to a screeching halt when a crazed man bursts into their stateroom screaming about demons and drops dead before their eyes.

The dead man is Marcus Dalrymple, who had once asked Esmie to marry him--and inside Marcus's pocket, Daniel finds a medallion that they trace to a Lower East Side bar called Boyle's Suicide Tavern. The medallions are prizes given to anyone who spends the night there without dying.

Clearly, a visit to Boyle's could prove hazardous, but it may offer the only clue to Dalrymple's death. Genevieve and Daniel barely escape the bar with their lives but learn that the crime could have a connection to the recent disappearance of a sugar baron's daughter. Only after another young man plunges to his death from a rooftop bar--also screaming about demons--do the pieces of the puzzle begin to come together.

The clues lead Genevieve and Daniel far from the city's moneyed environs to a reputedly haunted mansion deep in the Bronx. There, they will confront the truth--and the demon at its heart.
Praise For Betrayal on the Bowery: A Gilded Gotham Mystery…
Praise for Betrayal on the Bowery:
"Another perilous adventure . . . Strong characters bolster an excellent mystery brimming with danger, romance, and historical tidbits."
—Kirkus Reviews

"Belli evocatively portrays Gilded Age New York."
—Publishers Weekly

"An action-packed historical mystery with a strong female protagonist and hints of future romance."
—Library Journal, starred review

"Enough excitement, danger, and a touch of humor that will undoubtedly leave the reader eager for the next adventure."
—New York Journal of Books

"Enough plot twists to keep the reader guessing."
—Historical Novel Society

Praise for Deception by Gaslight:
"[A] riveting, carefully researched, [and] well-plotted mystery."
—Library Journal, starred review

"This first in a promising series drops readers right into the dirty, cutthroat streets of a bygone Gotham, introduces a couple whose fortunes they'll wish to follow, and makes a great recommendation for fans of Mariah Fredericks."
—Booklist, starred review

"Gilded Age romance and complex crimes produce welcome surprises in the first of a new series."
—Kirkus Reviews
 
"A definite adventure in the Gilded Age, full of scandals of the elite and crimes of the nondescript."
—New York Journal of Books
 
"A fantastic debut novel...I would recommend this to anyone who enjoys historical mysteries."
—Seattle Book Review
 
"Creative and unexpected plot twists impel the story... an interesting American addition to the Victorian mystery subgenre." 
—Historical Novel Society
 
"Belli's captivating debut is a delicious blend of mystery, romance and historical intrigue. The evocative, Gilded-Age setting and richly-drawn characters make this the kind of book you sink into and don't want to leave. I'm already looking forward to Genevieve and Daniel's next adventure!"
—Elizabeth Blackwell, author of Red Mistress
 
"Complex conspiracy, exciting action, and the allure of a contradictory romance make this debut novel a page-turner."
—Rosemary Simpson, author of the Gilded Age mysteries
 
"From Fifth Avenue mansions to back alley pubs, a gutsy female reporter and a rags-to-riches millionaire take on societal intrigue and political double-dealing in this entertaining and romantic tale of Gilded Age New York."
—Alyssa Maxwell, author of the Gilded Newport Mysteries
Crooked Lane Books, 9781643857589, 336pp.
Publication Date: October 12, 2021
About the Author
Kate Belli lives in the mid-Atlantic region with her husband and son. When not writing, she works as a professor or a yogi, depending on the day.